TMT Moto Group realizes Car salon of Dreams
Smart lighting solutions for unique cars by TRILUX
Date

Category

Trilux Stories

Comments
Imagine a place for everyone, regardless of age, who is interested in cars and has petrol in their blood: Tomasz Kwiędacz let his dream become reality by creating a unique venue in Świdnica, close to Wrocław, in the southern part of Poland. At this place, visitors can admire – and, if desired – acquire cars of iconic world brands. The idea of this unique concept stem from passion and love for motoring and cars. The realization of this project was a great opportunity and a very interesting reference project for OKTALITE. Our luminaires B.VEO and AGIRA PLUS, accompanied by LiveLink Premium, ensure the perfect illumination of the showcased cars and create an attractive atmosphere throughout the entire showroom and surrounding areas. Get inspired by light and nourish your senses by finding out more about this special space.
When you visit the Samochodowy Salon Marzen showroom ("Car salon of dreams") in Świdnica (Poland), you will find an astonishing collection of cars, including models from Ferrari, Aston Martin, Mustang '68, Porsche, VW Golf GTI II Generation, Mercedes and many other great brands.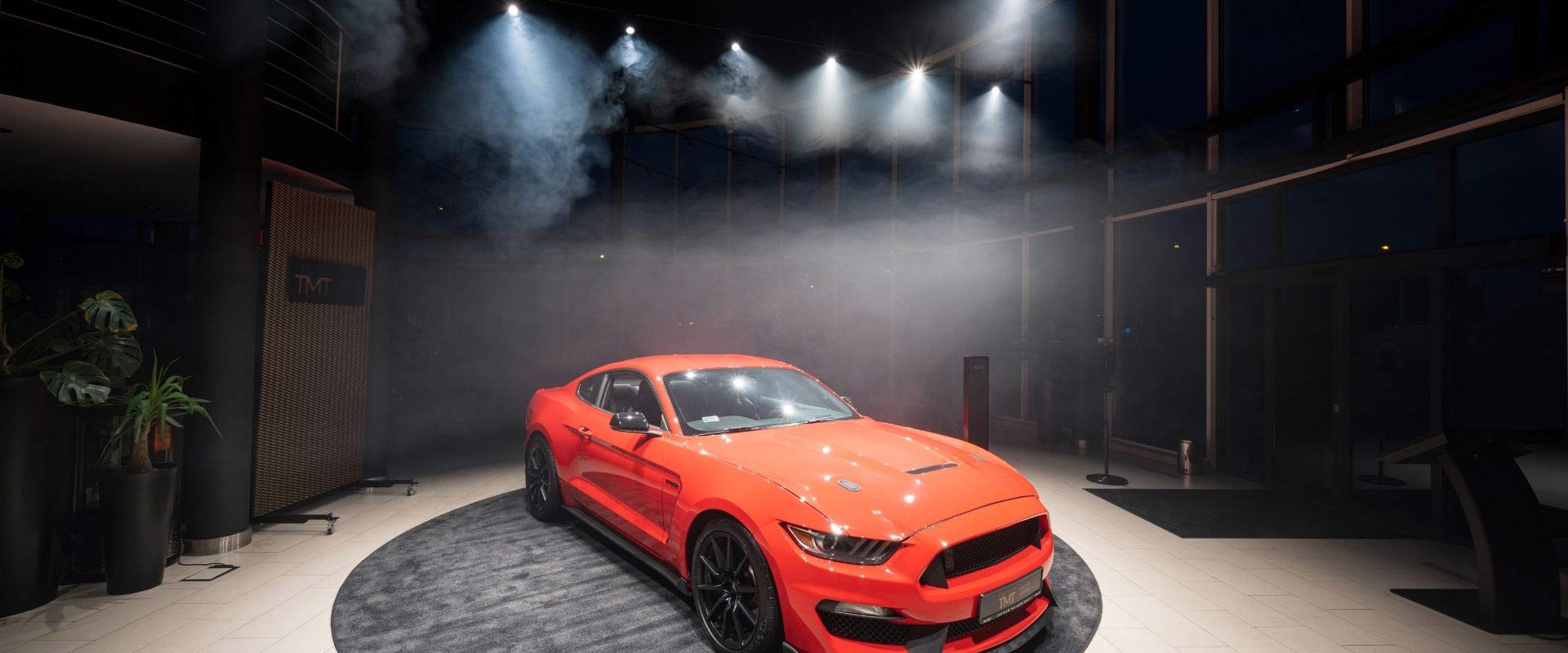 The owner of the showroom, Tomasz Kwiędacz, explains the background of the concept: "I wanted to create a place where you can see models of iconic world brands. The idea came from passion and love for motoring, cars, and everything that happens with and around cars. This is not a museum, neither a typical car showroom. Of course, we will be inviting customers who are interested in special cars, which, we do not conceal that, are of various ages. Their common feature is uniqueness and sportiness. The general idea is to make this showroom a place for car enthusiasts, where, in the company of unusual cars, you can drink coffee, eat cake and spend an unforgettable time. In the future, we intend to organize various meetings here, and promote motoring in its broadest sense, so not only sales."
Unique experiences, created by the perfect light
The showroom, which has the shape of a rotunda, and tinted glazing along the entire length, is designed and set up in such a way, that the cars get all the attention they deserve, and visitors experience an attractive atmosphere throughout the entire space. Lighting plays an important role in the realization of the concept. Tomasz Kwiędacz: "I am directly involved in acquiring all the cars and each time I am buying them, it is like I am acquiring that car for myself. I pay attention to the smallest details". The perfect light ensures that all these details are clearly visible when the cars are strategically placed in the showroom. He continues: "At the Samochodowy Salon Marzen, each individual car can be illuminated by using an iPad. For us, this is a perfect way to monitor and control the illumination of the cars with the speed of light. In case of repositioning a car, or presenting another model in the showroom, we can quickly and easily adjust the lighting accordingly, which is very convenient."
He makes no secret of the fact that he will feel sentimental about the cars, which will be leaving the showroom to their new owners. However, he believes that better or equally good cars will take their place. As far as the price range of the cars is concerned: "I am keen not to focus only on the most expensive, most desirable cars that arouse most emotions and are quintessentially automotive, such as Ferrari. I also want to collect cars that, although they are of lower value, provide similar emotions." Nevertheless, he has one unquestionable gem in his collection: an Aston Martin, which appeared in a James Bond film.
Smart solutions that bring a dream to life
Although this Aston Martin is one of the highlights of the collection, every car deserves special attention, regardless of its value. TRILUX is very aware of that, and therefore our smart lighting solutions make sure that every car is being illuminated in the most appealing way. In collaboration with Centrum TMT Moto Group, OKTALITE (by TRILUX) installed two smart lighting solutions, which have been connected to our clever light management system LiveLink Premium, to ensure that the showcased cars are perfectly illuminated, and visitors experience the best possible atmosphere when indulging themselves in this car-Walhalla.
B.VEO & AGIRA PLUS
The luminaire B.VEO is the most elegant directional spotlight from this product family. It brings clear, strong and focused accent light into all areas, and it easily copes with the most varied requirements, by means of its turning and tilting spotlight head. We combined the B.VEO with the AGIRA PLUS: a high-performance recessed directional LED spotlight, which is suitable for different ceiling heights and area sizes and can be easily implemented with one luminaire type. The spotlights can be turned through 355° and can be tilted in two directions through 30°, which is ideal for targeted and flexible illumination of the showcased cars.
LiveLink PREMIUM
The smart light management system LiveLink PREMIUM ensures optimal, individually adapted light with minimum effort, thanks to the intuitive and reliable control of all light points. The simply installed, intelligent LiveLink light management system (developed by TRILUX in collaboration with sensor manufacturer STEINEL) enables a simple planning and easy operation of almost any lighting system, regardless of the complexity of it.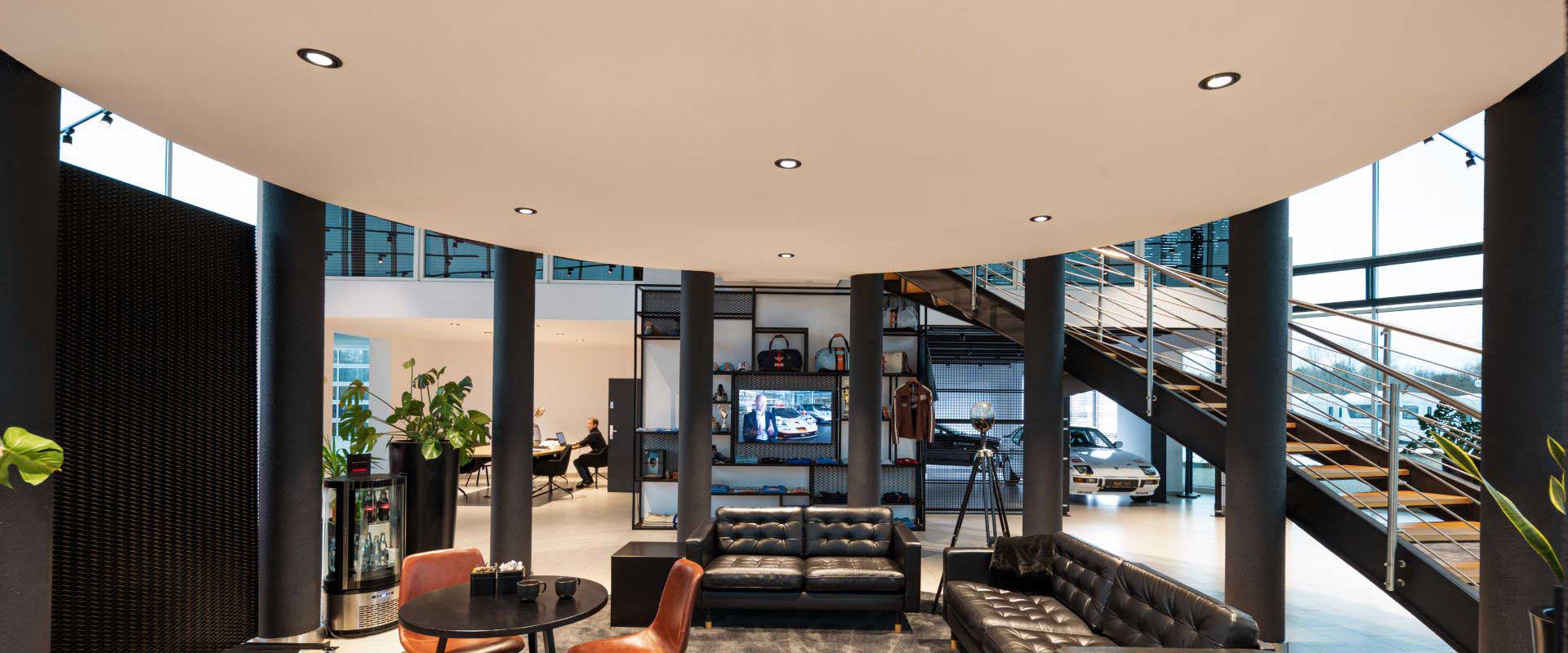 Project data
Project: Samochodowy Salon Marzeń by Centrum TMT Moto Group
Location: Świdnica (Poland)
Co-owner: [Tomasz Kwiędacz]
Lighting: OKTALITE by TRILUX
Photo Credits: [Maciej Lulko]
Application Area: Automotive Retail