VfL Wolfsburg, Germany
TRILUX is the official lighting partner of VfL Wolfsburg
Date

Category

Trilux Inspirations

Comments
Lighting Design with Long Range Effect
Two strong players have come together in the Volkswagen Arena: as the official lighting partner of the German football league club VfL Wolfsburg, TRILUX, market leader for professional lighting in Germany, has implemented two projects – the TRILUX Lounge and the honour area.
In national league stadiums emotions go up and down like a roller coaster in a matter of seconds, and carefully matched colour and lighting concepts support these changes of mood. "We aid the fascination of football with the medium of light," emphasised Sabine Brunner, Head of Corporate Architecture at TRILUX. The lighting concept, completely implemented with LED technology, is hardly static though – various light scenes can be
though – various light scenes can be called during all phases of the match. Sabine Brunner adds: "Lighting is modified to the atmosphere in the stadium. Before the game the mood is excited and the light is slightly dimmed, but accents are set with projectors that guide attention onto the essential components. In the half-time break when the mood is at its peak, light is dimmed down to a pleasant level to calm feelings."
The lighting can be adapted at all times, an advantage when areas are used for company events or even family celebrations outside of playing times for example, when other light scenes are needed. All light sources also provide ideal visual comfort for seminars and meetings.
The intelligent concept shows itself to best advantage on the way to the TRILUX Lounge as well, offering room for 90 people with a floor space of 158 square metres. Guiding with light along the routes begins in the corridor with a concise Arimo light line leading both to the TRILUX Lounge and into the stadium itself. The lounge features a colour and lighting concept carefully adapted to VfL Wolfsburg club colours. The result: a green-white zone of well-being for football fans.
In the honour area with VfL executive seats, light from TRILUX is also unmistakable thanks to a special lighting design that achieves a highly stylish atmosphere using Lateralo Ring luminaires. Exceptions in terms of colour are the two columns with logos of VfL Wolfsburg and Volkswagen as the main sponsor that immediately catch the eye.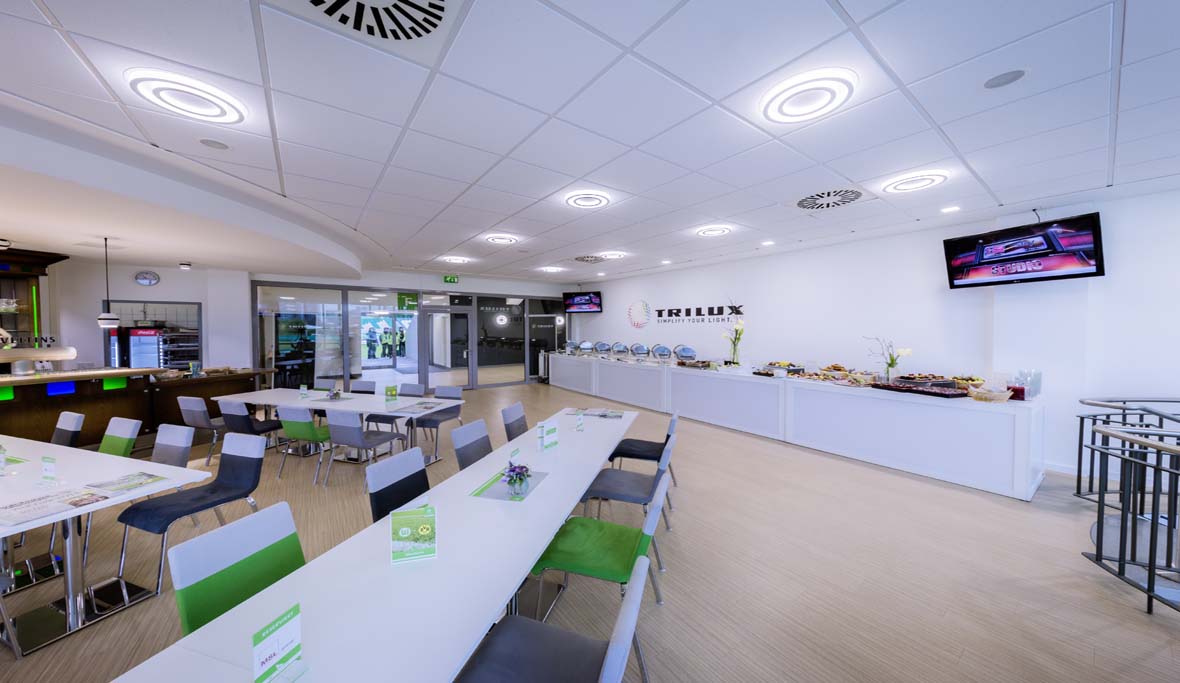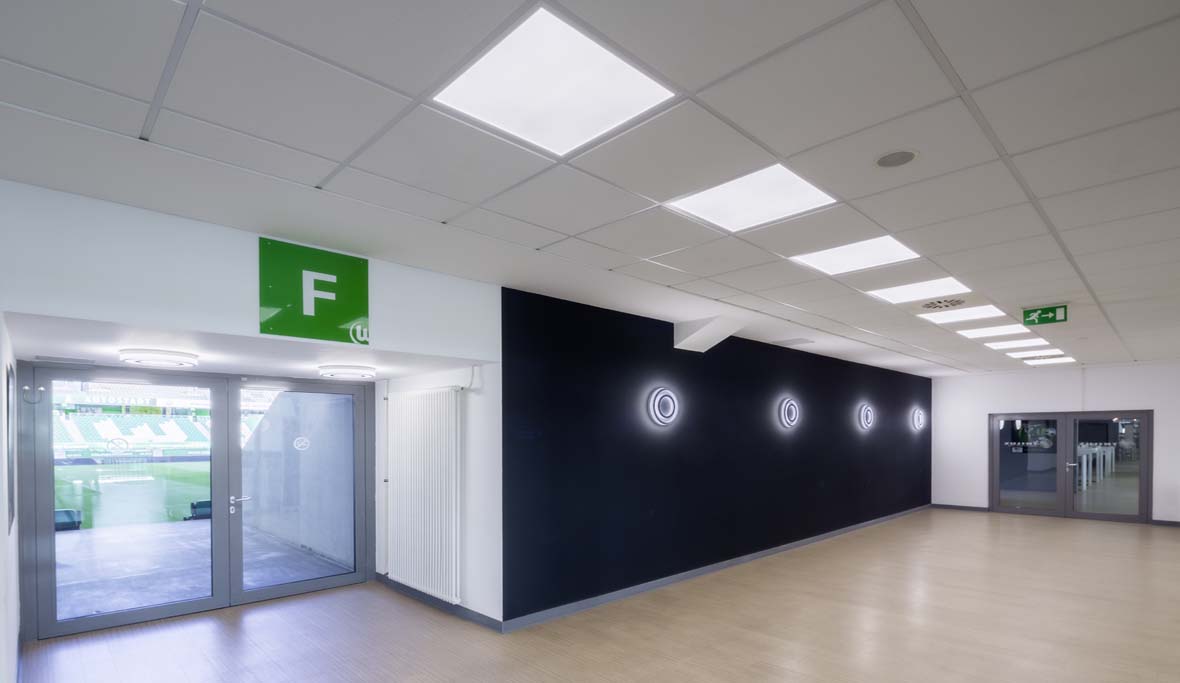 "The VfL logo is bathed in green light and the VW logo in blue. That's what makes the fascinating atmosphere of light there, especially at dimmed lighting levels," stated Sabine Brunner. TRILUX developed special luminaires to implement this solution that ensure complete glare elimination from all possible viewing angles.
Both refurbishment projects in the Volkswagen Arena represent not only examples of a convincing lighting design, but also of a highly successful collaboration between two strong partners. Many small halogen projectors were used previously, whereas the installed TRILUX LED systems have now raised energy efficiency to a "champions league level".