Xtrafit - Essen, Germany
Tip-top shape - XTRAFIT fitness temple puts its faith in LED
Date

Category

Trilux Inspirations

Comments
Where amateur sports enthusiasts flex their muscles and break into a sweat technology should help to keep a cool head, and this was taken into account during lighting design for the XTRAFIT sports club in Essen, Germany. Together with TRILUX as the lighting partner a 3,600 square metre hall space was equipped completely with LED systems. As is well known, these generate more power output than heat to enable especially efficient operation.
At XTRAFIT it's easy to stay fit – 24 hours a day and 365 days in the year. The ambience is unique, and not least because the refurbished building features an unmistakable industrial character. "We aim to provide value with our price-performance ratio and without any limits in terms of technical equipment – it's this philosophy that should be reflected in the lighting throughout the facility," explained Managing Director Axel Lankes. A partner was found in the form of TRILUX, able to precisely fulfil such aims.
"The light underlines our approach of offering customers premium training conditions and a high level of well-being at the same time. This in turn increases the quality of stay," continued Axel Lankes. The manager is convinced that custom-designed lighting with high light comfort contributes to improving motivation and therefore sporting performance. Glare-free vision from all positions was mandatory. The Mirona RL LED was specified as precisely the right solution for such requirements. The lighting installation is especially efficient thanks to an individually dimmable light management system with
daylight control, and at least 60% of energy consumed can be saved compared to lighting systems with conventional lamps. The Mirona RL LED ensures particularly uniform distribution of light thanks to its diffuser panel and direct viewing of the light sources is thus prevented to achieve low glare.
In addition to this planar light, accent lighting is also used at XTRAFIT. LED spotlights from the TRILUX portfolio highlight advertising banners and simultaneously emphasise the old industrial flair of the architecture. The compact, powder-coated Faciella spotlight features a manually adjustable inclination angle to ideally display the large-format sports motifs.
The tilting range is 195 degrees and the luminaire can also be rotated through 360 degrees. Thanks to several construction sizes, various luminous flux levels and different distribution characteristics the compact power-spotlights master the complete range of possible lighting tasks.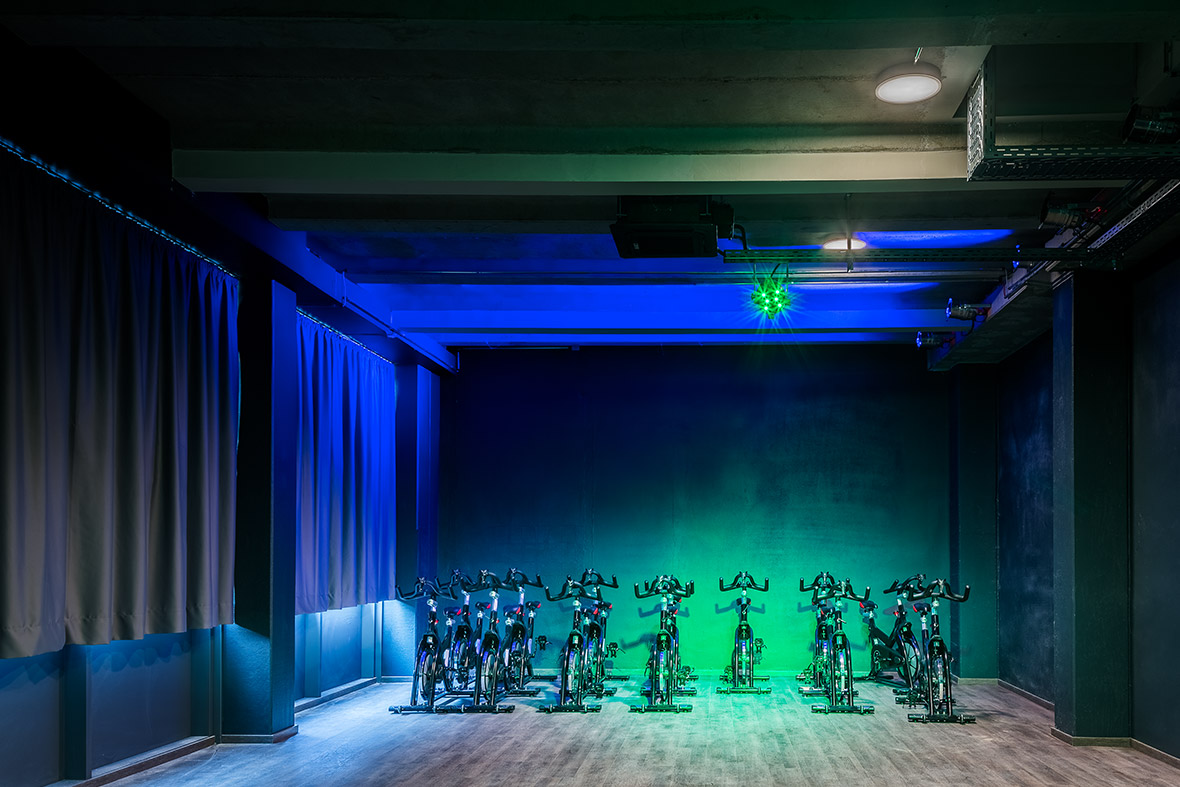 Stylish: the lighting contributes to making training fun.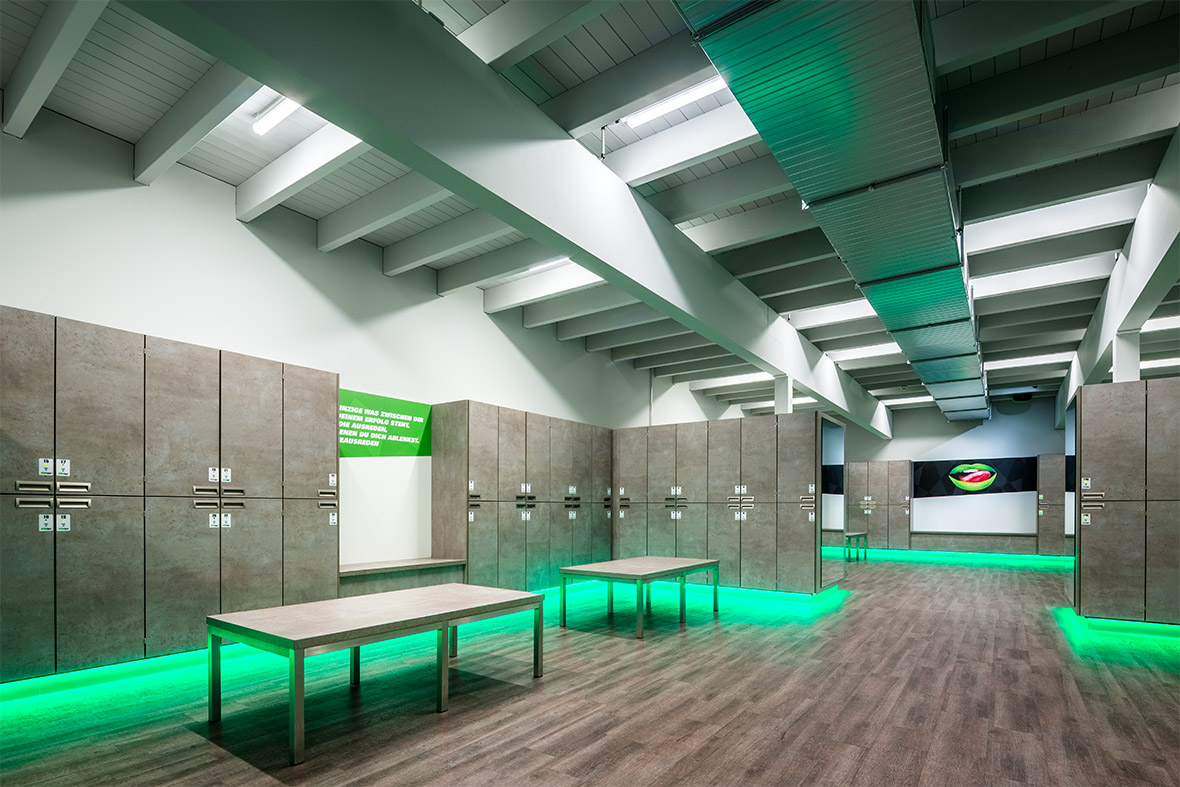 Efficient: 60% in energy is saved thanks to LED technology.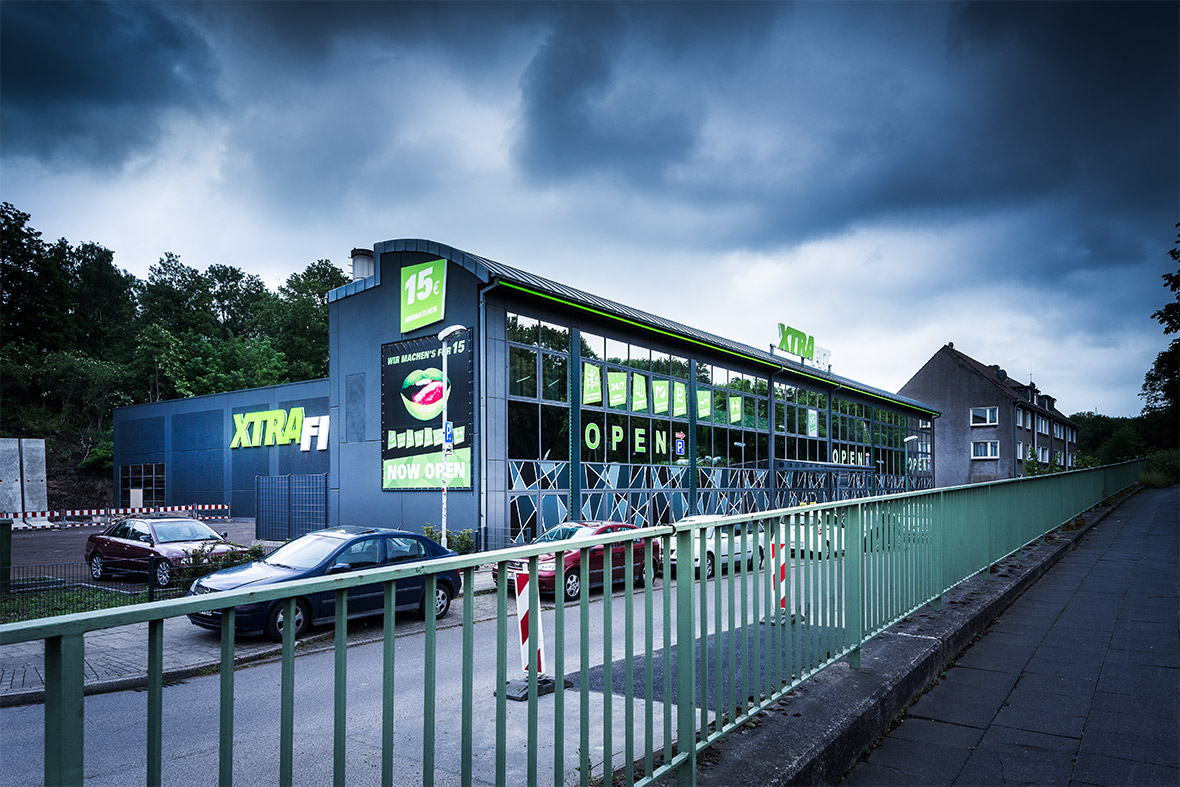 Construction authority
XTRAFIT GmbH - Cologne, Germany
Building
New construction of a fitness studio - Essen, Germany
TRILUX product series
Mirona R LED ceiling luminaire
Ridos LED batten luminaire
Cuvia LED outdoor luminaire
Onplana LED surface-mounted downlight
Faciella LED compact spotlight
GRADO directional spotlight (Oktalite)