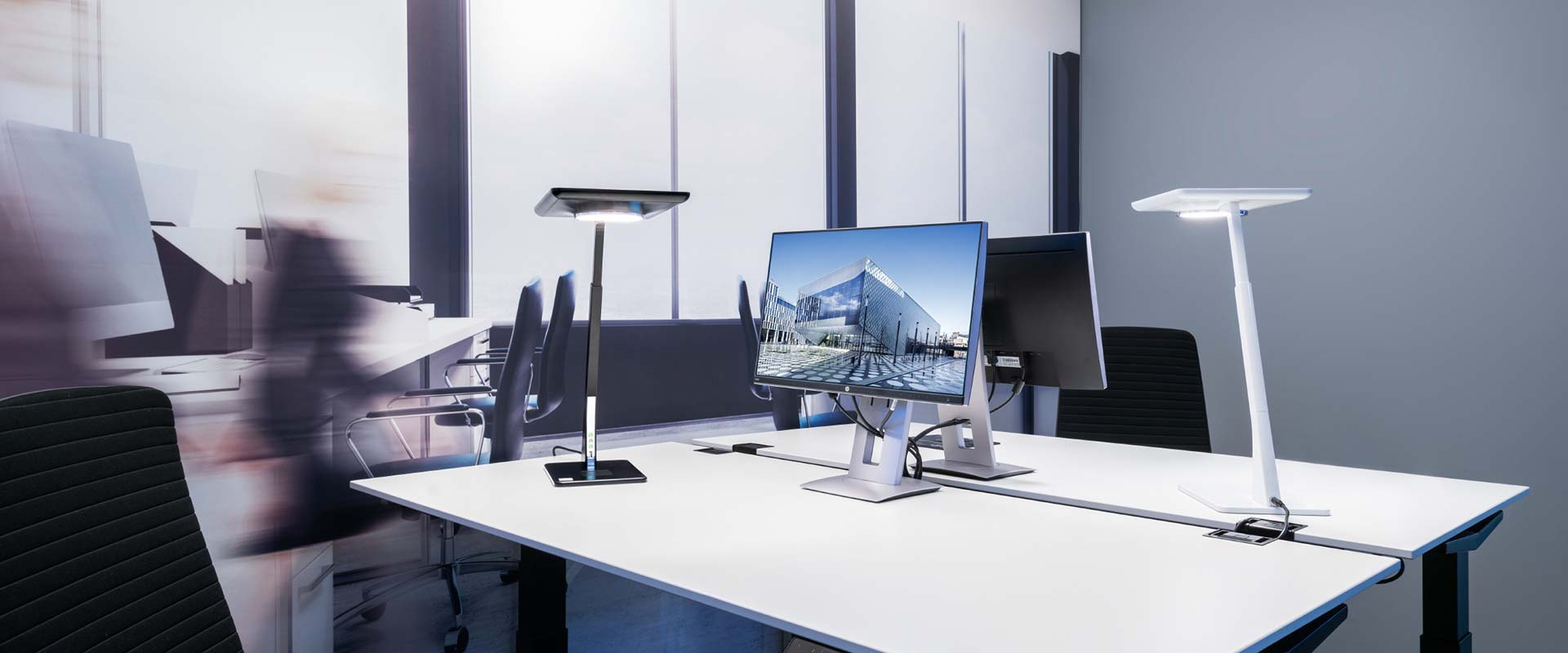 Bicult LED
A light revolution at the desk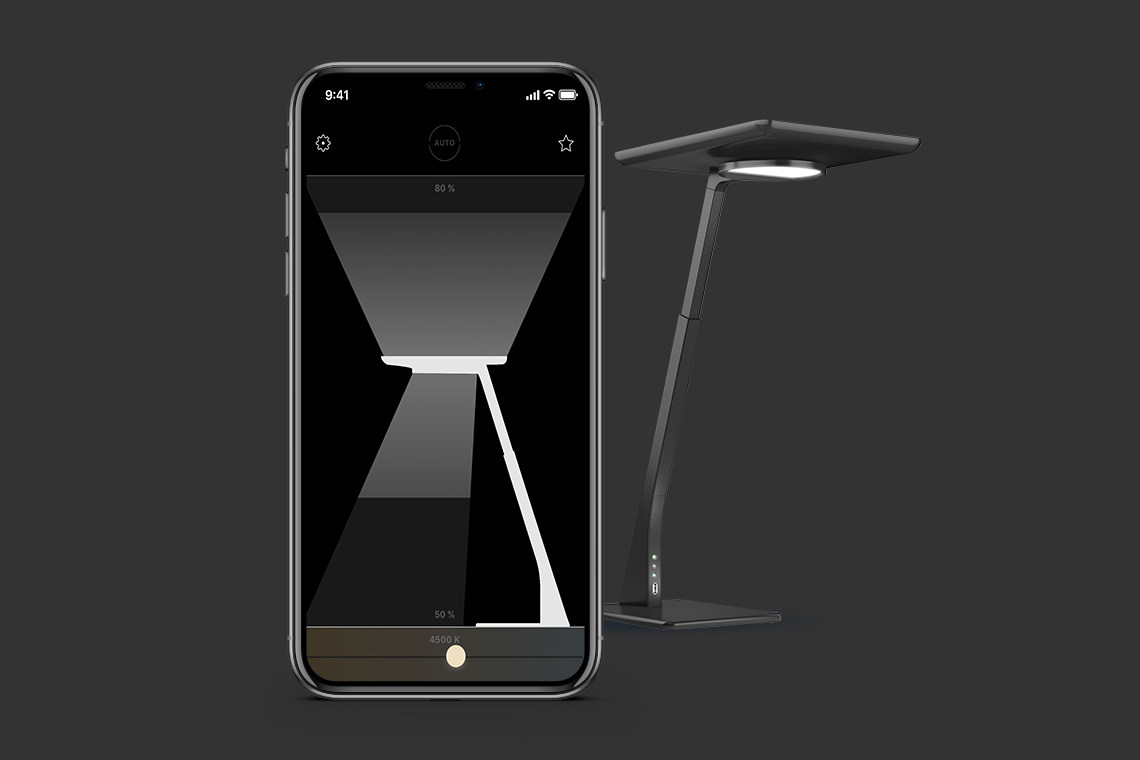 LIGHT THAT IS MORE INDIVIDUAL THAN EVER BEFORE
REVOLUTIONARY DESK LIGHTING IN THE OFFICE
The Bicult app enables the luminaire to be flexibly and individually set. With the TRILUX Bicult app, gain complete control of the light at your workstation.
The challenge
The world of working is changing: rigid structures are becoming flexible, tasks more complex and the well-being of employees more important – home offices are also increasingly becoming alternatives. This demands not only flexible and comfortable office equipment but also modern lighting concepts that combine excellent light with flexibility and individual setting options.
The solution
The new TRILUX Bicult LED is revolutionising office lighting. It is the first desktop luminaire to combine direct and indirect light output. While the glare-free indirect lighting directed upwards illuminates the complete office, the direct component creates perfect light at the desk. Users can also set their personal lighting preferences individually on the luminaire or via an app. This enables light compliant with standards and a level of flexibility unknown until now.
Advantages during installation
Commissioning as simple as child's play
Bicult LED is installed as quick as a flash without complex mounting. It only needs to be positioned on the desk and inserted into the socket. All luminaires are preconfigured and can be immediately put into operation – as a result perfect visual conditions are created in home offices without any effort. If desired, various operating parameters such as the light colour can be simply modified via an app.
Advantages with lighting design
The light revolution for both desk and room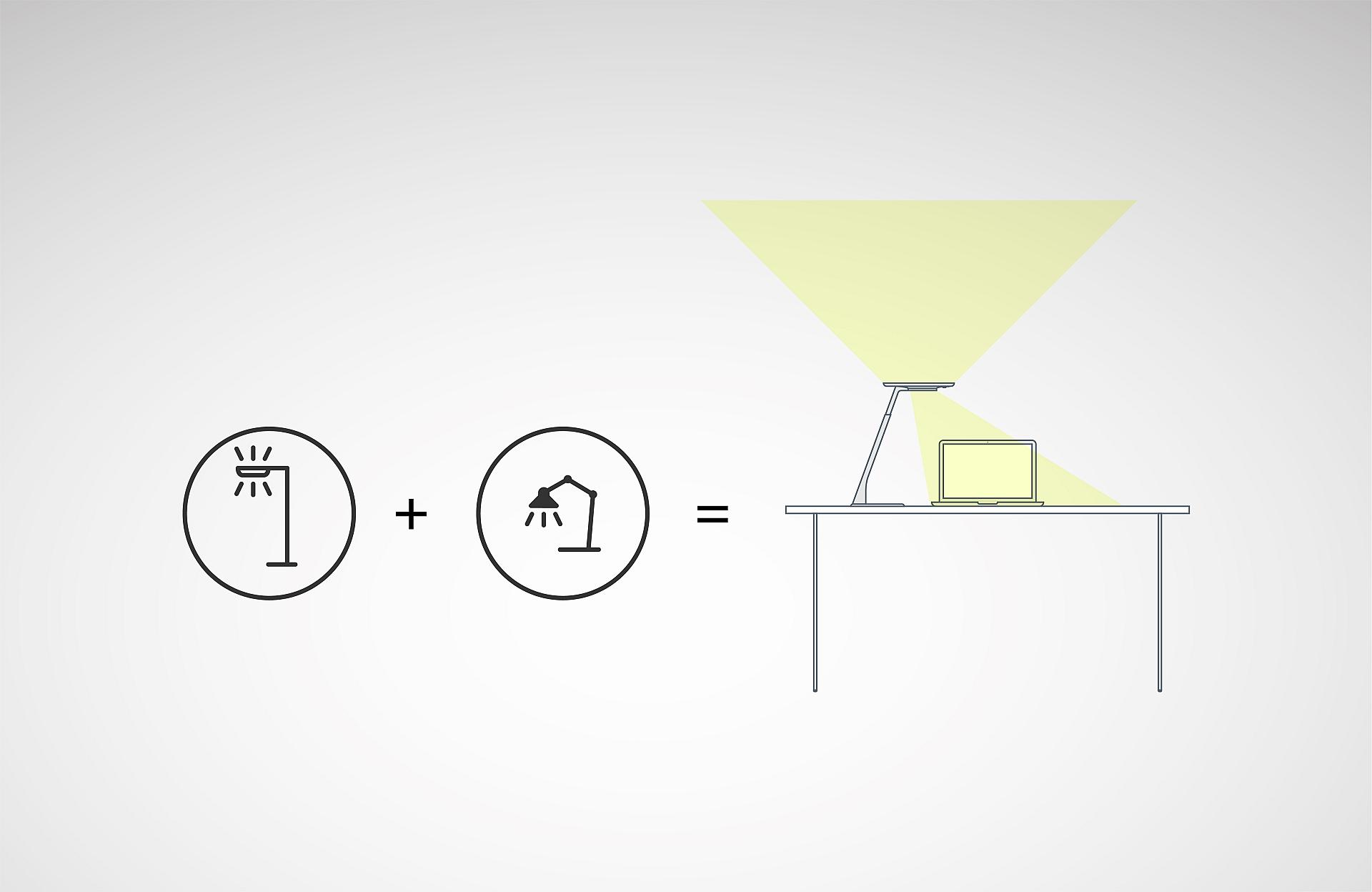 With the innovative Bicult LED, TRILUX has developed a unique desktop luminaire that optimally illuminates both workstations and the complete room. Thanks to the high, glare-free indirect component, supplementary ceiling luminaires or standing luminaires are not required for standard-compliant illumination of the workplace. This means that no further horizon needs to be integrated into the room, achieving a uniquely clear and uniform ceiling appearance.
Planning general lighting – and keeping all options open
The Bicult LED enables new building constructions and core refurbishments to be especially simply and attractively planned, because only one form of general lighting is needed in such projects. Bicult LED as a desktop luminaire is part of the furniture and ensures standard-compliant lighting perfectly matched to the room use.
Consummate quality of light
The elevated indirect light component of the desktop luminaire also illuminates the room with luminous flux of 5,000 lm – without causing glare for any standing employees. This is ensured by a special "Triple Glare Control System (TGCS)" consisting of a combination of three optical systems and a special light control and light mix. Individual light settings are also possible in the open space without negatively affecting the complete room itself.
Flexible lighting for flexible work
The desktop luminaire is simply connected via a standard power socket and can be used in any location. If the floor plan or use of the room changes, the lighting does not need to be re-planned or reinstalled with high effort – the luminaires are simply moved to a new location. This saves time and costs.
Cleverly networked and smart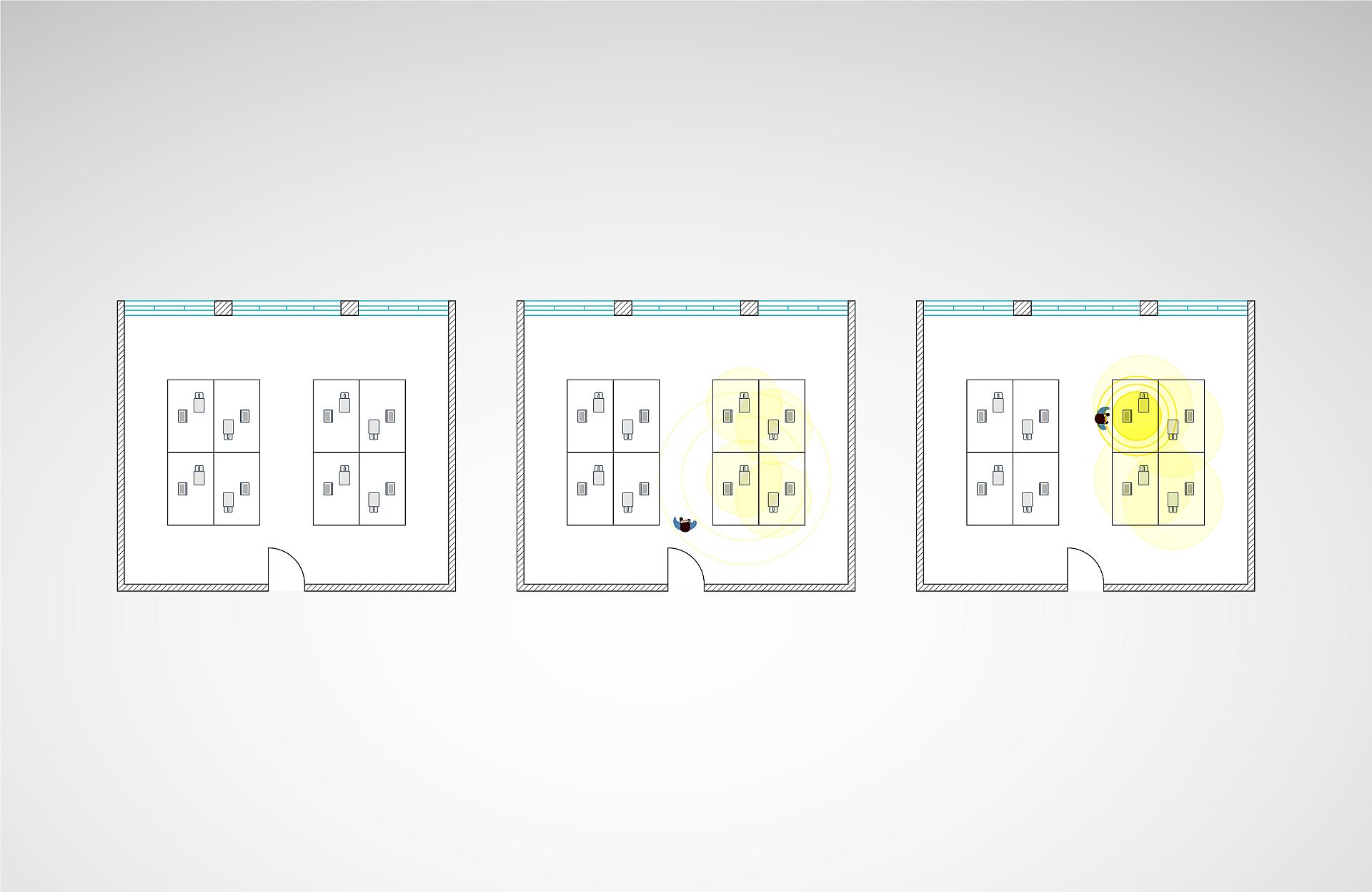 In larger rooms with several workstations, the individual Bicult LED luminaires (SMART Connect version) can be simply interconnected and combined to form groups. A sensor in the luminaire detects the presence of occupants and the indirect light component of all grouped luminaires is automatically matched accordingly, ensuring an optimum general lighting level throughout the room at all times. The direct component remains individually settable by the user at any time.
Advantages in operation
Light as individual as people
Bicult LED focuses on the user by offering them numerous possibilities to set their personal lighting preferences. E.g., the direct light output can be targeted to the desired place on the desk simply by rotating the focus ring. The intensity of the direct and indirect light components and light colour is flexibly controlled via push-button on the luminaire or via an app with the SMART versions.
Perfectly matched light at any workstation
The SMART Single and Connect versions of Bicult LED enable personal light profiles to be created via an app which can then be called up at any Bicult LED desktop luminaire. If the workstation is changed this means the individual light settings do not need to be reconfigured every time. These can be simply activated via a smartphone or tablet.
Human Centric Lighting at your own desk
A circadian curve is saved in all Bicult LED versions for adapting the light colour automatically to daylight. This is simply switched on or off by pressing a button. As a consequence, the desktop luminaire generates activating or relaxing light according to needs and the time of day.
Standard-compliant desk lighting also for home offices
Employers have the obligation to ensure optimum work conditions with the same standards as in offices for their home office employees – the right lighting is also included here, along with ergonomic office furniture and suitable hardware. With Bicult LED, home offices become professional workplaces – with optimum visual conditions.
Perfect light thanks to a height-adjustable luminaire head
The light unit of Bicult LED can be height-adjusted. As a result the luminaire can be optimally matched to different people working at the desk and glare is completely excluded.
Simple charging of smartphones and tablets
The luminaire base has a USB port for directly charging mobile end devices such as smartphones and tablets on the luminaire.
Uplight
The first desktop luminaire to perfectly illuminate both the room and desk via direct and indirect light components
Flexible
Maximum flexibility for modern worlds of work: rooms illuminated in compliance with standards without luminaires with fixed installations and connected simply by plugging in to any power socket
Individual
Customised light for all forms of work culture via flexible settings and personal light profiles
Variabel
Control directly on the luminaire or via an app with SMART versions
TECHNICAL FEATURES
Desktop luminaire with direct (500 lm) and indirect (5,000 lm) light output
Energy efficiency over 100 lm/W
Service life of 50,000h L80 at 25 °C
Indirect component has high glare control thanks to special Triple Glare Control System (TGCS ®)
Colour temperature is variable from 2,700 K to 6,500 K
Three different colours (white, silver, black)
Control via three buttons on the luminaire, and additionally via app and smart device with the SMART luminaire versions
The light intensity of the direct and indirect component can be separately set
Individual light scenes can be set
Integrated daylight and presence sensor (with SMART versions only)
The SMART Connect luminaires can be interconnected
Luminaire base with USB charging port