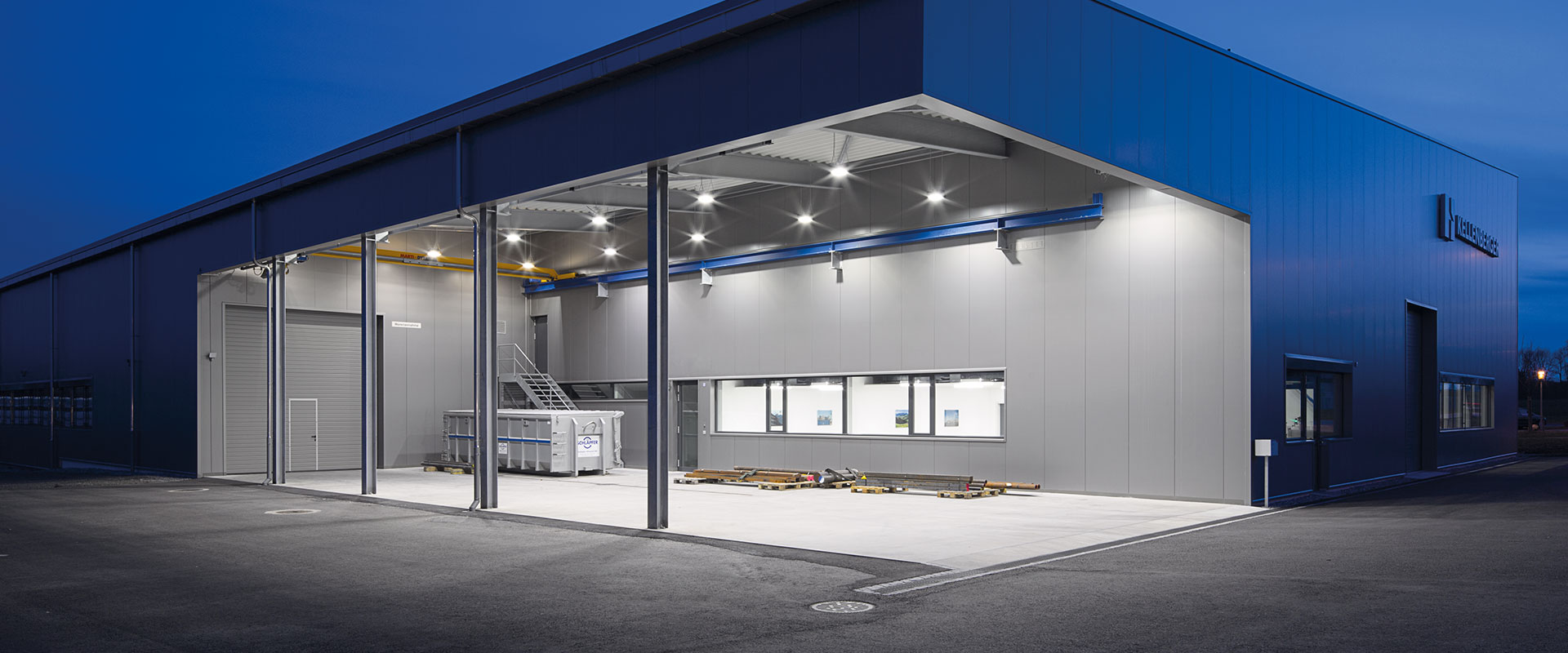 Mirona Fit LED –
minimum dimensions with maximum power
The challenge
High temperatures, humidity, sparks, fumes and vibrations – tough conditions exist in industrial production bays and store rooms. It's not just the production plant that needs to cope with such conditions but also the lighting needs to be 100% reliable. The Problem: particularly in halls with ceiling heights of more than 13 metres, maintaining the lighting system is difficult and comes with high costs. For this reason luminaires must be particularly reliable, durable and require minimal maintenance – as well as have low operating costs. They should also emit uniform, glare-free light to ensure work safety.
The solution
The TRILUX Mirona Fit LED is the perfect lighting solution for challenging surroundings. This applies to storage and logistics halls, e.g. in heavy industry and food production, as well as for sports halls. With a 50,000 hour service life (L80) even at high ambient temperatures of 55°C, the luminaire is not only especially durable but also extremely reliable with a low maintenance requirement. This means that expensive maintenance interruptions to production runs are a thing of the past with the Mirona Fit LED. The luminaire can also be adapted to individual requirements via beam characteristic, lumen output and optional sensor and CLO function (Constant Light Output). The 52,000 lumen version even makes 2:1 refurbishments possible. The LED luminaire provides high quality light and therefore safety in halls. The luminaire can also be integrated into light management systems to achieve maximum energy savings.
The result
The Mirona Fit LED complies with maximum lighting specifications in industry and can be precisely modified to specific demands. The new highbay luminaire offers lighting designers flexibility and end users complete reliability, with low operating costs, high energy efficiency and quality of light.
Browser information
The model cannot be displayed. Unfortunately your browser does not completely support this web technology.
Use Google Chrome for example to gain complete user experience.
Zoom
Scroll to zoom towards the model
Drag and Drop
Rotate the model by clicking and dragging
Change the background
Change the background colour with this icon
Close
Close the application with this icon
Maximum cost efficiency
With efficiency of up to 145 lm/W, the Mirona Fit LED is especially efficient and economic. High luminous flux levels mean less light points and therefore a reduction in investment and operating costs. With the high-output 52,000 lm version, one Mirona Fit LED can replace two conventional luminaires. This offers end users enormous savings potential on purchase, installation and operating costs.
Flexible options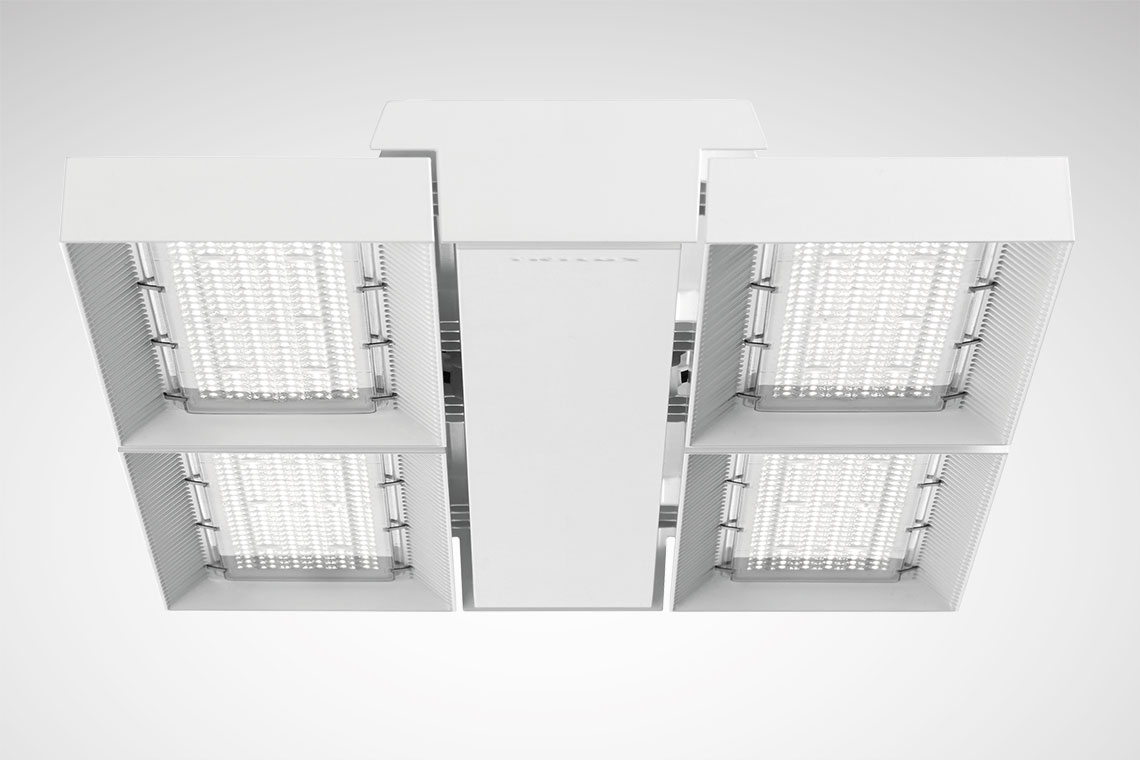 The diversity of Mirona Fit LED versions gives lighting designers complete flexibility with three lumen packages and beam characteristics available. Additional versions integrate intelligent technology. This wide spectrum means the luminaire can be precisely adapted to the requirements of individual applications: the Mirona Fit LED illuminates production facilities in heavy industry as well as food production rooms and sports halls with a high level of reliability.
Complete reliability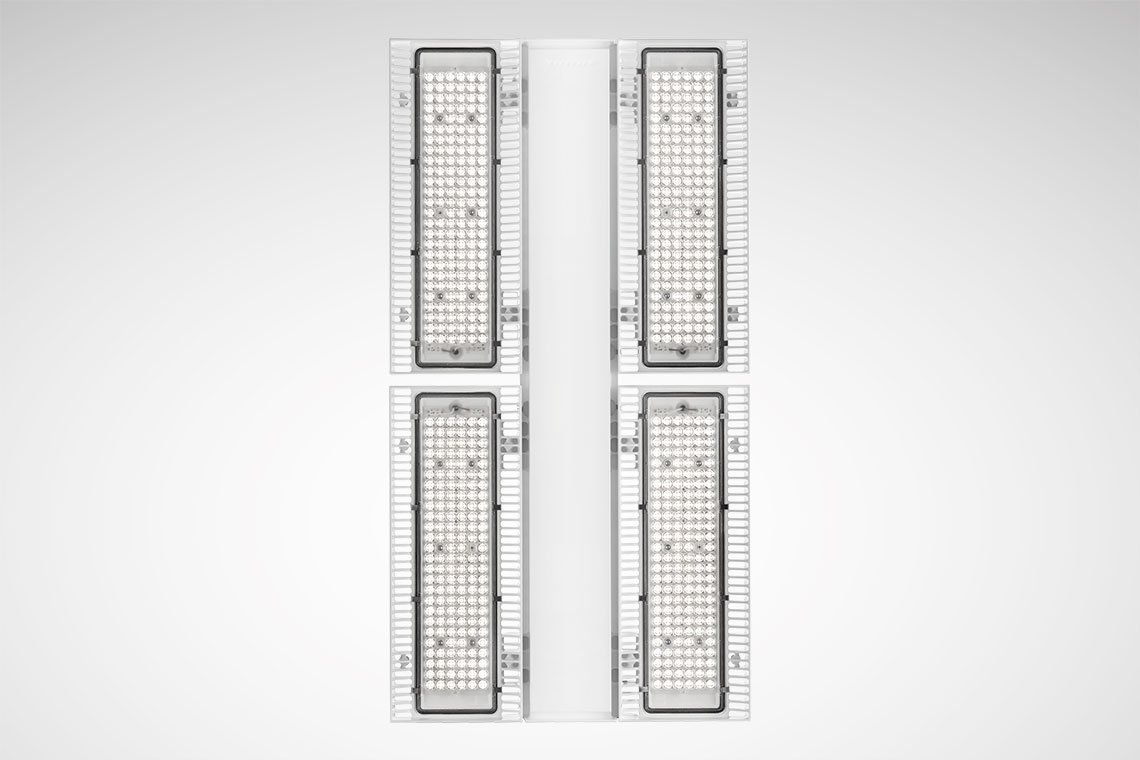 The Mirona Fit LED is popular with end users thanks to its long, low-maintenance service life. Optional CLO technology (Constant Light Output) also ensures that loss in luminous flux even after long operating periods is a thing of the past. The robust luminaire is also ideal for extreme tasks in the industrial sector. Even at 55° C it provides over 50,000 hours (L80) for reliable implementation the lighting task.
Simplified installation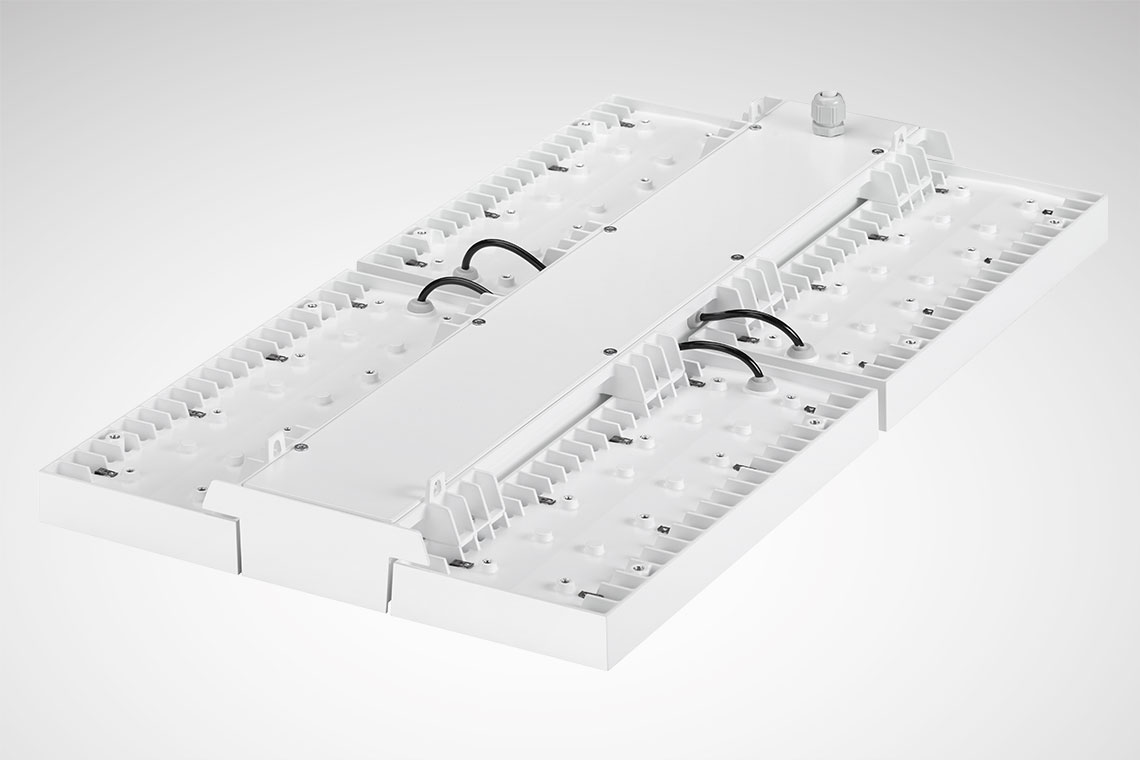 The Mirona Fit LED has a low weight: according to lumen level and size, the luminaire weighs only 4 kg, 8 kg or 13 kg (52,000 lm version), therefore enabling simpler installation compared to other luminaires with these lumen levels.
Intelligent control
In addition to the base version, the sensor version of the Mirona Fit LED offers lighting designers and end users additional possibilities for increasing efficiency via daylight and presence detection.
Energy efficiency
At 145 lm/W, the Mirona Fit LED is extremely efficient and offers significant cost savings compared to conventional solutions. The version with the highest lumen level (52,000 lm) even enables 2:1 refurbishments for extra efficiency.
Robust
Flexibility meets robustness – this combination makes the Mirona Fit LED ideally suited for diverse applications in for diverse halls. The luminaire has IP65 protection to withstand extreme conditions in industrial and sports halls. Thanks to HACCP conformity, the luminaire is also suitable for applications in the food industry.
Intelligent technology
The Mirona Fit LED is optionally available as a sensor version for presence or daylight detection. The luminaire can also be connected to a light management system (e.g. LiveLink). The optional CLO technology (Constant Light Output) provides uniform luminous flux over the complete service life.
A range of versions
Three different lumen level options offer complete flexibility. The luminaire is available in versions with 13,000 lm, 26,000 lm or extra-high light output 52,000 lm. Further options are three different beam angles – narrow wide, wide and narrow distribution.
Technical information
Reference
Values
Luminaire luminous flux:
13.000 lm, 26.000 lm, 52.000 lm
High temperature version: 10.000 lm, 20.000 lm, 40.000 lm
Connected load/efficiency:
94 W, 188 W, 366 W, bis zu 145 lm/W
High temperature version: 69 W, 139 W, 282 W
Service life:
50.000 h L85 at ta 55 °C (at 13.000 lm and 26.000 lm)
50.000 h L80 at ta 45 °C (at 52.000 lm)
50.000 h L80 at ta 70 °C (High-temperature version: with 10.000 lm and 20.000 lm)
50.000 h L80 at ta 60 °C (High-Temperature Version: at 40.000 lm)
Colour rendering/-temperature:
840
Electrical version:
ETDD
Dimensions (L x W x H):
320 x 342 x 63 mm, 650 x 342 x 63 mm, 650 x 560 x 63 mm
Protection rating/safety class:
IP65, SK I, IK08 (Non-laminated safety glass: IK07)
Beam angle:
B - wide distribution, TB – narrow-wide distribution, T – narrow distribution