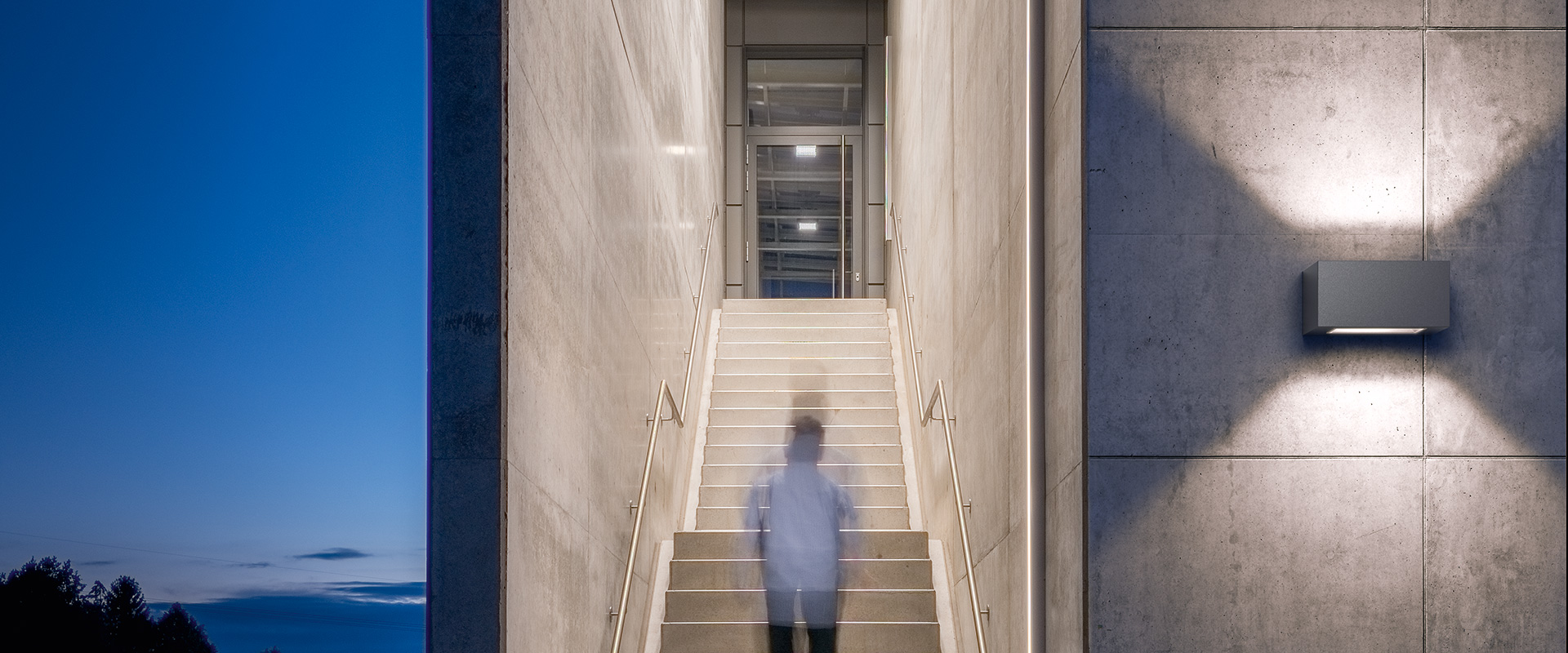 Skeo R LED
A light component for striking building and path lighting
Challenge
Prestigious entrances and illuminated facades lend buildings an attractive appearance in dark surroundings. During the day, however, any lighting solution must not disturb the overall architectural effect – visual discretion is required in this respect.
Solution
The rectangular Skeo R LED provides effective light accents as a wall or ceiling surface-mounted luminaire. The luminaire has different versions, which allows for flexible adaptation to specific lighting requirements. Thanks to its minimalist design, it blends harmoniously into any architecture.
Result
With the Skeo R LED from TRILUX, entrance areas, facades and paths around buildings can be effectively presented in the right light. Its purist design creates a harmonious appearance.
A holistic approach
TRILUX supports its customers with holistic lighting concepts. With Skeo R LED, the lighting expert's portfolio now features an outdoor luminaire with proven product quality, which scores points particularly when it comes to illuminating walls and paths.
Diverse design possibilities, thanks to flexible lighting technology
The surface-mounted wall and ceiling luminaire is available in two construction sizes with several luminous flux packages and various beam characteristics, and with single or twin light emission. This makes the luminaire ideal for both accenting façades and illuminating paths and routes.
A purist, reduced design
The rectangular luminaire body of Skeo R LED is characterised by concise lines and a minimalistic look. This allows the surface-mounted luminaire to blend ideally into the respective architecture, creating a harmonious overall impression.
Increased outdoor safety
In addition to effective lighting, Skeo R LED also provides a sense of safety and security. Thanks to its high-quality, robust die-cast aluminium housing and IP65 protection rating for resistance against dust and water jets, the luminaire reliably and permanently resists environmental and weather effects.
Flexible luminaire configurations
The surface-mounted luminaire is available with various lumen packages (ranging from 600 to 4,000 lm), single or twin light emission and various beam characteristics, and comes with 3,000 Kelvin as standard. Furthermore, two construction sizes are available (200 x 100 mm and 300 x 150 mm). This provides Skeo R LED with wide design flexibility.
A concise construction design for a harmonious appearance
Concise lines and a minimalistic design – Skeo R LED with its purist look blends optimally into the overall architectural appearance.
Long-life components
Skeo R LED features a housing of robust die-cast aluminium and an IP65 protection rating against dust and water jets.