Lateralo Ring LED
concentrated light
The Lateralo Ring LED is far more than simply an outstanding lighting solution – it's an aesthetically functional statement of individuality. The innovative optic provides outstanding visual comfort: The planar, uniform light and ideally matched direct and indirect light components illuminate the room brightly, softly and without shadows. During daylight the Lateralo Ring LED with its timeless design is also an appealing eye-catcher: when switched-off the optic is transparent, enabling the extremely flat luminaire to discreetly float in the space. The especially prestigious suspended luminaire with circular design is therefore ideal for the illumination of executive offices and conference rooms..
This unique light system has now been developed further: the Lateralo Ring Active provides maximum visual comfort along with individual light setting options. Various light colours give a pleasant feeling of light at all times of the day, and allow the interior design to appear in best light. With the help of LiveLink a circadian curve automatically provides the right colour temperature at the right time.
Product and Application images
Both functional and prestigious – the ideal combination
Perfect light – without shadows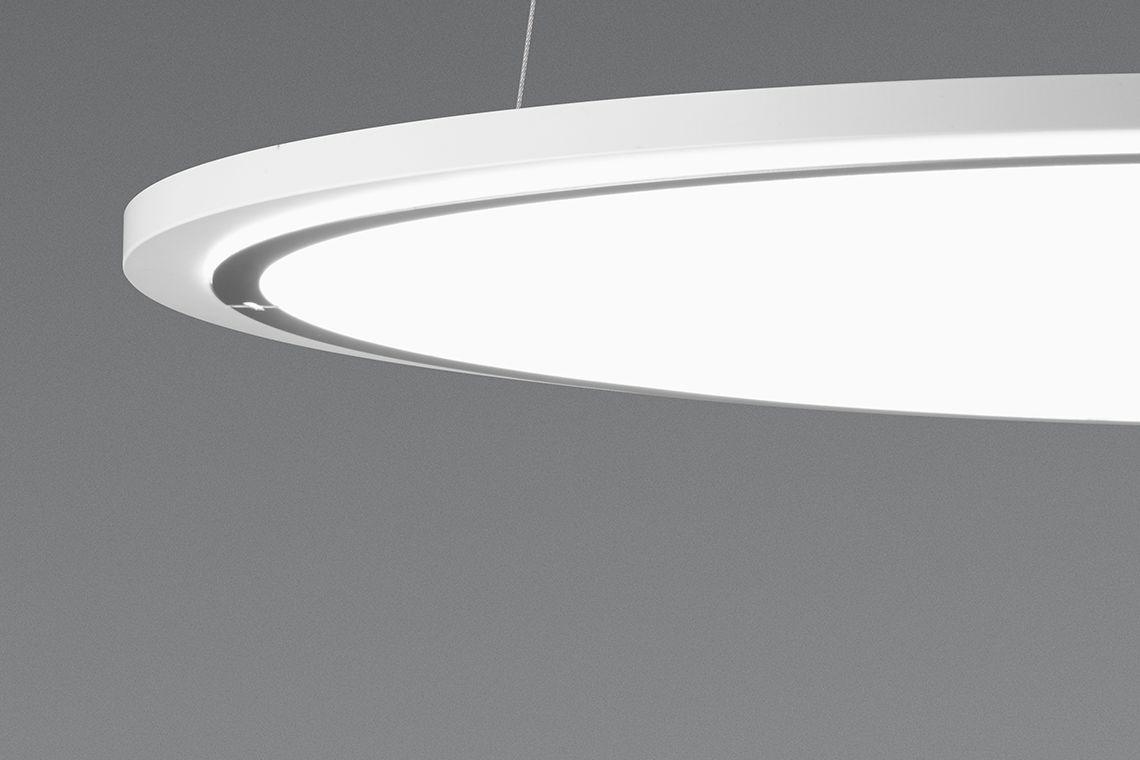 The Binary Light Guide System from TRILUX gives the homogeniously illuminated luminous surface an especially dynamic, aesthetic light appearance. One of the reasons for this is the interplay of perfectly matched direct and indirect light components at a 50:50 ratio. The especially wide indirect light component illuminates rooms brightly, uniformly and without shadows even with low ceiling heights.
A purist design – for maximum impressions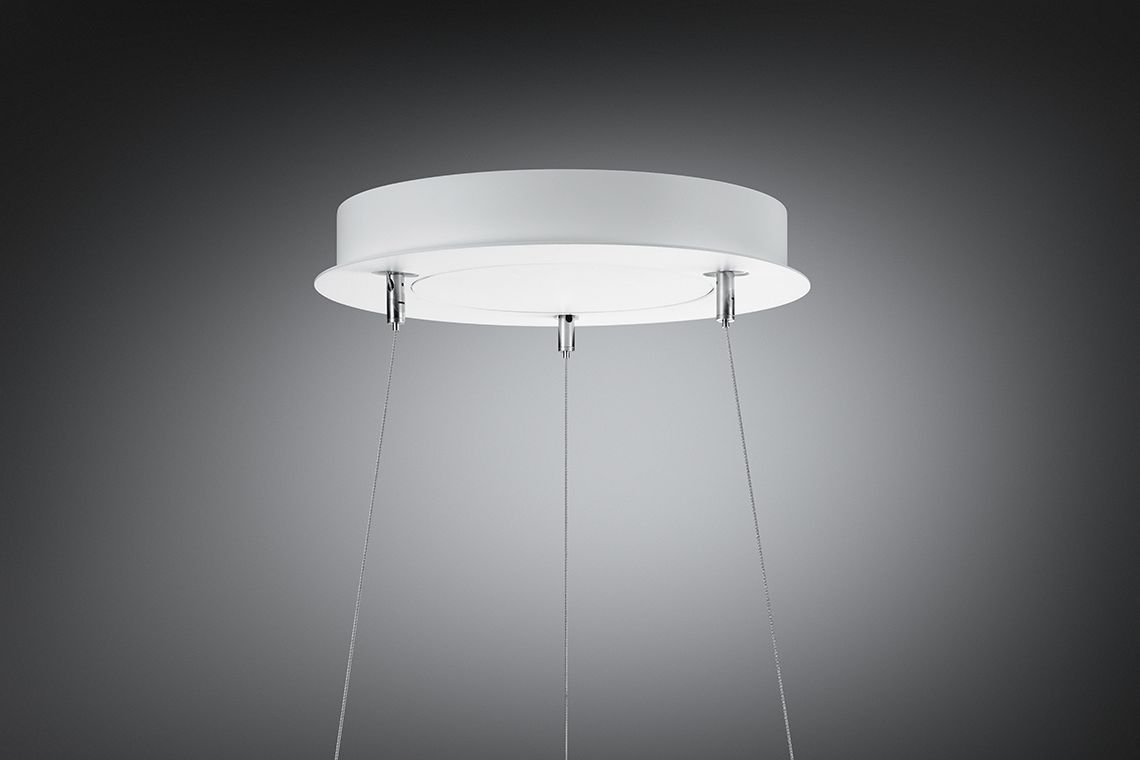 The round suspended luminaire has a height of only 18 mm. Mounting is via three thin wires fixed to the ceiling rose, that itself is either fixed in or to the ceiling with accessories. The Lateralo Ring LED has a weightless appearance thanks to the purist design and its panel that looks transparent when switched-off.
Maximum visual comfort
Perfectly illuminated rooms with soft planar light, glare-free and without shadows – the Lateralo Ring LED ensures maximum visual comfort thanks to an intelligent combination of direct and indirect light components.
An extremely flat, attractive design
Sophisticated, transparent light – the round suspended luminaire has a height of only 18 mm and appears to simply float in the air. The transparent panel and suspension via three thin wires without visible power cable gives the luminaire a highly delicate appearance, and creates an appealing room atmosphere.
Round luminaire
In a sector dominated by rectangular luminaires, the round Lateralo Ring LED provides an appealing and high-attention contrast. The luminaire can also be flexibly used thanks to its round design.
Further developed convenience
The Active versions provide an even more pleasant light feeling and the right light mood thanks to modifiable colour temperature.
Technical features
| REFERENCE | VALUES |
| --- | --- |
| Luminaire luminous flux: | 6.400 lm, 8.000 lm, 9.600 lm |
| Connected load/efficiency: | 58 W, 75 W, 90 W / > 110 lm/W |
| Service life: | > 50.000 h L85 |
| Colour rendering/colour temperature: | 830, 840, Active |
| Electrical version: | ETDD |
| Dimensions: | 1,455 x 338 x 16 mm, 1,175 x 338 x 16 mm |
| Protection rating/impact resistance: | IP20/IK02 |
| Light distribution: | Direct-indirect, very wide distribution / UGR19 |