Magical light
Light is magical. It has the power to attract, it touches our souls, can create moods and influences our behaviour. We specifically use light to influence purchasing behaviour. In the retail sector light is a decisive factor when it comes to displaying products appealingly, bathed in good light. Presentations however significantly depend on the needs of our customers and their target groups. Light can provide orientation, can guide, can focus attention on products and can also arouse desires. Light fascinates because it has the ability to encourage purchases in various ways.
Benefits of LED for Shop & Retail
High colour rendering index ensures optimum recognition of colours and materials
The right light spectrum is efficient because hardly any wavelengths are absorbed
No infrared radiation reduces heat loads on goods
No ultraviolet component delays the fading of goods
Energy consumption is reduced by a combination of the right LEDs, an efficient reflector and intelligent thermal management
A modern light concept sets Oska in scene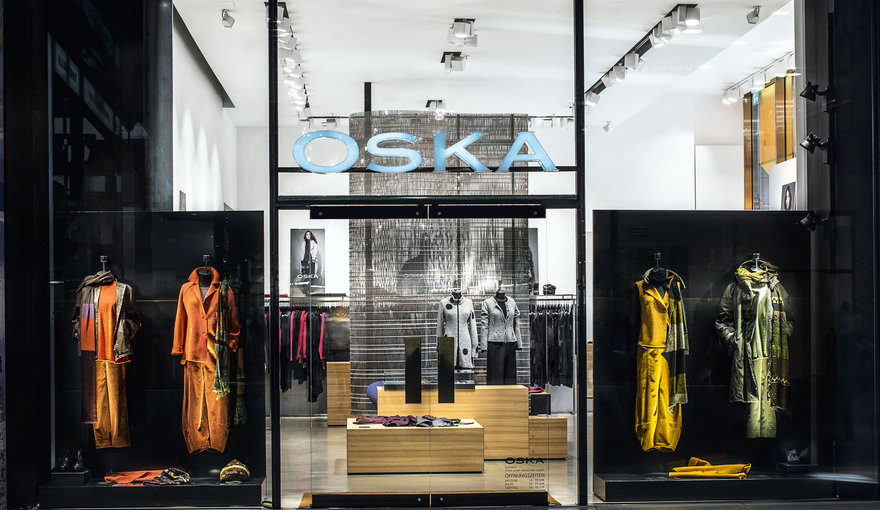 Previous HIT technology was replaced by a better, more colour-neutral light in order to emphasise the linear and discreetly extravagant style of the OSKA brand. Oktalite as the specialist for retail lighting was consulted for project implementation, both in the flagship store and for the showroom of the Munich headquarters. The store is displayed with a sober, functional look paired with stylish elements. As part of this, LED lighting and surface-mounted spotlights professionally sets room and goods in scene. The contrast between bright and dark in the store window attracts the glances of customers.
The goods here are displayed upon a black background, similar to limelight on a theatre stage. Vertically mounted tracks with black BLX spots achieve this effect. In addition, recessed cardanic spots were installed in the floor. The whole concept generates a dramatic, mystical atmosphere that ideally highlights the goods. The clear, concise appearance and play with light is continued in the interior. Here the lighting planners specified warm white light that sets soft accents due to suitable reflectors. Thanks to spot and medium flood reflectors, the Fano LED spotlights stylishly showcase the room and goods with 4000 lumens and a 3000 Kelvin light colour.
Product catalogue Light Management
More information about our indoor products of light management:
More Shop + Retail
Find more Shop and Retail lighting on the web page of Oktalite Lichttechnik GmbH (Member of TRILUX Simplify Your Light).