Configure now
The configurator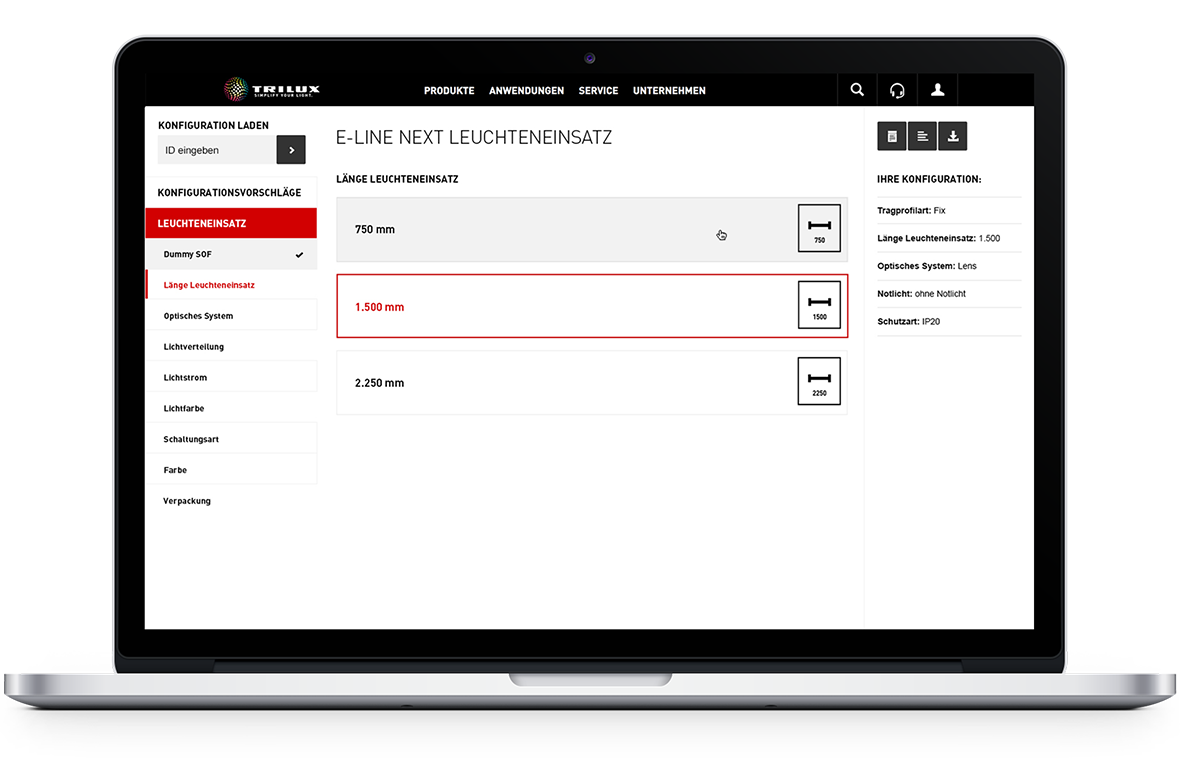 With the new E-Line Configurator, lighting designers and architects have the enormous bandwidth of variants under their control.
Once the gear trays have been configured, photometric files and specification texts can be dowloaded and the continuous line configuration saved so it can be recalled at a later date.
HIGHLIGHTS
MODULAR KIT SYSTEM
E-Line Next LED makes it all possible. The modular system offers previously unknown flexibility in terms of optics, lumen packages, lengths, protection classes, etc. With maximum quality of light and efficiency of up to 190 lm/W, it's the ideal choice for all continuous line projects.
The challenge
Inflexible systems
Compromises with planning, quality of light and efficiency


The solution
Individually configurable continuous line
Pioneering quality of light
Outstanding energy efficiency (up to 190 lm/W)


Applications
INDUSTRY - RETAIL - OFFICE EDUCATION
Design
An attractive design down to the last detail
Looks more than good: due to the attractive design of the optic and trunking and the high-quality workmanship, E-Line Next LED also looks good in prestigious surroundings.
Thanks to the new fastening system, no screw points are visible on the optic. The snap springs can also be easily removed after mounting. This way, not even the smallest detail disturbs the high-quality, minimalist design.






Quality of light
Best quality of light for best results
With its versatility in terms of optics and lumen packages as well as high glare control, E-Line Next LED provides customised light everywhere. With a colour rendering index of Ra>90 in the standard portfolio, especially natural colour rendering is guaranteed. The result – very good quality of light and maximum visual comfort. A real advantage, especially when details are involved, for example in quality control in the automotive industry or merchandise display in shop & retail.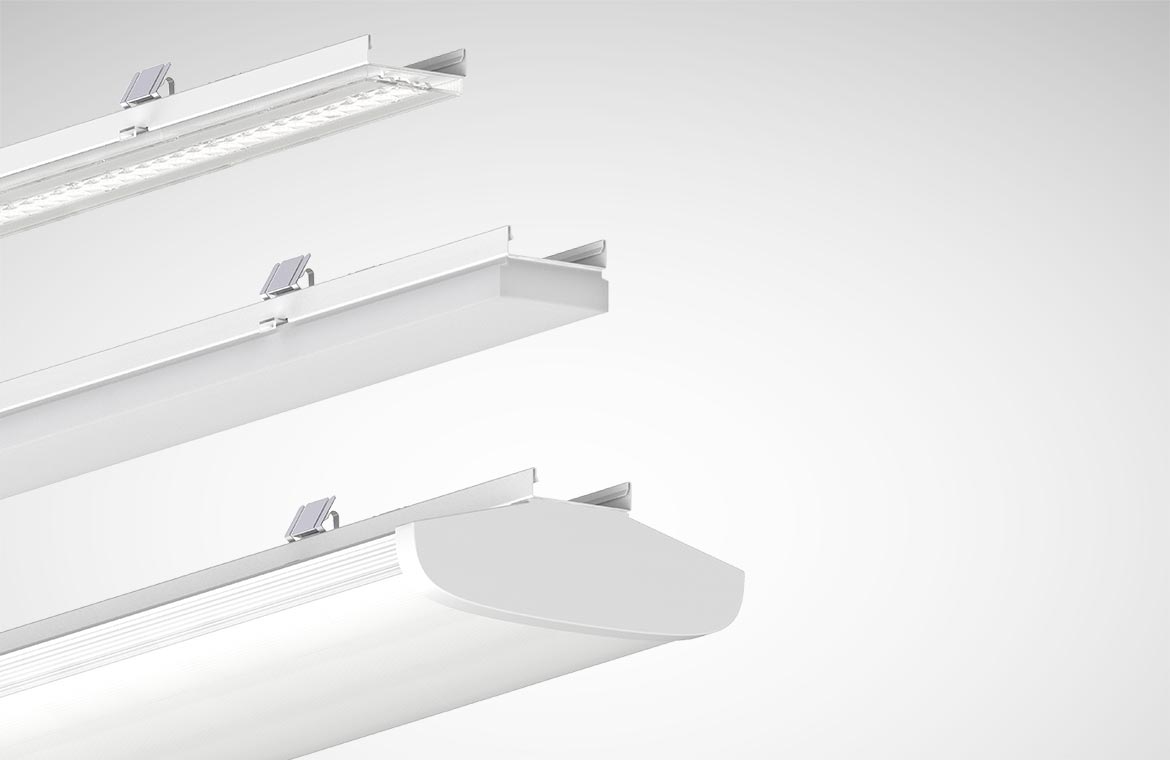 Optics
From planar lighting and shelf lighting to accentuation - perfect light with 15 custom optics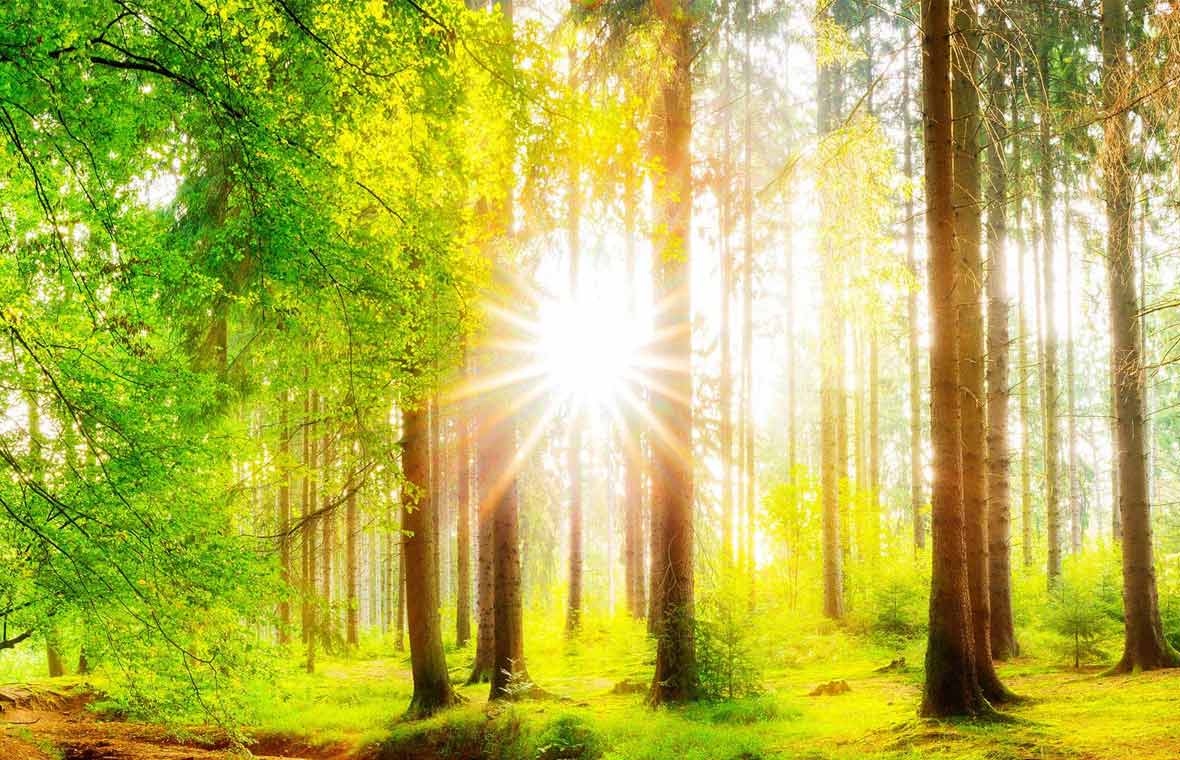 Human Centric Lighting
Human Centric Lighting throughout – like daylight in a building
TRILUX Services
Gaining perfect light has never been simpler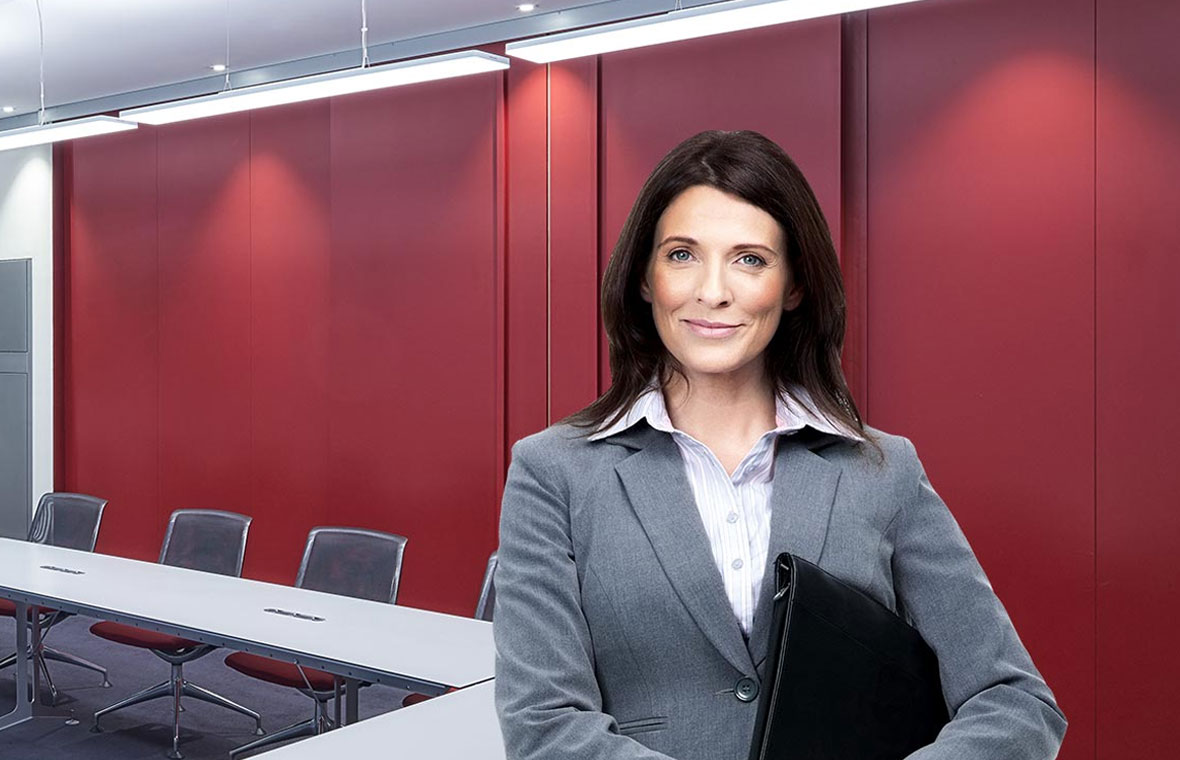 Financing Services
LED rental, hire purchase or leasing? Or Light As A Service? Together with you, we create the ideal financing solution for your project whilst making sure your balance sheet is not affected.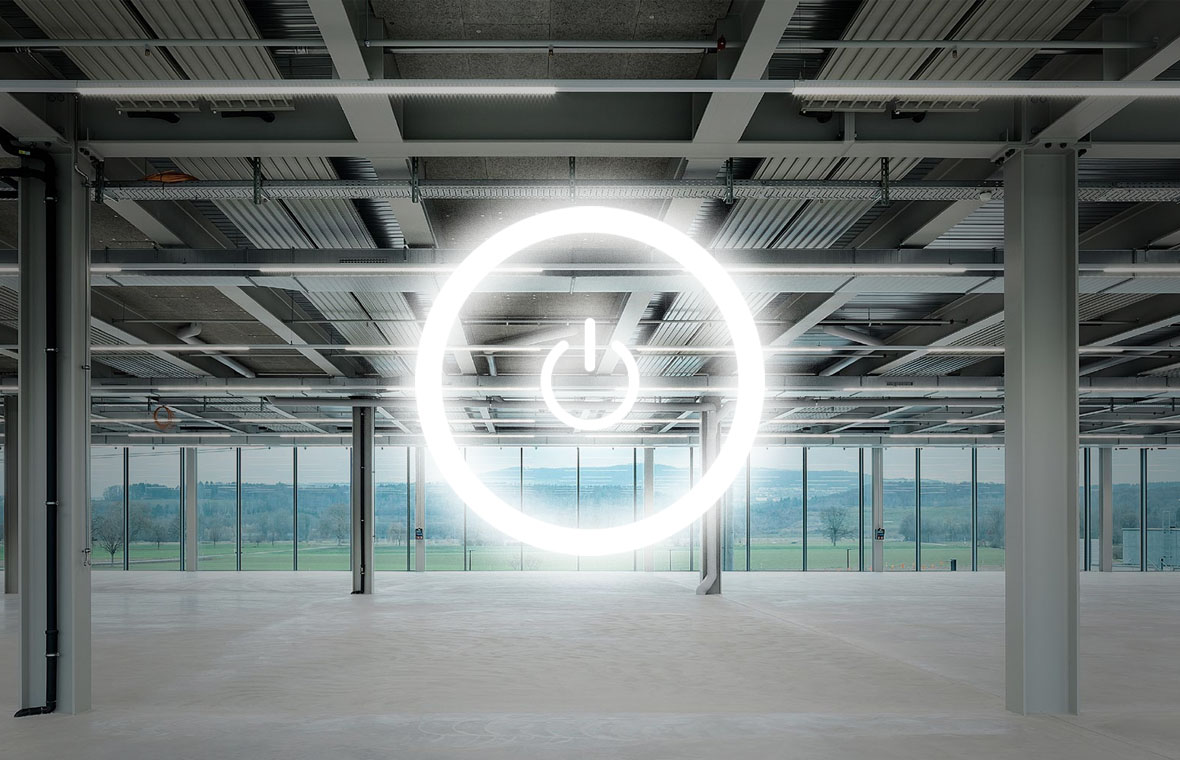 Pay per Use
Convert to modern LED lighting without investment costs and without impacting your balance sheet. The consumption-dependent portion of the monthly rate is based on actual consumption.
Advantages during the planning stage
Changes in the project or a new budget? No problem at all.
Everything's planned and ready – but suddenly the requirements in a project change, for example due to a new cost framework or the wish to include Human Centric Lighting (HCL). In such cases the lighting designers and architects have to adapt the lighting design. Those specifying E-Line Next LED have a clear advantage though, because all system components are compatible and can be flexibly modified to the new framework conditions. If for example costs have to be saved, it is sufficient to replace the light engine (service life >50,000 h or >70,000 h) without affecting the light distribution. You suddenly want it to be HCL after all? Just replace the gear tray with the corresponding Active variant. Done. In this way, two price points and (almost) all customer needs can be covered with one system. That's flexibility that makes a real difference in practice.
Everything on board: current guides for additional elements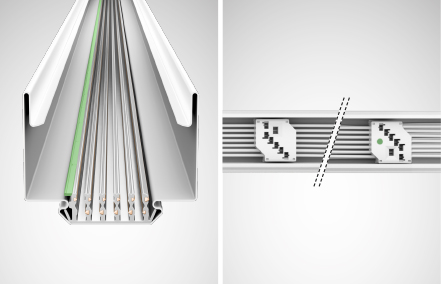 With E-Line Next LED, additive technologies and consumers such as emergency lighting circuits or sensors can be integrated into the system. Beacons can also be integrated effortlessly in the future. The Flex version of the E-Line Next LED has an 11-core current conductor, the Fix version has 14 (7+7) cores. The additional consumers make it possible to use the lighting infrastructure for further tasks to increase e.g. comfort and security.
Advantages during installation
Quick, clean and simple – intuitive and simple mounting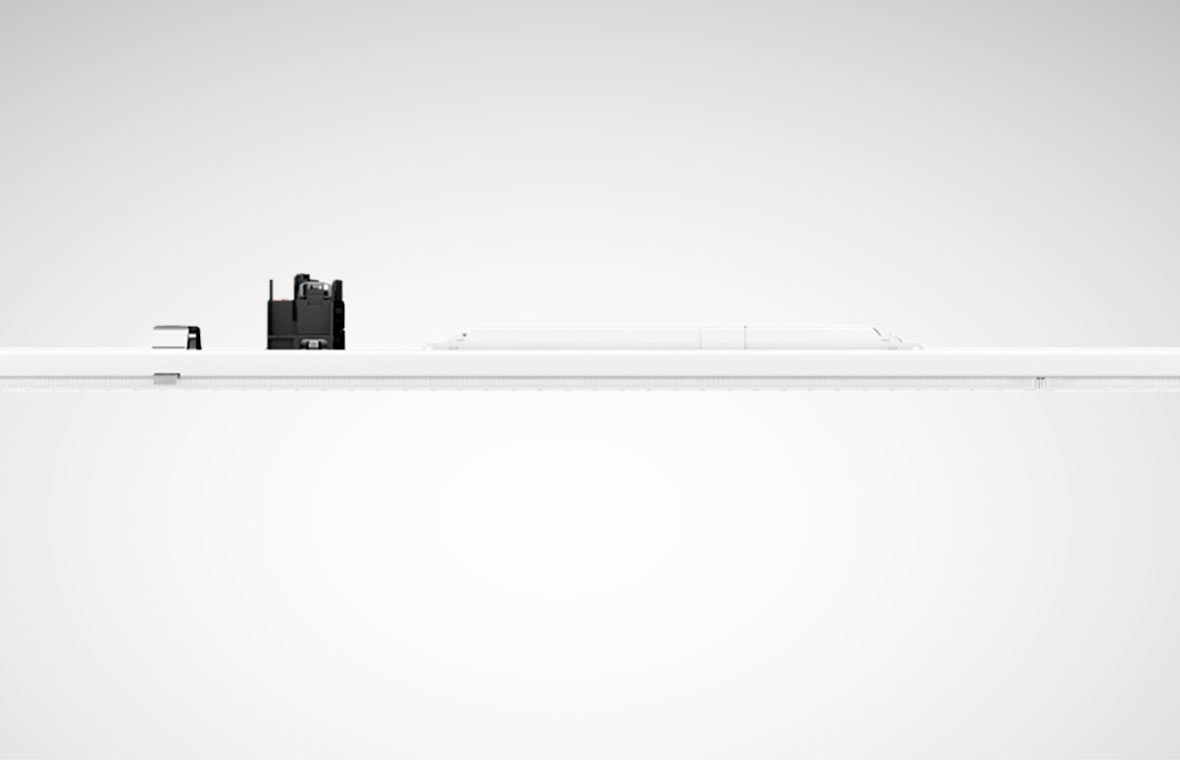 Typical for E-Line Next LED is fast, simple and intuitive installation. After the trunking has been attached, the gear trays are simply latched into place without tools via spring catches. A special feature of E-Line Next LED: the spring catch snaps into place after mounting and provides acoustic and visual feedback that it is correctly inserted.
One drilling point every four metres – definitely a benefit
Optimised packaging sizes – less effort, less waste, lower costs
To date, E-Line has been delivered in packs of 1 or 4. However, unpacking and disposing of waste costs time and burdens the environment. For this reason, customers now have the option of having their E-Line Next LED supply delivered to the construction site in tailor-made, large containers instead of in many single packs. That saves up to 15% in time and also protects the environment.
Refurbished in a flash – quick upgrades for obsolete systems
Advantages in operation
Check! Low operating costs, quick paybacks
Thanks to its uniquely high energy efficiency of up to 190 lm/W, E-Line Next LED is particularly economical in operation. At the same time, the system scores with a service life of 70,000 h (L80, up to tq 50°C). The result: low operating costs and quick payback periods.
Click and go. Minimal downtime during refurbishment
Whether it's a T5, T8 or LED system: converting an existing E-Line to the new E-Line Next LED Fix is done in just 44 seconds. Only the gear trays are exchanged. The existing trunking units can still be used. This minimises expensive downtimes when refurbishing during running operation.
Snap springs can be removed – a good idea for sure
For tough cases – also as an IP64 variant
Clean – all variants are HACCP-compliant
Future-proof – keeping all options open
E-Line Next LED offers maximum future security. New applications can be implemented with little effort simply by exchanging the modules. The power supply required for this is already available. 11 cores with the Flex version, and 14 cores with the Fix version. As a result, the system can be used to collect and analyse movement data for proximity marketing, asset tracking, etc. or simply equipped with an emergency light module.
System
From experience. From the market. For the future.
Features
E-Line Fix
E-Line Flex
Energy efficiency
to 170 lm/W
HE; HE+ (Industry) to 190 lm/W
to 170 lm/W
HE; HE+ (Industry) to 190 lm/W
Individually configurable luminous flux packages
2.000 lm – 20.000 lm
2.000 - 10.000 lm: steps of in 500 lm
10.000 - 20.000 lm: steps of 1.000 lm
2.000 lm – 20.000 lm
2.000 - 10.000 lm: steps of in 500 lm
10.000 - 20.000 lm: steps of 1.000 lm
Service Life
50.000 h / L80 / tq 35°C
HE 70.000 h / L80 / tq 50°C
HE+ (Industry) > 90,000 h / L80 / tq 50 °C
50.000 h / L80 / tq 35°C
HE 70.000 h / L80 / tq 50°C
HE+ (Industry) > 90,000 h / L80 / tq 50 °C
Colours
white 01
silver 03
black 05
white 01
silver 03
black 05
Colour rendering
Ra>80
HE; HE+ (Industry) Ra > 80/90 / ACT
Ra>80
HE; HE+ (Industry) Ra > 80/90 / ACT
Optics (HCL-capable)
9 lens optics
2 opal optics
4 prismatic optics
9 lens optics
2 opal optics
4 prismatic optics
Wiring (LV)
7 / 14
7 / 11
Protection rating
IP20/ IP50/ IP64
IP20/
Module lengths
737.5 mm
1475 mm
2212.5 mm
737.5 mm
1475 mm
2212.5 mm
Ambient temperature
-25 °C to 35 °C
HE; HE+ (Industry) -25 °C to 50 °C
-25 °C to 35 °C
HE; HE+ (Industry) -25 °C to 50 °C
Suspension distances
up to 3,5 m
up to 4,0 m
Mounting method
Surface- and suspended mounting
using various fasteners
Surface- and suspended mounting
using various fasteners
Further features
Spotlight-, track-, sensor-, light management-,
emergency light- and blank module inserts,
and light panel-, fixed point-, weather-proof
luminaire-, MironaFit- and X-T-L connectors (NN)
Spotlight-, track-, sensor-, light management-,
emergency light- and blank module inserts,
and light panel-, fixed point-, weather-proof
luminaire-, MironaFit- and X-T-L connectors (NN)
HE = High Efficiency
HE+ = High Efficiency (Industry)
Maximum quantity of gear trays per circuit for various automatic circuitbreakers
Cable cross-section
Fusing
Automatic circult-breaker
Number of gear trays
on one circult*
2,5 mm²
16 A
Typ B
12 - 32 pcs.
2,5 mm²
16 A
Typ C
20 - 54 pcs.
1,5 mm²
10 A
Typ B
7 - 19 pcs.
1,5 mm²
10 A
Typ C
12 - 32 pcs.
* please refer to the data sheet for the exact number of gear trays per circult