New E-Line Next LED: Upgraded during ongoing business
New E-Line Next LED for famila supermarket Timmendorfer Strand
Date

Category

Trilux Inspirations

Comments
Great renovation in the Timmendorfer Strand famila supermarket: to provide customers with an especially attractive shopping experience, the market with its 3,500 m2 at the centre of the Baltic resort was modernised successfully. When it came to lighting, the operator invested in the latest continuous luminaire generation of E-Line Next LED. In conclusion: extremely simple and quick installation, a friendly atmosphere in the market as well as significantly reduced operating and maintenance costs.
Out with T8, in with E-Line. Done.
On the outside, the famila supermarket in the Baltic seaside resort Timmendorfer Strand is still its old self. On the inside, however, it now radiates in new brilliance following complete reconstruction since April: for large parts of the supermarket – such as the healthcare products area, the beverage and dry goods ranges as well as the delicatessen, non-food and textile departments – famila is relying on the latest E-Line generation. To accent goods, the continuous line was combined with Canilo spots by TRILUX subsidiary Oktalite. The new lighting solution replaces obsolete T8 fluorescent tubes, which had become noticeably outdated in terms of efficiency and quality of light. The project featured one particular challenge: renovation work was carried out – aisle by aisle – during ongoing business. It was here that E-Line Next LED was able to showcase its strengths to their full extent. With three module lengths of up to 2,250 mm, it was possible to reduce the number of modules per aisle significantly, which greatly simplified and accelerated installation.
The refurbishment pays off in multiple ways
With the new continuous line, the lighting situation in the market has improved drastically. Aisles and goods are illuminated clearly and without glare down to the bottom shelf compartments – while accentuating Canilo LED spots attractively showcase products and groups of goods. The feedback is correspondingly positive: regular customers praise the friendly and bright atmosphere in the supermarket. Employees also benefit from the improved lighting conditions. The old fluorescent tube lighting had had them complaining about headaches on a regular basis. The operator on the other hand is excited about the great efficiency and the long service life of E-Line Next LED and its significant operating cost savings.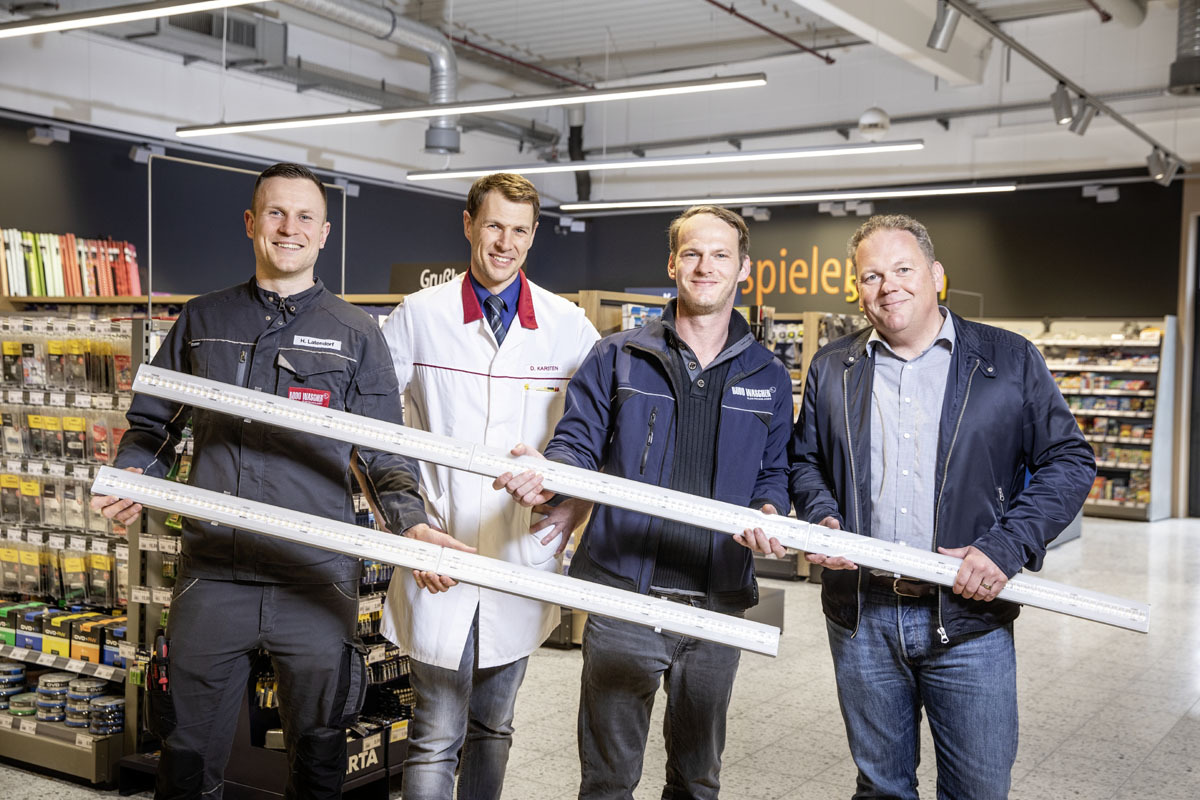 Proudly presenting the new E-Line Next LED from TRILUX (left to right): installer Hendrik Latendorf, store manager David Karsten, project manager Matthias Holst and Oktalite Key Account Manager Andreas Kaesler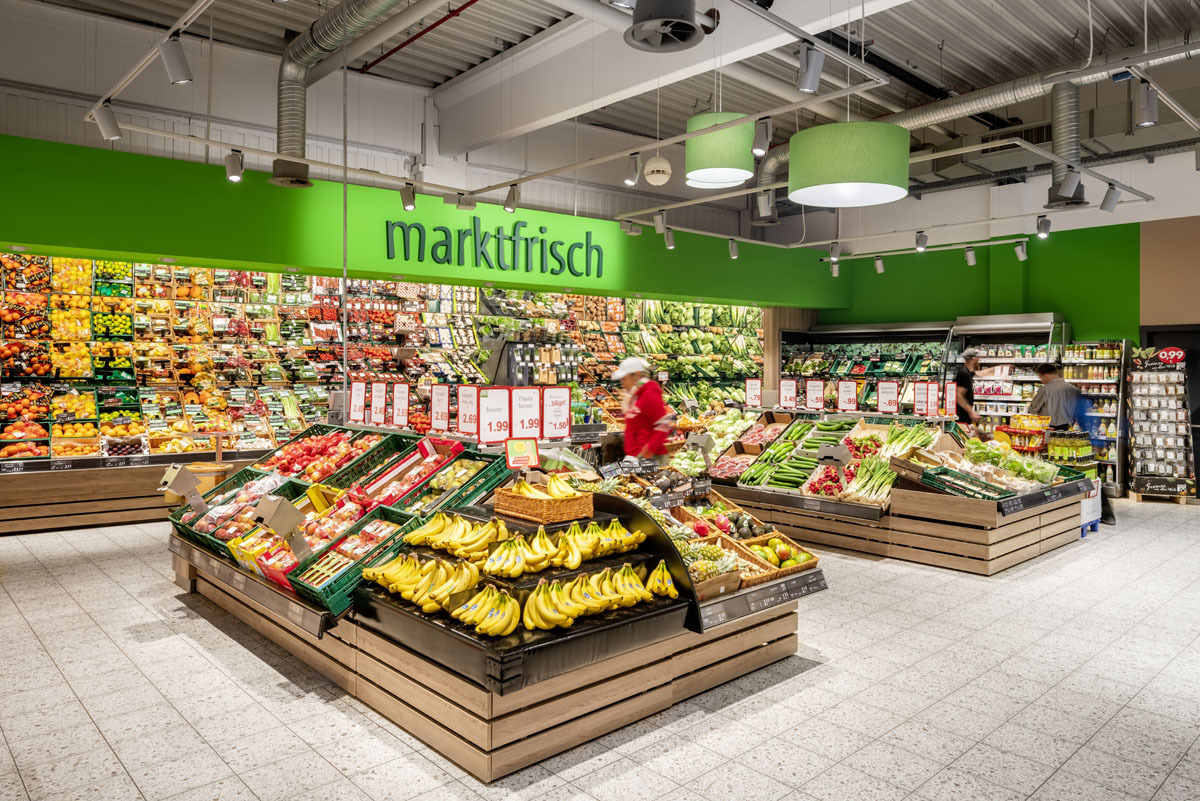 Perfect merchandise showcasing and ideally illuminated aisles: the famila supermarket Timmendorfer Strand now benefits from E-Line Next LED.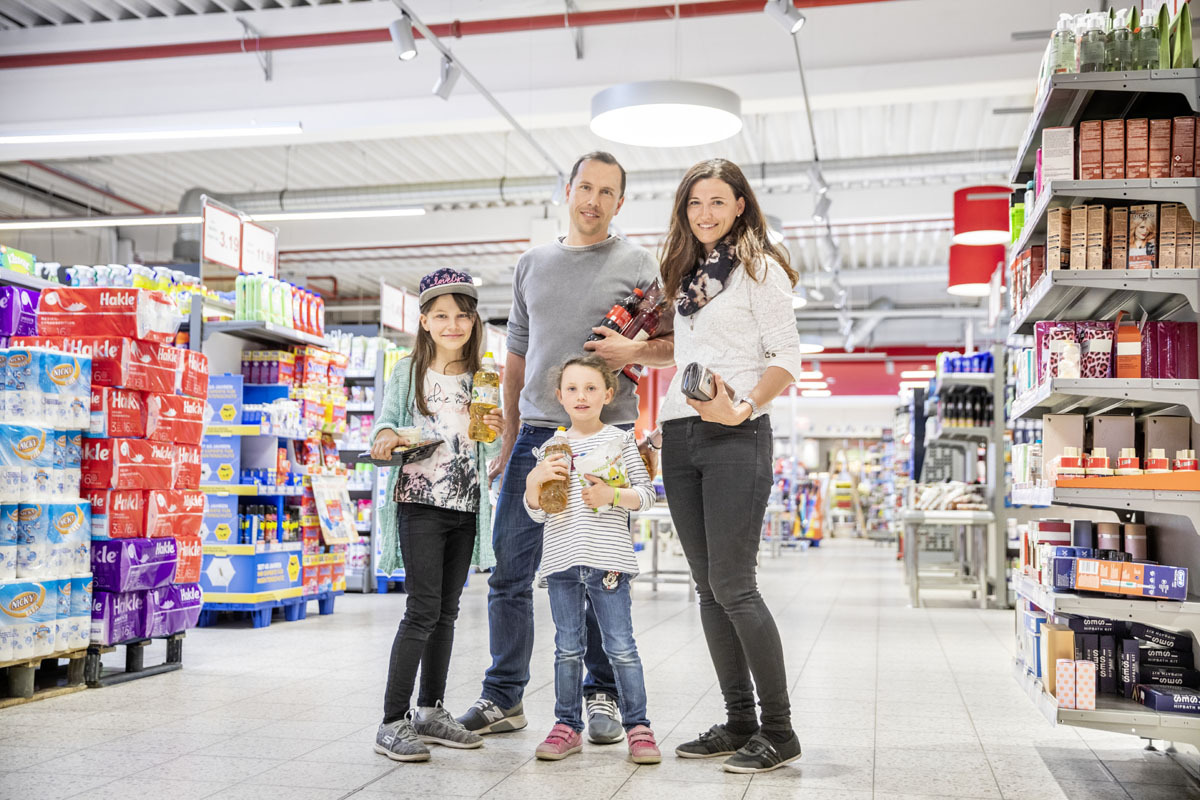 A genuine shopping experience: customers were also won over by the quality of the light and appreciate the bright, friendly atmosphere in the supermarket.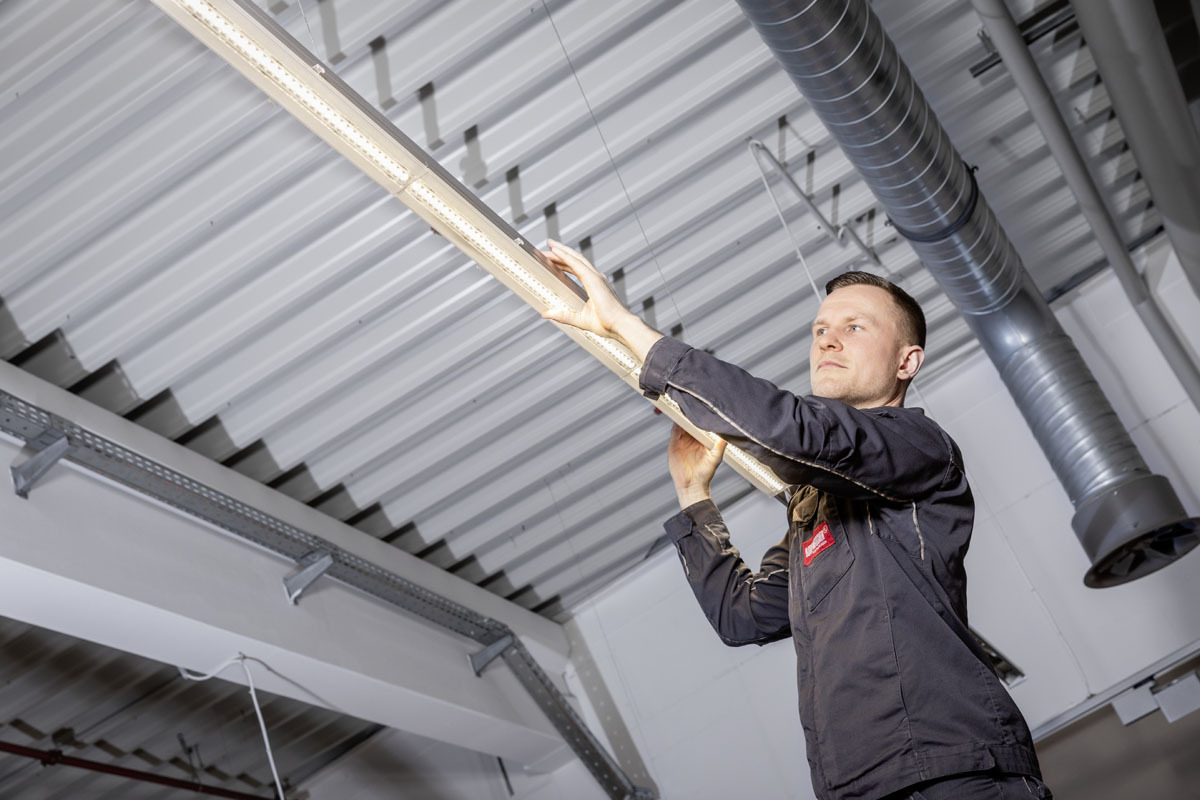 Expensive downtimes during upgrading? Not at all! E-Line Next LED was quickly and simply installed during ongoing business.