ACTISON FIT LED
the competitive athlete among sports hall luminaires
The challenge
The lighting requirements in sports halls are as high as the ambition of the athletes themselves. The solutions must win in terms of economy, light management and simple refurbishment, while at the same time meeting high light quality standards: uniform, glare-free light and ideal illuminance in all positions.
The solution
Actison Fit LED scores points in sports halls with different ceiling heights of up to 12 metres. It can be ideally adapted to the local conditions thanks to various luminous flux packages and mounting methods, and shows top performance in terms of quality of light and energy efficiency (up to 140 lm/W). Simple installation and the possibility of integrating light management and sensor technology make the luminaire the ideal choice for sustainable, future-fit sports hall lighting.
Advantages with lighting design
Versatility – the right tactic in every hall
Whatever's being played, Actison Fit LED is part of the action. Whether for single, double or triple halls with stands – the versatile lighting system is suitable for halls of different sizes up to a mounting height of 12 metres and thanks to various luminous flux packages. For maximum flexibility, the luminaires can be installed as recessed, surface-mounted or suspended versions.
Quality of light – top performance as standard
Rapid movements, for example during ball games or equipment or floor gymnastics, need maximum concentration – and thus excellent quality of light. It's here that Actison Fit LED leaves nothing to be desired. The planar light without visible single light points is uniform and glare-free according to UGR22. Other outstanding features are the natural colour rendering (CRI80 or CRI90) and the uniform luminous intensity and colour temperature of the LEDs (binning: 3 SDCM) for a ceiling appearance that is harmonious and uniform in terms of colour. Any disturbing stroboscopic effects are eliminated thanks to high quality control gear.
A strong product – durable, impact-resistant and ball-proof
No spoilsport, guaranteed: Actison Fit LED is impact-resistant (IK08), ball-proof (DIN 18032-3) and reliably withstands ball impacts that hit the ceiling instead of the goal. With its long service life (50,000 h at L85 tq 35°C; 70,000 h at L80 tq 35°C), Actison Fit LED also demonstrates enormous endurance.
The perfect trio – high efficiency, sensor technology and light management
Thanks to energy efficiency of up to 140 lm/W, Actison Fit LED is particularly economical in operation. For additional savings, the sports hall luminaire can be quickly and easily combined with sensors and the LiveLink light management system.
High up – 20,000 lumens for ceilings up to twelve meters high
Actison Fit LED is optionally available with luminous flux packages of 9,300 lm, 12,000 lm, 16,000 lm and 20,000 lm. This makes it suitable for classic smaller gyms with a mounting height of up to seven metres as well as for triple or multi-purpose halls with a mounting height of seven to twelve metres.
Good appearances – also a topic in sports halls
The lighting effect and design of a luminaire make a decisive contribution to the atmosphere in the sports hall. Actison Fit LED breaks new ground here. The slender design with narrow contours and the uniform, opal cover without louvre provides a new level of aesthetics.
Adaptable – complete flexibility thanks to custom productions
Thanks to its diverse combination possibilities, Actison Fit LED fulfils all common tender specifications for sports halls. And it can do even more: on request the luminaire can be adapted to individual customer requirements. quick and simple thanks to production at the TRILUX plant in Arnsberg, Germany.
Advantages with installation
With lightness – reduced weight for quick mounting
Actison Fit LED scores with a significantly reduced luminaire weight of only 11 to 15 kg. This simplifies and quickens the mounting process enormously.
Wireless DALI – fast wireless networking
It's this simple: thanks to Wireless DALI, the luminaires can be wirelessly networked and integrated into the LiveLink light management system in no time at all. New cable lines do not have to be routed. The result: less installation effort and lower costs.
Top performance – quality and service from Germany
Actison Fit LED is produced at the TRILUX site in Arnsberg, Germany. This guarantees fast, competent help with questions and challenges during installation or mounting.
Advantages in operation
Success factors – high efficiency, low operating costs, quick payback
Thanks to high energy efficiency of up to 140 lm/W, Actison Fit LED is particularly economical in operation. By combining it with sensors and a light management system, energy costs can be reduced by up to 80 percent. This means that the investment in refurbishment projects pays for itself in a short period of time.
Long-life – highly durable with low maintenance requirements
The high impact resistance (IK08) and ball impact resistance according to DIN 18032-3 make the luminaire extremely robust. This ensures a long service life (50,000 h at L85 tq 35°C and 70,000 h at L80 tq 35°C), as well as low maintenance needs.
In the first league – high quality of light for optimum visual conditions
Ball sports or gymnastics disciplines require ideal visual conditions. This is what Actison Fit LED was designed for, with uniform glare-free light (UGR22) and particularly good colour rendering of CRI80 or CRI90 as standard. Flicker effects are excluded thanks to high quality control gear.
Tailor-made light – dim and save
Master of flexibility: the optional LiveLink light management system allows the light intensity to be modified to the specific situation as needed. Dimming reduces the energy consumption and operating overheads.
Sustainability – tomorrow's winner today
A flying change: with Actison Fit LED, its LED module and control unit can be simply replaced at the end of their service life without having to replace the complete luminaire. This is particularly sustainable and also reduces costs.
Individual solutions
A broad portfolio of luminous flux packages, sizes and mounting methods for all common sports halls
Excellent quality of light
Uniform light, high colour rendering, excellent glare control and uniformity, flicker-free
A robust construction
Impact resistant (IK08) and ball-proof (DIN 18032-3) for reliable use in sports halls in the long run
High efficiency
Pioneering efficiency of up to 140 lm/W for low operating costs
An attractive design
A robust luminaire with a slim design
| | |
| --- | --- |
| Energy efficiency | Up to 140 lm/W |
| Lumen packages | 9.300 lm12.000 lm 16.000 lm 20.000 lm |
| Service life | 50.000 h at L85 tq 35°C 70.000 h at L80 tq 35°C |
| Colour rendering | CRI80 (TLCI > 60), CRI90 (TLCI > 80) |
| Flicker | (PST<1, SVM <1) |
| No glare | UGR22 |
| Mounting | surface-mounted, recessed, suspended luminaire |
| Electrical version | ETDD (DALI dimmable) |
| Protection rating / safety class | IK08 Ball-proof according to DIN 18032-3 |
| Module lengths | 1500 x 310 mm 1500 x 412 mm |
Planning examples
Sports hall luminaire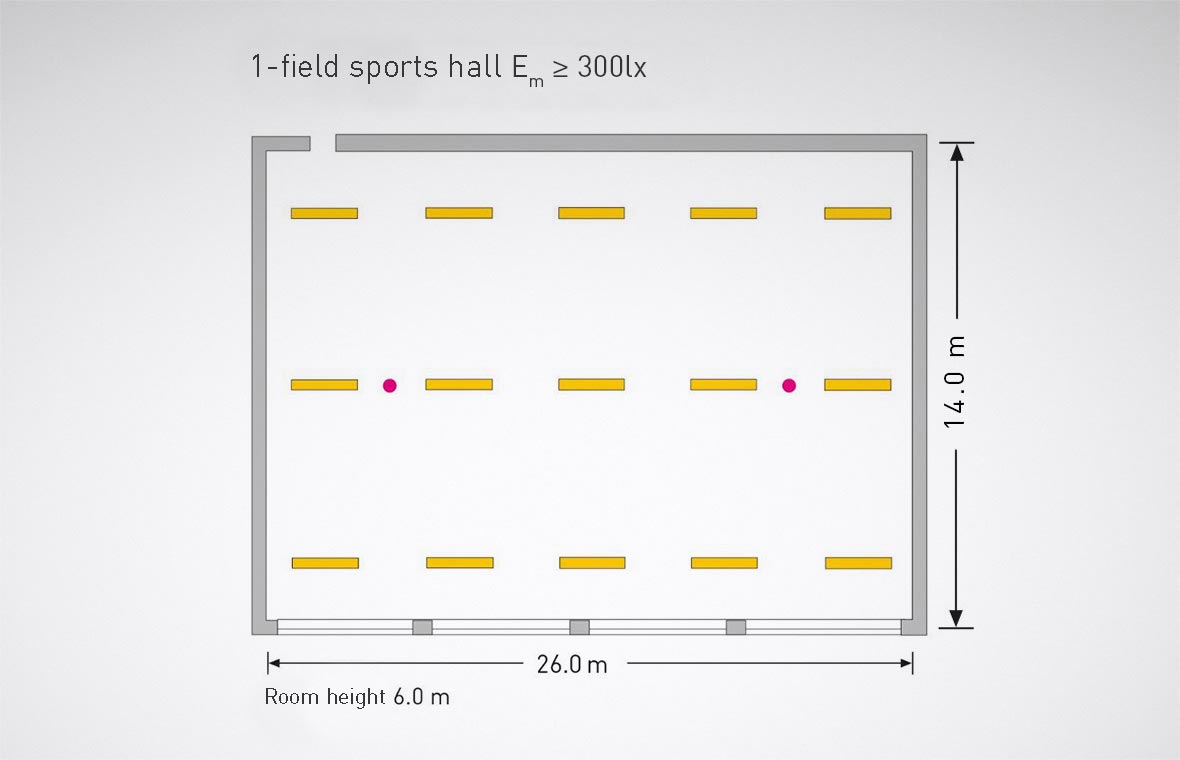 | | | |
| --- | --- | --- |
| Order list | Description | TOC |
| 15 x General lighting | Actison Fit CDP LED12000-840 ETDD | 72 378 51 |
| 1 x DALI control unit | LIVELINK WIFI | 65 654 00 |
| 2 x LiveLink sensor | LiveLink sensor IR Quattro HD | 65 655 00 |
| 2 x Surface-mount adapter for LiveLink sensors IR Quattro HD and Dual HF | LIVELINK SENSOR AP BOX | 65 657 00 |
| 2 x Protection guard for LiveLink sensors IR Quattro HD and Dual HF | LIVELINK SENSOR BSK | 65 658 00 |
| 1 x LiveLink DALI push-button coupler | LIVELINK DALI PB4 | 65 652 00 |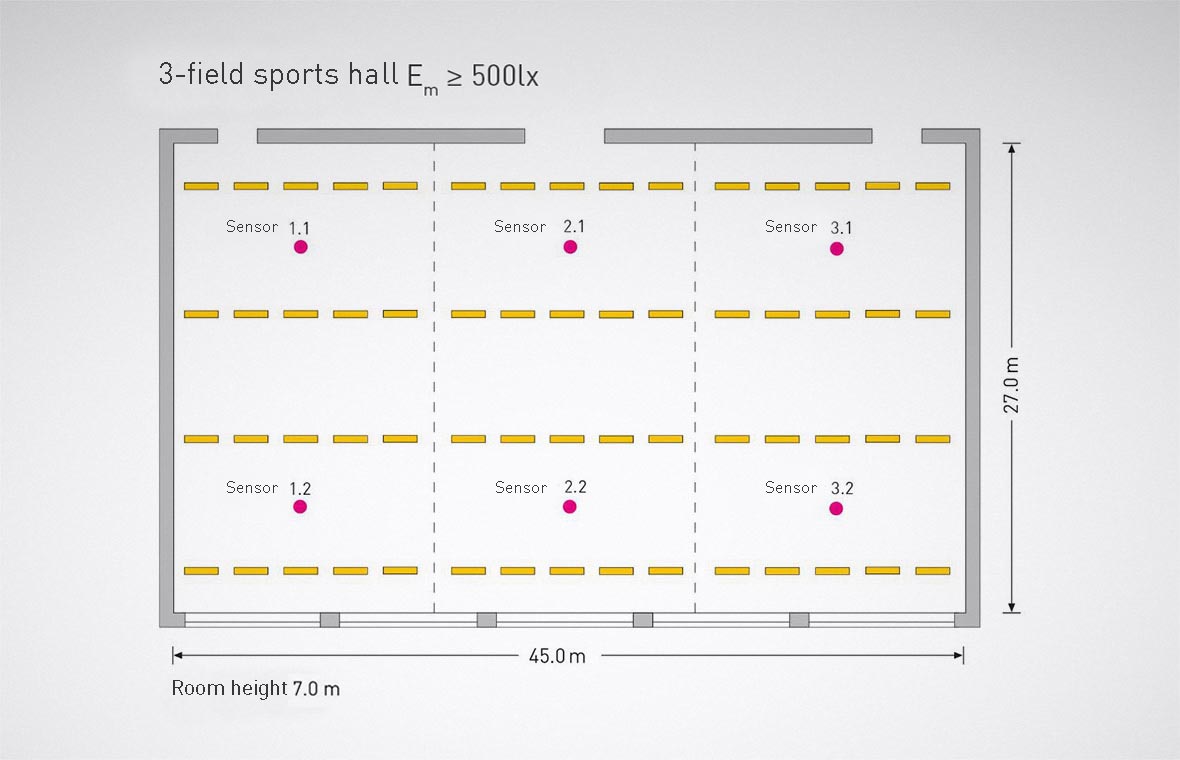 | | | |
| --- | --- | --- |
| Order list | Description | TOC |
| 60 x General lighting | Actison Fit CDP LED16000-840 ETDD | 72 379 51 |
| 3 x DALI control unit | LIVELINK WIFI Connect | 69 256 00 |
| 6 x LiveLink sensor | LiveLink sensor IR Quattro HD | 65 655 00 |
| 6 x Surface-mount adapter for LiveLink sensors IR Quattro HD and Dual HF | LIVELINK SENSOR AP BOX | 65 657 00 |
| 6 x Protection guard for LiveLink sensors IR Quattro HD and Dual HF | LIVELINK SENSOR BSK | 65 658 00 |
| 3 x LiveLink DALI push-button coupler | LIVELINK DALI PB4 | 65 652 00 |