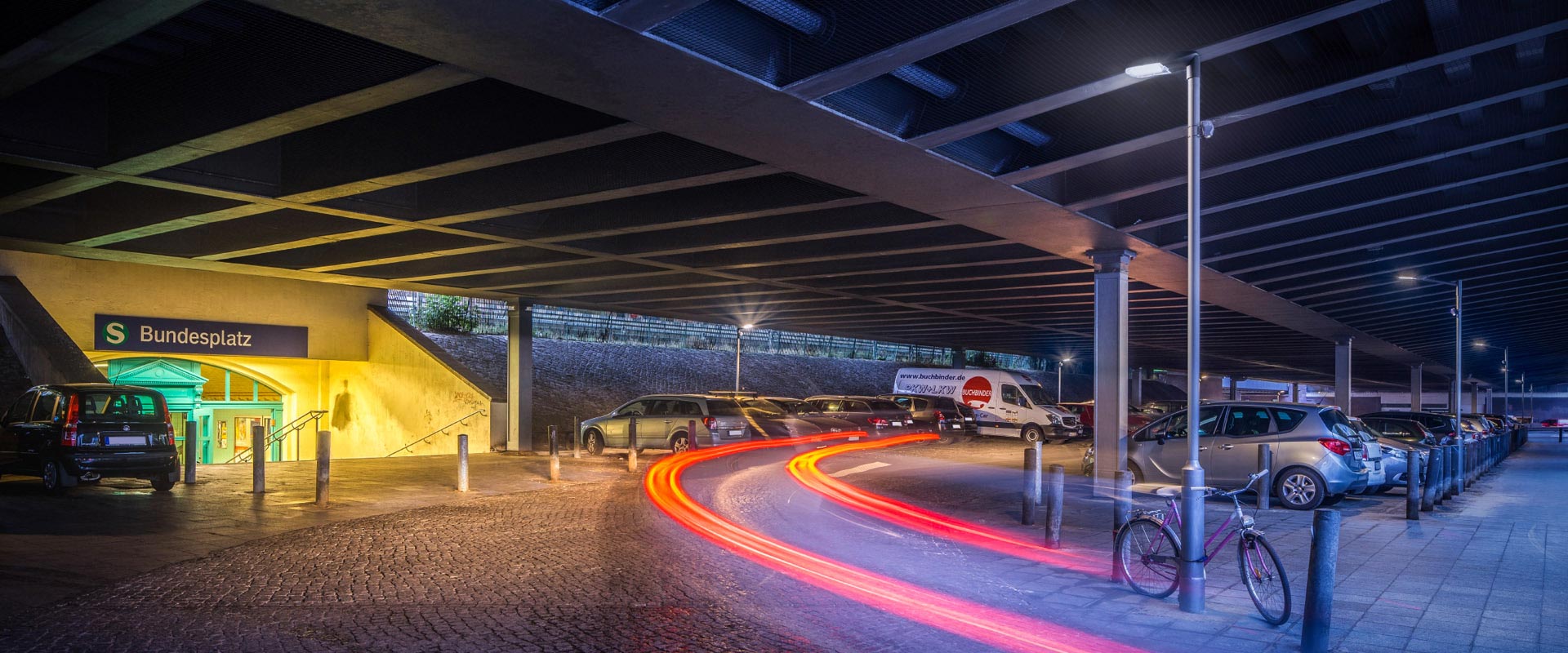 TRILUX Outdoor light management - Light points form an intelligent network
The challenge
Towns and communities can achieve high savings in operating costs by refurbishing their obsolete communal road lighting. However, many decision-makers are still hesitant because upgrading paves the way for the next decades. In addition to the benefits provided by upgrading to energy-efficient LED technology, councils wish to keep all their options open regarding current and future network and Smart City applications.
The solution
When upgrading to LED lighting, TRILUX outdoor light management enables many network and Smart City applications to already be implemented without effort. The individual light points are combined to create a wide-area network either via Powerline using the existing power grid or via a wireless 2.4 GHz radio system. Configuring and controlling the luminaires is highly convenient with user-friendly, web-based software and a graphic user interface. "Light according to requirements" can be created e.g. using integrated sensor technology. Intelligent data monitoring gives the operator an overview of the most important system parameters at all times – e.g. the operating state of each individual luminaire on the network.
The result
The TRILUX outdoor light management is a high-performance and user-friendly light management system with high levels of flexibility and transparency. The system enables outdoor luminaires to be simply and conveniently networked, controlled and monitored – this enables municipalities to drastically reduce their operating overheads. Compared to conventional outdoor lighting systems, energy costs alone are reduced by up to 80%. Maintenance effort is also significantly cut. The open interfaces also allow the integration of possible third-party providers making the system both flexible and future-proof.
Environmentally friendly products
Simple monitoring due to software
Extensive software features
Convenient control for more flexibility
Complex lighting scenes can be created simply and quicklythanks to the intuitive graphic user interface. The luminaires can be individually positioned, displayed and configured on a map via Google Maps. Furthermore, individual luminaire groups can be created with minimum effort. This enables e.g. the night-time dimming level of road lighting around a stadium to be temporarily increased.
Intelligent data monitoring reduces maintenance costs
The outdoor light management system provides operators with an overview of the complete lighting installation. Extensive system data can be called up and displayed clearly with the user-friendly software, e.g. energy consumption and operating state / duration / temperature of the luminaires. This simplifies maintenance planning enormously because the system communicates proactively whether and where any maintenance requirement exists.
Sensor-based intelligence for light according to requirements
High-efficiency sensors such as daylight sensors and presence sensors can be simply integrated into the system. In this way "running light" for example can be implemented when illuminating roads, paths, parks and parking spaces. During darkness, presence sensors detect if pedestrians or vehicles enter the detection range and temporarily raise the reduced night-time lighting level. The sensor-controlled running light thus brings together the desired levels of safety and orientation with maximum efficiency.
Future-proof thanks to the open interface
The system features an open API interface for integrating higher-level or downstream Smart City applications.
Simple networking via Powerline or radio
Outdoor light management enables the lighting installation to be quickly and simply integrated into a network with the user-friendly, web-based software interface – optionally via Powerline over the power grid or via a wireless 2.4 GHz radio system. TRILUX outdoor luminaires are available with a controller and optional sensor technology for both networking variants; an antenna is also included for the radio-based networking.
Real-time communication
For radio-based communication the TRILUX outdoor light management uses ZigBee radio network technology in the UHF frequency band at 2.4 GHz. This radio standard was designed specifically for data exchange as part of building automation and enables broadband bi-directional communication in real time.
High system and data security
Luminaires are linked via a mesh network and have a multi-level safety system guaranteeing high failure safety. For maximum data security, communication is via VPN with 128 bit encryption.
Control
A user-friendly software interface guarantees simple configuration, control and monitoring of the luminaires and luminaire groups. Users have a good overview at all times with map-based visualisation of the network via Google Maps. Especially practical: The network can be accessed conveniently and online from the office. Service technicians can also log into the radio network directly on location using a smart device.
Data monitoring
Maximum transparency: the outdoor light management provides online access to many operating parameters, optionally at individual luminaire level, at luminaire group level or for the complete system. Being aware of the energy requirements is for example an important component for optimising the system. In addition, unscheduled maintenance requirements can be forecast by e.g. the random monitoring of operating temperature and operating duration as provided by predictive maintenance.
Networking
Networking, configuration, control and monitoring of the lighting system is optionally via Powerline or a 2.4 GHz radio network. For maximum operating security, all data is transmitted with 128 bit encryption via VPN. The system can also be locked with a PIN code.
Future-proof
The possibility of integrating almost any feasible sensor technology and the open API interface offer flexibility making the system future-proof.
Outdoor light management products