LiveLink Outdoor
An intelligent network of light points
The challenge
Decision-makers are still hesitant with the refurbishment of public or industrial outdoor lighting. The critical question is: which system not only provides energy-saving potential via the LED technology but also the possibilities of current and future Smart City applications?
The solution
With TRILUX LiveLink Outdoor, individual light points can be effortlessly connected together via radio to create an intelligent network – without any constructional changes to the existing lighting infrastructure. Configuring and controlling the lighting network is convenient with user-friendly, web-based software and graphic user interface. LiveLink Outdoor raises the lighting quality, energy efficiency and flexibility to a new level via innovative control and analysis options. Open interfaces guarantee the future safety.
Advantages with lighting design
The key to a networked future
Intelligent outdoor lighting networks are an important component of Smart Cities, as well as of areas around buildings such as parking spaces and routes on company premises. LiveLink Outdoor makes available the advantages of a networked lighting solution. The system is planned very quickly and offers simple, high-performance access to diverse and innovative control and analysis options.
Various performance packages with simple selection
The functional scope of TRILUX LiveLink Outdoor can be modified exactly to the specific area of use. The standard version is ideal for areas with higher traffic density, e.g. main roads and ancillary roads. This Outdoor light management system enables the complete lighting infrastructure to be analysed and managed from anywhere at any time. A focus is placed on maximum failure safety and convenient maintenance. The "Light According to Requirements" performance package was designed specifically for areas with lower traffic densities. This package enables the energy consumption of the lighting solution to be minimised without impairing the safety, e.g. by sensor-controlled raising of the dimming level if persons or vehicles are in the detection range.
Future-capable thanks to the open interface
The system features an open API interface enabling the integration of Smart City applications. LiveLink Outdoor also remains ready for the future.
Advantages with installation
Simple networking via radio
LiveLink Outdoor enables the single existing light points to be simply integrated into a network via a user-friendly, web-based software interface. Changing the existing lighting infrastructure (e.g. routing new cables) is not necessary. For communication the system uses ZigBee radio network technology in the 2.4 GHz frequency range. This radio standard was designed specifically for data exchange in outdoor areas and tunnel-like environments.
Advantages in operation
Convenient control for more flexibility
The standard version of LiveLink Outdoor already offers users the main benefits of an intelligent lighting network. Complex lighting scenes are rapidly and simply created due to the intuitive graphic user interface. The luminaires can be individually positioned, displayed and configured via Google Maps on a map. Furthermore, individual luminaire groups can be created with minimum effort. This enables e.g. the night-time dimming level of road lighting around event locations to be temporarily increased.
Intelligent data monitoring reduces maintenance costs
LiveLink Outdoor provides operators with an overview of the complete lighting system. Extensive system data can be read out and displayed clearly with the user-friendly software, e.g. energy consumption, operating state and operating duration of the luminaires. This simplifies maintenance planning enormously because the system communicates proactively whether and where any maintenance requirement exists
Automatic fault- and failure messages – with minimum response times
In the case of a fault or failure, LiveLink Outdoor sends automatic fault messages on request to the service employee, e.g. via email or SMS. This ensures minimum response times if maintenance is needed and provides maximum safety and satisfaction for the affected residents and traffic participants.
Failure-safe – high system- and data security
Luminaires are linked via a self-healing and self-configuring mesh-like network and have a multilevel safety system guaranteeing high failure safety. For maximum data security, communication is via VPN with 128 bit encryption. A 3-level backup system also prevents the unintentional failure of luminaires.
Light according to needs – for maximum safety and minimum operating costs
With "Light According to Requirements", sensors are integrated in the lighting network. The performance package is especially suitable for less-frequented areas, e.g. car parks, pedestrian paths, cycle paths and parking facilities. During darkness, presence sensors detect if pedestrians or vehicles enter the detection range and temporarily raise the reduced night-time lighting level. The sensor-controlled running light thus brings together the desired levels of safety and orientation with maximum efficiency.
Additional benefit – measurement of the traffic density
The sensor-based light control enables movements in the detection range to be detected at all times of the day and night. This data can then be called either as a detailed table or heat map. The heat map depicts the traffic density on the Google maps interface to enable simple and precise evaluation of the traffic flow and flow of persons.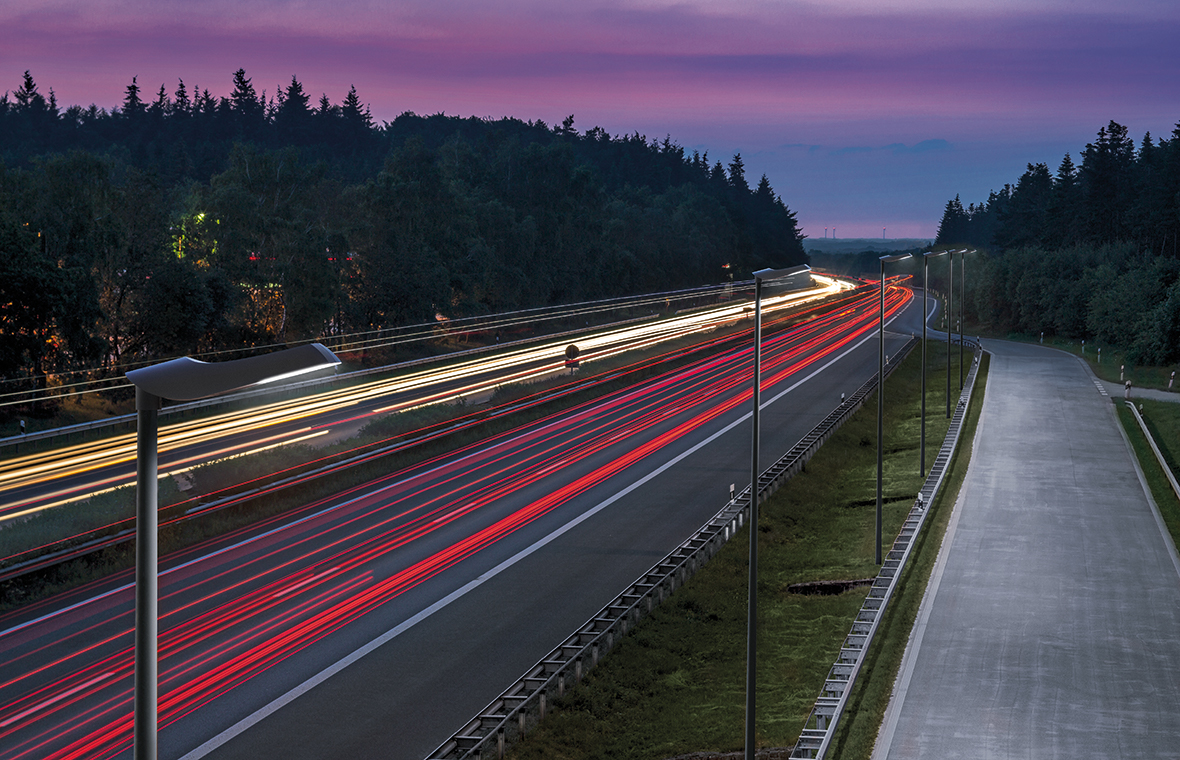 LiveLink Outdoor as the standard for busy roads
Safety should be focused on wherever there is a high density of people or vehicles. This is where LiveLink Outdoor offers extensive possibilities. The complete lighting infrastructure can be analysed and managed from anywhere with LiveLink Outdoor.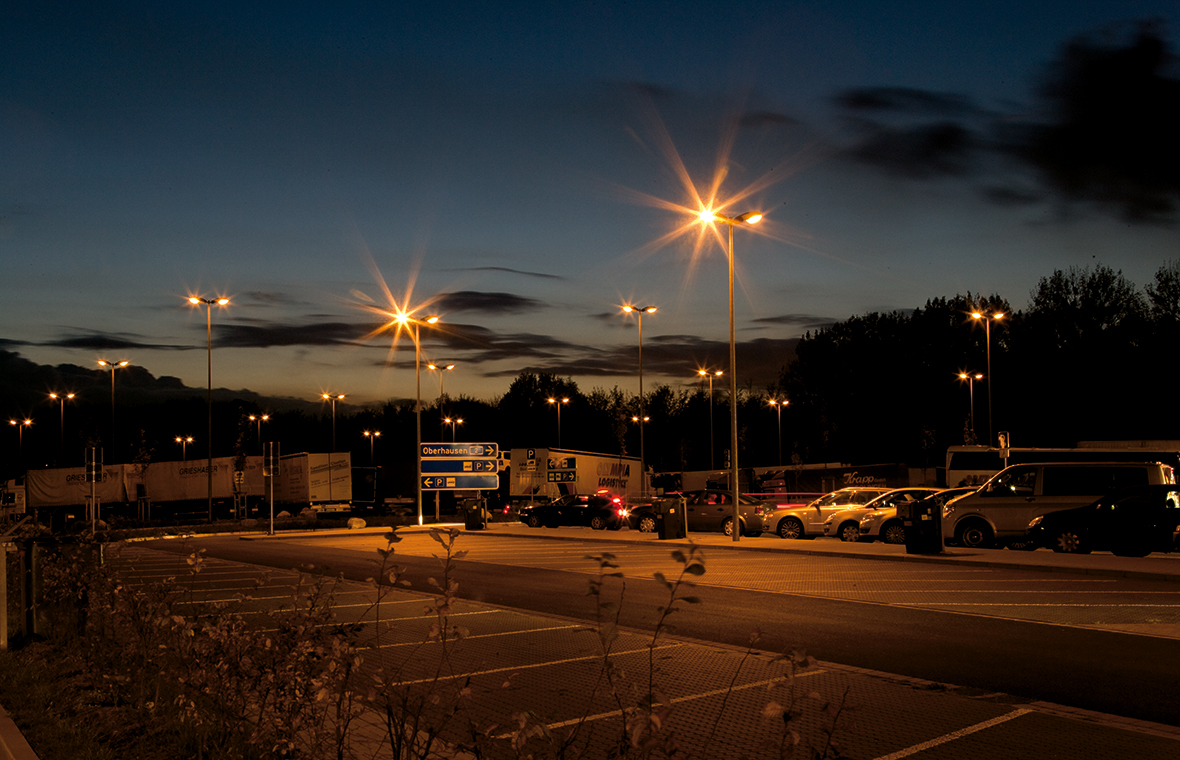 LiveLink Outdoor "Light According to Requirements" for less-frequented areas (parking spaces or pedestrian paths)
Whether parking spaces, parks, cycling paths or pedestrian routes – areas with low densities of vehicles or people must also be perfectly illuminated. With LiveLink Outdoor, the lighting system emits light only to the intensity that is genuinely needed. This not only reduces energy consumption but also saves on operating and maintenance overheads. For this purpose, sensors are integrated into the lighting network that detect people or vehicles and then raise the lighting level from an energy-saving basic level to a higher one.
Very easy networking
Simple networking of the light points via radio to create an intelligent lighting network
Simple operation
Intuitive setup, control and analysis of the network via a graphic user interface
Revolutionary functionality
Innovative applications such as sensor-controlled light according to requirements
Safe for the future
High future safety thanks to open interfaces
Technical feature
Skylite
Wireless lighting controller for outdoor areas
Remote management and control
Highly developed dimming and teachable lighting sequences
Energy monitoring
Universal luminaire compatibility
Open interfaces for third-party products (API)
Automatic failure- and status reports
Integral astronomic clock with emergency battery
Failure-safe 3-level backup system
Version I: assembled in the luminaire
Version II: external assembly with 5.5 m pre-wired mains- and control line
2.4 GHz IEEE 802.15.4 self-configuring, self-healing wireless network
Citysense
Sensor for outdoor areas with integrated wireless lighting control
Detection of pedestrians, cyclists and cars (detection range: 4-120 km/h)
Range: up to 15 m to the right/left, 9 m to the front, 3 m to the rear
Detection angle: > 270° (according to diameter of the post)
Triggering of 1-10 adjacent luminaires upon detection (can be configured by the user)
Universal luminaire compatibility
Remote management and control
Energy monitoring
Open interfaces for third-party software
Heat maps for tracking occupancy rates and traffic density
Integral astronomic clock
2.4 GHz IEEE 802.15.4 self-configuring, self-healing wireless network
Gateway
Real-time monitoring of devices and network
Diverse internet connection options via Ethernet, Wi-Fi and GSM
Real-time connection between gateway and DigiHub
Remote error correction of gateway and devices
Wireless updates of gateway and devices (software and firmware)
Automatic resetting for mobile connections with SNTP Time Sync between gateway and devices
Regular logging of the operating system (selectable time interval)
2.4 GHz IEEE 802.15.4 self-configuring, self-healing wireless network