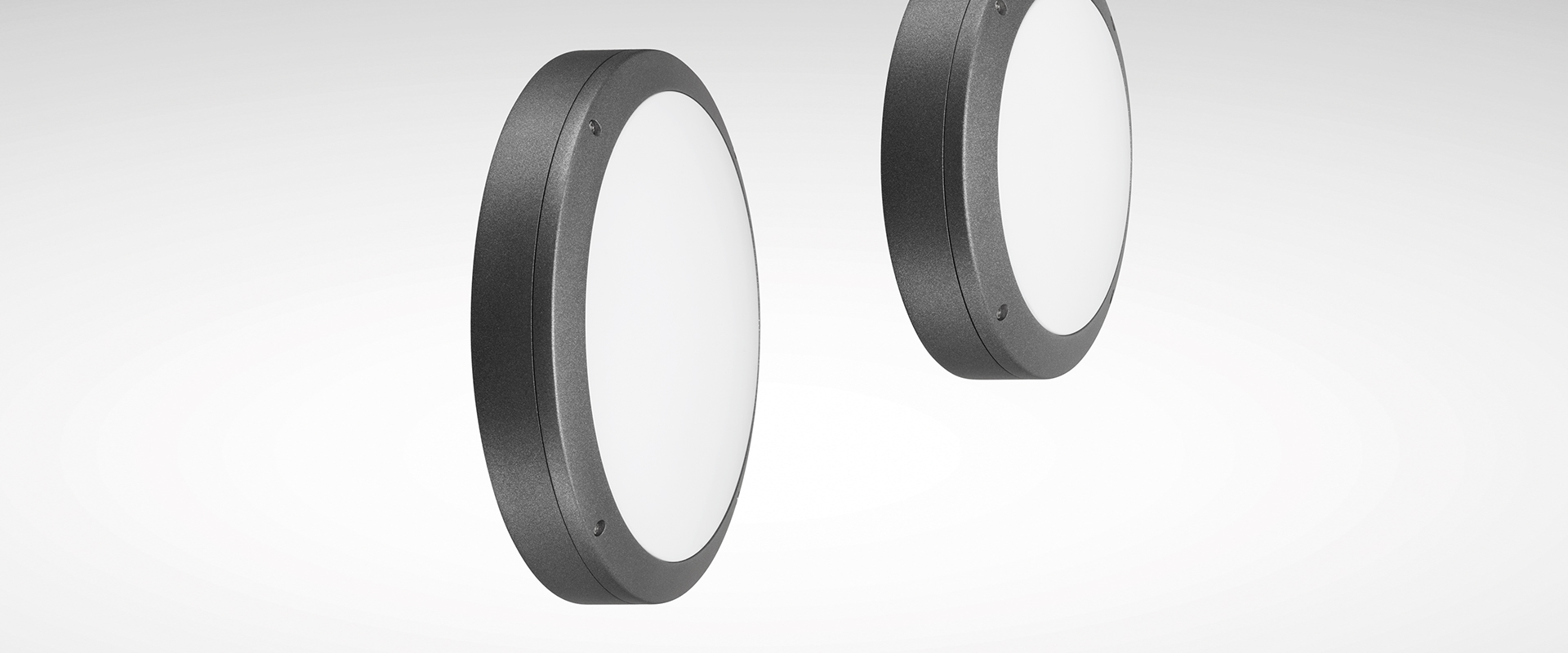 The challenge
The lighting of outdoor areas around buildings has to fulfil at least three functions – it must ensure perfect viewing conditions and be robust and reliable even in very adverse weather conditions. It is also obligatory that the solution emphasises the visual impression of the building and surroundings.
The solution
A good choice for walls and ceilings in outdoor areas: Skeo Circ LED with its outstanding quality of light provides safety, security and high visual comfort – and also resists poor weather conditions in non-canopied outdoor areas. Two construction sizes and a selection of individual covers provide wide design flexibility. If the application needs change, the light colour and luminous flux can also be retroactively modified via a switch in the luminaire.
Advantages with lighting design
An attractive round luminaire with diverse uses
Design demands are increasing in the outdoor lighting sector. With Skeo Circ LED, TRILUX offers a classic, round wall and ceiling luminaire for outdoor areas that not only attractively illuminates facades but also the prestigious entrance areas of modern office and hotel buildings, industrial companies and shops.
Lighting design flexibility due to a range of models
Two construction sizes and various covers mean the Skeo Circ LED has particularly flexible use. If the requirements or framework conditions change, the luminaire scores with high flexibility – luminous flux and light colour can be simply set via a switch in the luminaire. The two-part construction of the luminaire also enables the cover to be exchanged for a new version with just a few flicks of the wrist.
Individually set thanks to switchable multilumen and multicolour LED PCB
During the lighting design stage the lighting conditions and customer requirements are not always known – or else these may change in the short term. The multilumen and multicolour LED PCB of Skeo Circ LED enables the light colour and colour temperature to be individually set retroactively on location. Simply actuating the switch in the luminaire changes the parameters – easily and individually.
The new classic for prestigious facade design
The illumination of non-canopied outdoor areas must offer more than just functionality. Thanks to its classic design and modern lighting options, Skeo Circ LED is a multi-talent for general lighting and accent lighting. Important parts of the building are ideally displayed whilst the luminaire itself blends harmoniously into the overall appearance.
Optimum visual comfort in poor weather conditions
Thanks to its outstanding level of light quality, Skeo Circ LED ensures safety and high visual comfort. This is not a matter of course in non-canopied outdoor areas with frequently bad weather conditions. The dustproof and jet water-protected wall and ceiling luminaire guarantees high quality of light with a long service life.
Advantages with installation
Quick mounting and simple handling
Whether for single installations or through-wiring: two cable feeds with Skeo Circ LED enable quick installation as a wall or ceiling luminaire and simple alignment.
Advantages in operation
Maximum flexibility and adaptable at any time
Thanks to the multilumen and multicolour LED PCB, luminous flux and colour temperature can be set via a switch in just a few steps. To do this the cover of the luminaire is simply removed and the switch is set to the desired setting. In this way the luminaire responds flexibly to changing light requirements and conditions on location.
Quick supply of spare parts and simple replacement
The luminaire has a modular design and parts to be replaced are easily sourced. Individual components can be exchanged quickly and without problems. Also, extensive spare parts supply via standardised parts is well-organised.
Resists all weather conditions
Lighting solutions in outdoor areas are often exposed to extreme weather. Requirements in terms of protection class are correspondingly high with the robust Skeo Circ LED in order to guarantee longevity in non-canopied facade areas. This means that frequent maintenance work is not necessary to spare operators unnecessary costs. Skeo Circ LED is also dustproof and jet water-protected, and resists adverse external influences. An optional grid protects from vandalism.
ATTRACTIVE AND ROBUST
An attractive and robust outdoor luminaire for areas around buildings
HIGH QUALITY OF LIGHT
A classic round design and high quality of light
DURABLE AND ENERGY-EFFICIENT
Economical due to high energy efficiency and long service life
A DIVERSITY OF ACCESSORIES
Many covers enable individual designs
MULTILUMEN AND MULTICOLOR
Luminous flux and light colour can also be set after mounting with just a few flicks of the wrist via a switch in the luminaire
Technical features
Rotationally symmetrical distribution characteristic
Luminaire luminous flux from 1,000 lm to 2,200 lm
High energy efficiency of over 100 lm/W
Long service life of 100,000 h (L80 at ta 25°C)
Selectable colour temperature: 3,000 K or 4,000 K
IP65 protection rating
Impact resistance IK 10
External housing of die-cast aluminium