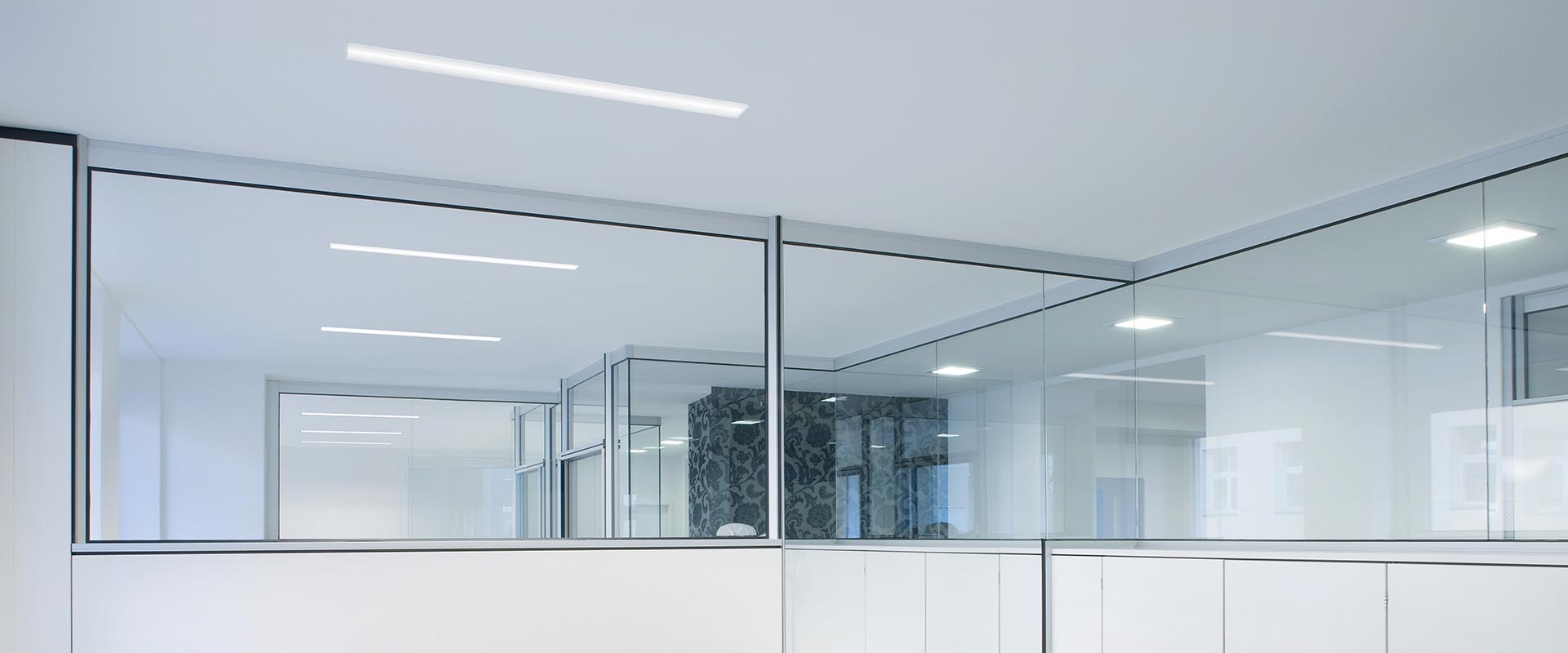 Solvan Flow LED
the all-round talent for greater planning flexibility

Challenge
The need to refurbish obsolete installations is increasing. Ever more operators of office buildings, school buildings, care homes and shops are upgrading to efficient LED lighting solutions. Not only high energy efficiency with luminaires is focused on here, but also the ability to adapt light to individual needs. Flexibility is required in such cases, because these needs may also change within a building.
Solution
TRILUX's Solvan Flow is a highly diverse multi-talent for the refurbishment and new installation of lighting systems in the educational, care, office and retail sector. The LED luminaire sets effective accents as a single luminaire and can also be configured as a seamless continuous line without shadow gaps for increased lighting tasks. Recessed, surface-mounted and suspended luminaires as well as several optional lumen packages and optics ensure additional flexibility – allowing the flat, slender luminaire to be conveniently modified to specific needs in e.g. classrooms, offices or corridors. The possibility of integrating the TRILUX LiveLink light management system and optional emergency light components make the Solvan Flow LED an intelligent all-rounder.
Result
The Solvan Flow LED enables lighting designers to plan uniform but individually adapted lighting solutions across several rooms, providing high planning flexibility in this way. Whether as a single luminaire or continuous line, as a new installation or refurbishment solution for upgrading old systems, the all-rounder blends into the background to place the lighting task in the foreground.
Browser information
The model cannot be displayed. Unfortunately your browser does not completely support this web technology.
Use Google Chrome for example to gain complete user experience.
Zoom
Scroll to zoom towards the model
Drag and Drop
Rotate the model by clicking and dragging
Change the background
Change the background colour with this icon
Close
Close the application with this icon
Product and application images
An adaptable range. Wide planning flexibility.
Various rooms demand variable lighting. This is what the Solvan Flow has been designed for: With three lumen packages and optional optical systems, illuminating different areas in education, care, offices and shops can be carried out with just one luminaire range. The luminaire can be optionally mounted as a recessed, surface-mounted or suspended luminaire as well as a continuous line without shadow gaps. The UGR 19 version is suitable for VDU workstations.
High compatibility. Intelligent light.
The LED luminaire allows integration of the TRILUX LiveLink light management system as well as standard emergency light versions. Recessing accessories for cut-out openings and system ceilings round of the portfolio.
Homogeneous light. High visual comfort.
The Solvan Flow LED combines direct and indirect light components for an optimal spatial effect in the room. An innovative, slightly encompassing lateral reflector ensures soft ceiling illumination.
Flat design. Smart and discreet.
With a recess depth of just 45 millimetres, the Solvan Flow LED has a lightweight, slimline appearance. The end caps also have a filigree design to suit. This means the luminaire blends ideally into different interiors, places the light in the foreground and is also an appealing part of the overall atmosphere.
Just a view flicks of the wrist. Simple, rapid installation.
With its modular construction concept, the Solvan Flow LED can be installed simply with just a few flicks of the wrist.
Planning diversity
The Solvan Flow LED can be used as a single luminaire (recessed, surface-mounted or suspended version) or as a seamless continuous line, providing uniform lighting installations using only the Solvan range. The UGR19 version is also suitable for areas where computer screens are used. With various accessories, the Solvan Flow LED can be modified for installation in various ceiling systems.
Flexible lighting technology
The Solvan Flow LED is available with 3,000 to 6,400 luminous flux levels as well as optical systems suited to the application.
Intelligent light
Light management systems and sensors can be integrated, enabling e.g. presence detection and daylight dependent control.
Various light distribution characteristics
The Solvan Flow is available with directed-symmetric, directed-asymmetric or diffuse light distribution
Flat design
With a height of just 45 mm, the luminaire blends discreetly into the background.
Simple installation
Installation is simple thanks to the modular kit principle.
Energy efficiency
With energy efficiency up to 143 lm/W and a service life of 50,000 hours, the operating costs are significantly low.
Technical features
| Reference | Value |
| --- | --- |
| Luminaire luminous flux: | from 3,000 lm to 6,400 lm |
| Connected load/efficiency: | Up to 143 lm/W |
| Service life: | 50,000 h L80 at 25°C |
| Colour rendering/temperature: | 830, 840 |
| Electrical version: | ET, ETDD, LLWM, LLWS, LLWC, EB3, UR |
| Dimensions (L x W x H): | 1,132 x 84 x 45 mm, 1,410 x 84 x 45 mm |
| Protection rating/safety class: | IP20 |
| Light distribution: | MRX, MRW, MRWD, MLA |