The challenge
Corridors and stairwells with a prestigious character or busy pedestrian traffic such as entrance or waiting areas, as well as multiple-space offices with creative and quiet zones
Standard-compliant lighting for different room concepts, ceiling heights and functions
Lowest possible energy consumption for conveyability, freedom from maintenance and reduction of operating costs
The solution
Tailored lighting concepts in an attractive and uniform design language with various individualization options
Two luminous flux packages per size for more planning freedom and new areas of application
Energy efficiency of >120 lm/W, service life of L80 50.000 h and various options for sensor integration, (wireless) networking and control
An attractive design
The reinterpretation of the classic was created with attention to detail: the timeless but still fresh design with a consistently soft luminaire body and suitable construction sizes gives an impression of quality and value, which in turn reflects the high quality of the luminaire in terms of light and workmanship. The wide range of design versions provides completely new flexibility for individual interior designs.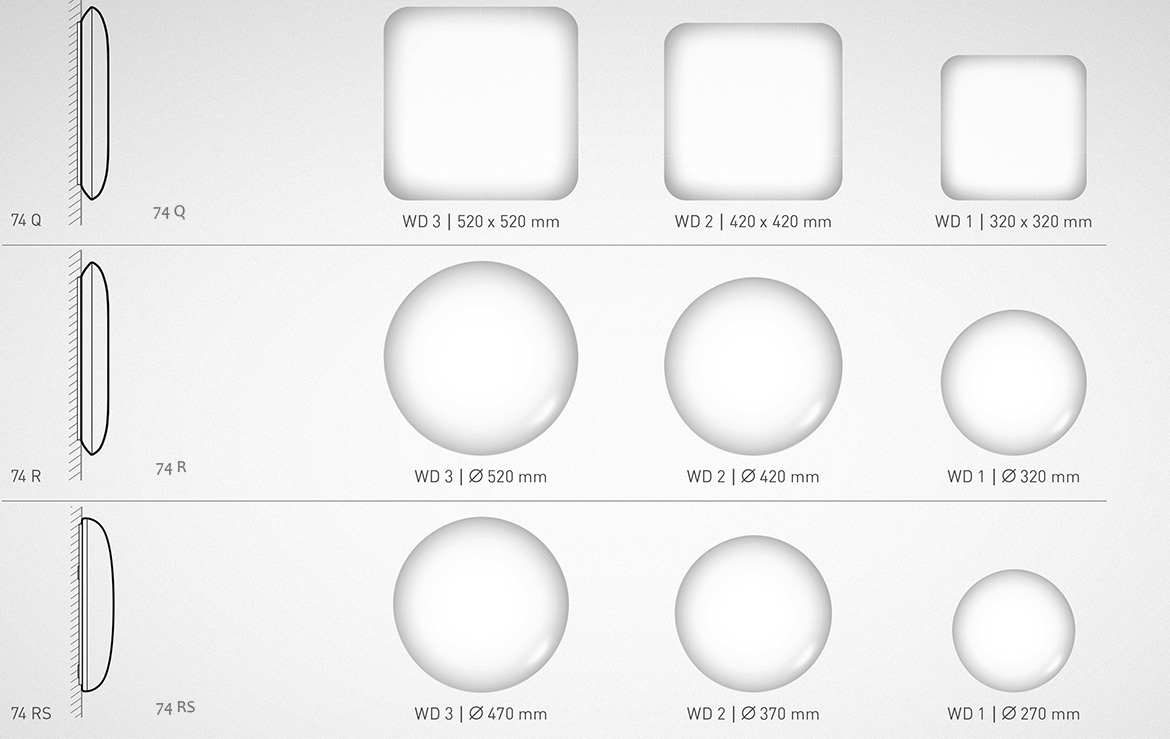 High flexibility in form, size and features

Innovative and future-capable:
light management and Human Centric Lighting

Attractive looks:
timeless, modern design throughout the building
REFURBISHMENT OPPORTUNITY – WIRELESS NETWORKING
LiveLink SwarmSens not only helps to save energy. By networking the luminaires, the light runs ahead intelligently.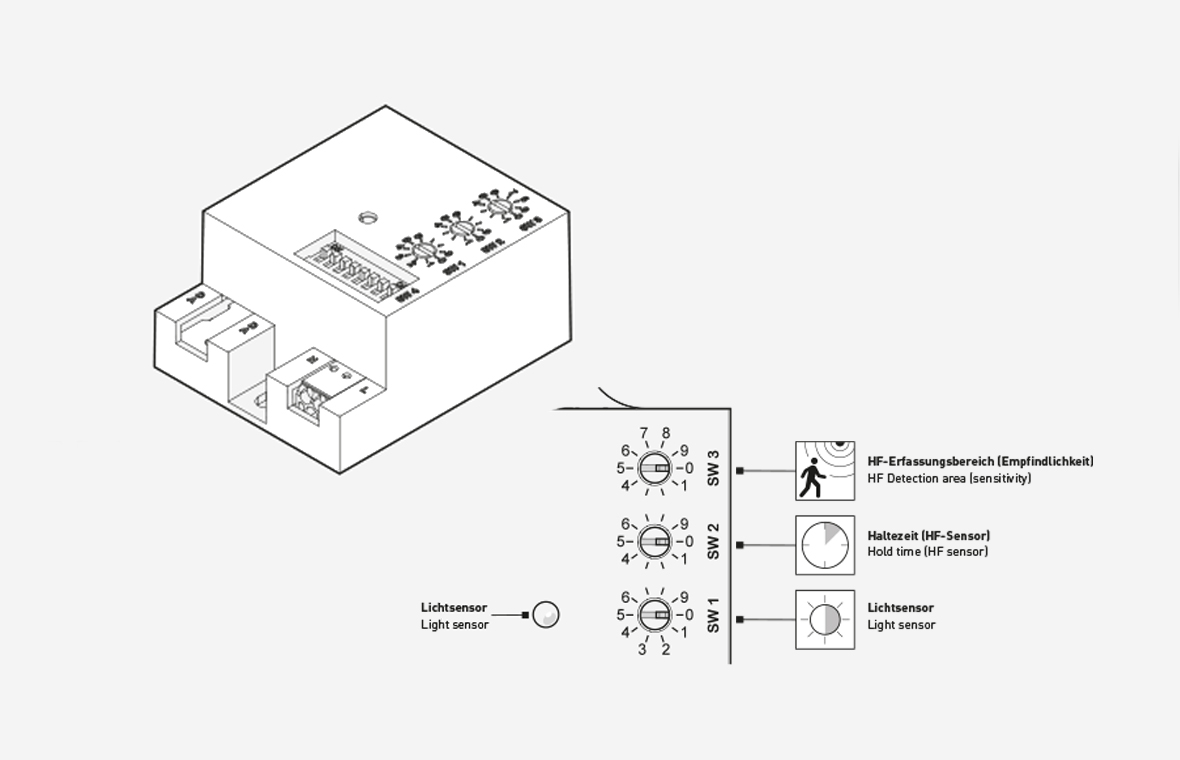 Product and application images

Advantages with lighting design
Major flexibility – many versions for highly different project needs
The 74 range of luminaires with its diverse versions enables even large lighting projects to be installed in a uniform, attractive overall design. The luminaire family currently consists of three construction designs – a square Q and a round R design with back-cut, as well as an RS version that is installed flush to the mounting surface. Each of the construction designs is available in three sizes and can be precisely adapted to the application via various lighting technologies and optics. With all variants, the ET2 version allows the indirect and direct light components to be independently switched on request.
Diverse mounting options – everything's possible
All luminaires in the 74 range are suitable for ceiling and wall mounting. Also, suspended mounting is possible with the round 74 R LED and 74 RS LED designs using appropriate accessories.
Simple elegance – a prestigious design
Wall and ceiling luminaires are indispensable classics for illuminating corridors and hallways. However, the 74 family can do much more: it upgrades prestigious entrance areas and waiting zones thanks to its qualitative, classically purist form with a consistently softly designed luminaire body. It also achieves an appealing, inspiring atmosphere in multiple space offices with creative and relaxation zones.
More possibilities, more future potential – luminaires plus light management system
All luminaires in the 74 range can be controlled via the practical LiveLink light management system, and are optionally available as IP44 versions, sensor- and emergency light versions and Active versions. This enables extensive energy-saving, safety and comfort functions as well as white-white control with the Active versions.
Unique luminaires – individual design variants
The two mid-sized versions of the 74 R LED and 74 RS LED are also available on request with individual decorative attachments. The "Curve" design accessory is a semi-spherical decorative attachment in six pastel tones (beige, honey, terracotta, olive, mint and light blue) as well as neon green and white. The "Disk" decorative attachment is a flat decorative ring – optionally in neon green or with individual printing, e.g. the company logo or other motifs. This enables especially individual interior designs.
Advantages with installation
High quality and simple mounting
The high quality of materials and workmanship means the luminaires are especially simply and quickly installed. The round versions are based on a uniform module platform and all feature a simple-to-use bayonet catch that simplifies the mounting. The diffusers of the square versions are held in place via a practical spring catch.
Simple mains through-wiring
Mains through-wiring is carried out simply via the terminals assembled in the luminaires – a special accessory is not needed.
Dimmable DALI luminaires require five-core control lines. If only three-core cables are installed, radio refurbishment via LiveLink SwarmSens is the alternative. In this way, the 74 family can simply receive the control signals via radio without the need for complex conversion measures
Advantages in operation
Uniform and planar – outstanding quality of light
The very high quality, uniform, wide area direct light component achieves excellent visual conditions with all luminaire variants to create an attractive atmosphere in the room.
74 Q LED and 74 R LED – attractive light for new worlds of work
With their special shapes, the 74 R LED and 74 Q LED have an indirect light component in addition to the direct component that atmospherically upgrades the room via pleasant, soft light gradations on the wall or ceiling. The interplay between light and luminaire allows rooms and areas to be attractively displayed, creating ideal framework conditions for new worlds of work. The direct and indirect light components can be separately controlled via the optionally available switchable versions with two circuits. This enables e.g. reduced night-time switching where the indirect component creates soft light auras and gradations on the wall and ceiling.
74 RS LED – perfect for functional areas
Because of the special and practical luminaire design without an indirect light component, the 74 RS luminaire is flush-fit to the mounting surface, meaning it is especially easily and quickly cleaned. Together with its high quality of light, the 74 RS is the perfect solution for areas mainly needing functional lighting, e.g. stairways and corridors.
Simple and attractive – a harmonious, multi-area overall impression
The 74 series blends into almost any surroundings thanks to its timelessly elegant design. The extremely wide selection of shapes, sizes, optics and various lighting technologies means the luminaires adapt precisely to the architecture and particular application. In this way a unique room atmosphere is created. A further special feature: the wide range of versions enables different areas in a building to be illuminated in a uniform and clearly recognisable design.
Intelligent light management – less energy consumption and more comfort
The 74 series can be optionally controlled with the practical LiveLink light management system. This enables extensive energy-saving, safety and comfort functions. Possible for example is a combination with sensors that further reduce energy consumption – or the setting up of intelligent networks with which the user is accompanied by running light or predictive running light through areas with low levels of public traffic.
Innovative functionality and light appearance – custom-designed for the user
With the Active versions the light colour can be individually regulated via a white-white control. This enables light scenes with stimulating, calming or emotional light. This in turn makes human centric lighting possible, meaning lighting oriented to the natural course of daylight to improve the well-being of people. Controlling the light colour also enables attractive and aesthetically decorative lighting concepts, e.g. for creative zones in modern office concepts.
Low operating costs and maintenance costs
The high energy efficiency of >100 lm/W and long 50,000 hour service life mean the 74 series has continuously low operating costs. With all versions the PCB and driver can be effortlessly replaced if required – the duration of costly maintenance work is therefore minimised. Also, the flush-mounted 74 RS LED is particularly quickly and easily cleaned.
SWARM FUNCTION WITH LIVELINK: LIGHT THAT LEADS ME
With LiveLink SwarmSens, luminaires can be networked easily and uncomplicatedly via radio. The high-frequency sensor integrated in the luminaire helps save energy and only switches the lighting on when it is needed.
Thanks to the intelligent networking of the luminaires, the light runs ahead intelligently and provides orientation
Individual luminaire design with the Disk and Curve decorative attachments
Perfect for that special atmosphere: on request the medium sizes of 74 R LED and 74 RS LED can be individualised and emotionalised via various design accessories. Available for selection are the disc-shaped Disk and curved Curve design attachments in various colours. The Disk attachments can also be individually printed on request, e.g. with a company logo. The result is uniquely individual luminaires that set attractive design accents.
Curve "Base"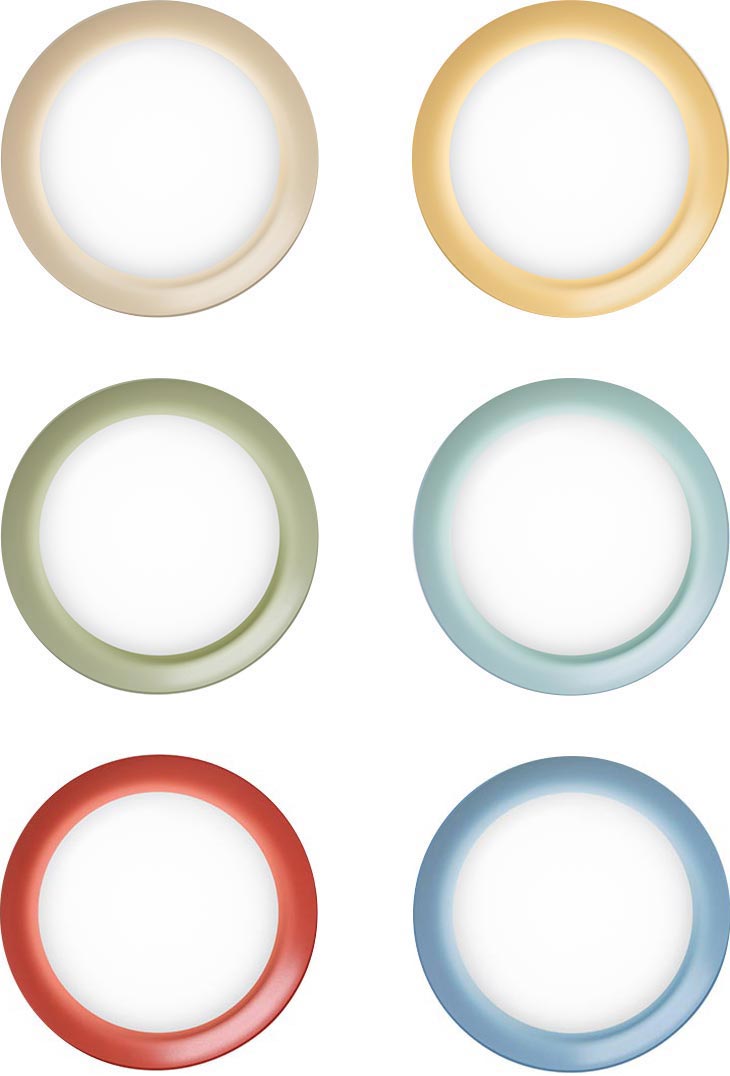 Curve "Eyecatcher"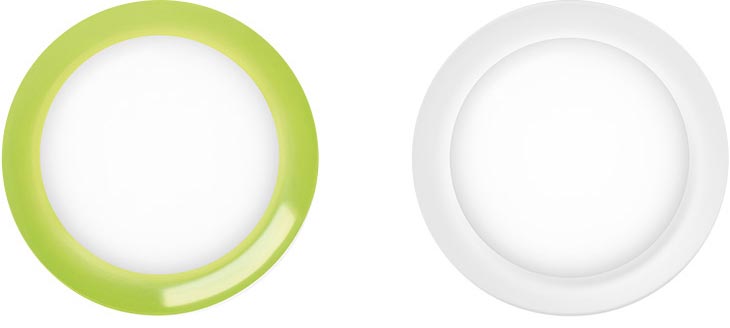 "Disk"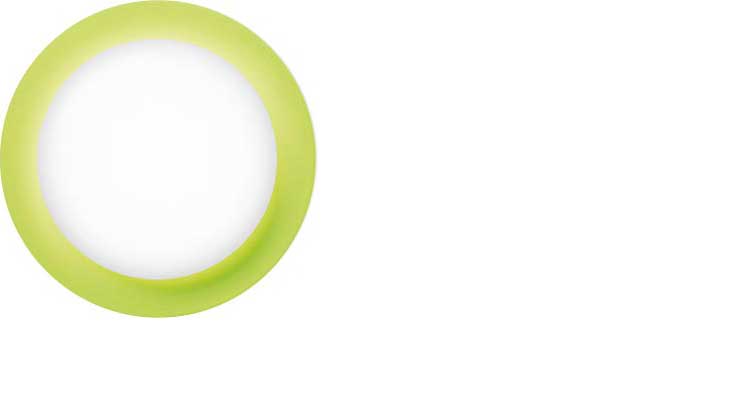 | Variant | Curve | Disk |
| --- | --- | --- |
| Size | WD 02 (Ø 570 mm incl. decorative attachment) | WD 02 (Ø 570 mm incl. decorative attachment) |
| Colour of decorative attachment | beige, honey, terracotta, olive, mint, light blue, neon green and white | neon green |
| Additional features | (can be suspended with pendant set ceiling rose: Ø 320 mm) | The decorative attachment can be individually printed |
Individual printing
With the 74R Disk it is possible to print your own motifs, logos or photos onto the exterior decorative attachment. The visible area of the photo is circularly cut out. You must have the protective rights for the graphic or photo.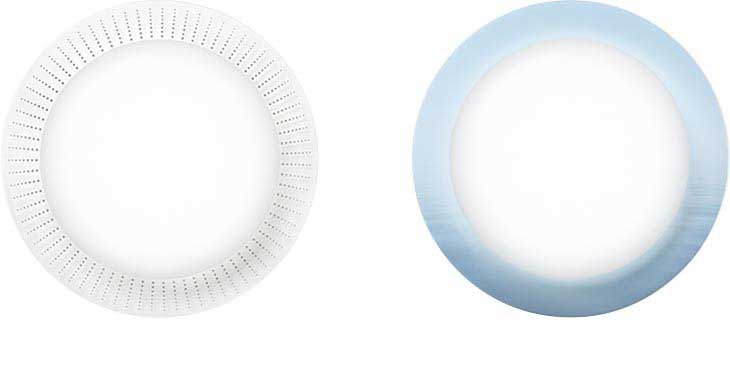 Reference
Values
Energy efficiency:
>120 lm/W
Luminaire luminous flux optionally:
WD1: 1,400 or 3,000 lm
WD2: 2,200 or 4,200 lm
WD3: 3,300 or 5,600 lm
Three distribution characteristics:
uniform, diffuse, direct
Three construction designs:
square (74 Q), round (74 R) and round without back-cut and without indirect component (74 RS)
Three sizes with each design:
74 Q: 320 x 320 mm; 420 x 420 mm and 520 x 520 mm, 74 R: Ø 320 mm, 420 mm and 520 mm, 74 RS: Ø 270 mm, 370 mm, 470 mm.
Light colour optionally:
3,000K or 4,000K; with the Active version 2,700K to 6,500K (HCL)
Robust:
protection rating IP40 and IP44 versions
Service life:
50,000 h (L80 at 25 ˚C)