Modern lighting solutions with LiveLink and TRILUX luminaires enable the simple realisation of digital added value. LiveLink systems are simply registered in the cloud. The TRILUX monitoring-ready luminaires then enable monitoring of the lighting installation's energy consumption. The customer can also benefit from further added value: he can analyse the energy consumption, have the burning duration displayed in hours or decide for predictive maintenance.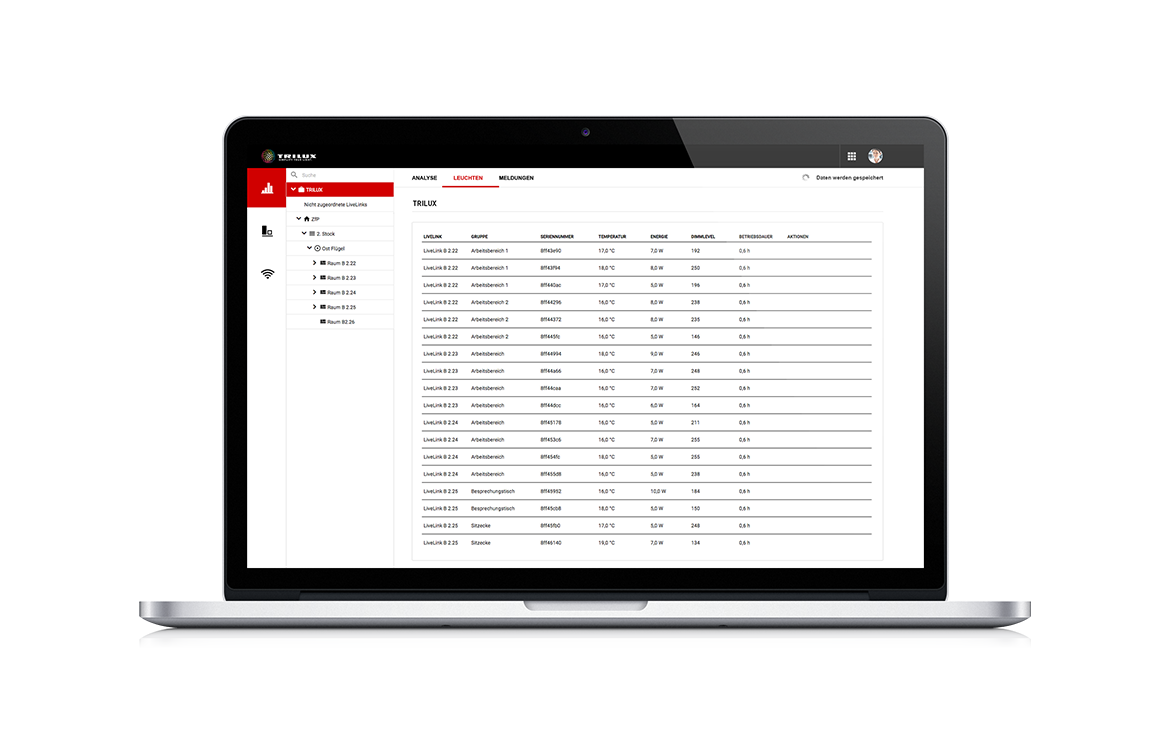 Each brain needs its sensory organs
and each light management system needs its sensors.
Light only when and where it's required and as bright as needed. For controlling light according to needs, situations must be precisely detected. This task is taken on by intelligent sensor technology from STEINEL. It supplies LiveLink with information about the momentary intensity of daylight in the rooms and the presence of people.
The occupancy sensors – Dual HF and IR Quattro HD – feature a wide range of operation-friendly functions. The sensor range is set directly on the sensor and the nominal value of the light control and switch-off delay time for example are set via LiveLink Install.

Perfect light shines from the right luminaire.
TRILUX has been developing custom products for practically any application for more than 100 years. Narrow distribution luminaires for high halls, glare-reduced LED luminaires for VDU workstations in open-plan offices and planar light with sophisticated designs for executive offices are ideal examples. All score with excellent quality of light, long lifespans, high energy efficiency and especially simple mounting and maintenance. That's not all though – all TRILUX luminaires are DALI-capable and can be plug & play connected to the LiveLink light management system.
Custom-designed – a wide portfolio for maximum demands
The very best light management system is only as good as the products it controls. TRILUX offers a wide range of luminaires for different applications that provide architects and lighting designers with high levels of design flexibility and that always create optimum lighting conditions.
Monitoring-ready luminaires