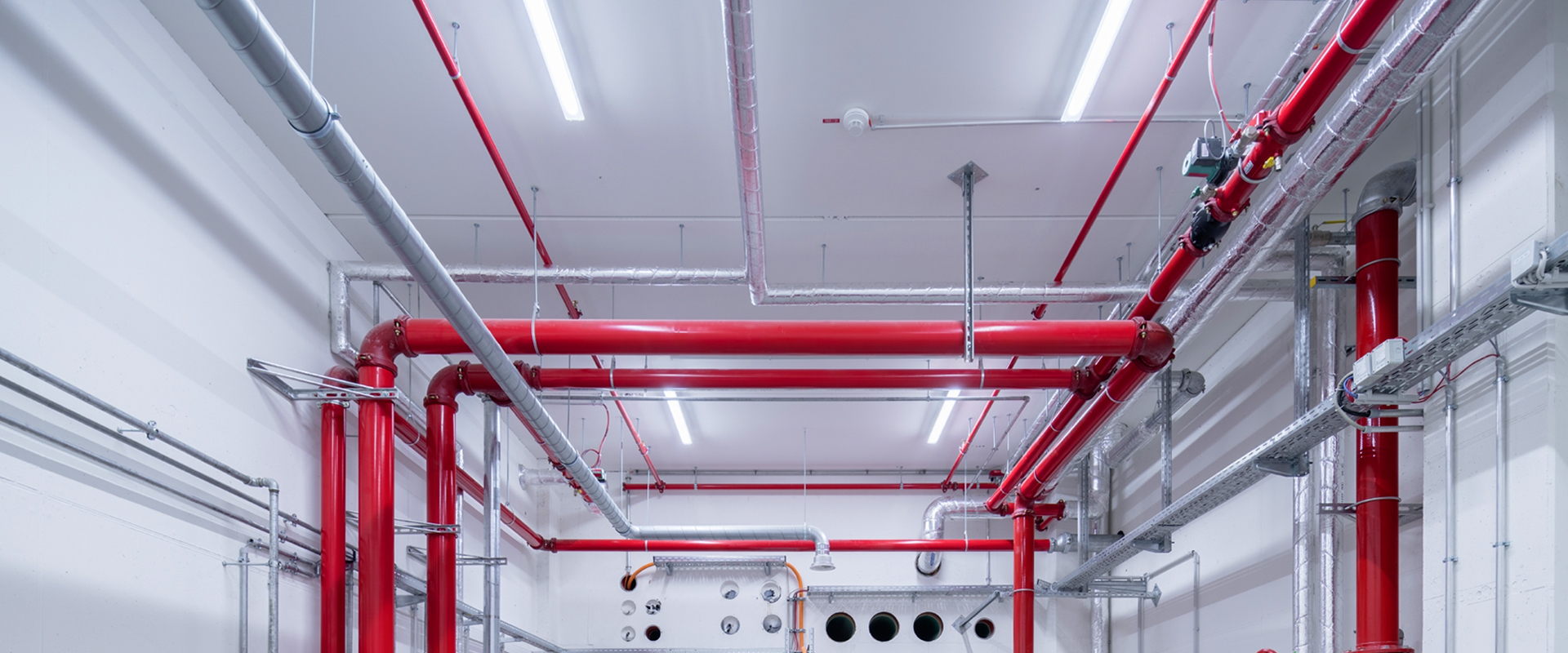 Oleveon Fit LED
Simply planned. Flexibly refurbished. Fit for the future.
The challenge
Whether for parking garages, distribution halls, production areas or canopied outdoor areas – weather-proof luminaires are often used according to the principle of "the most important thing is standard-compliant and functional". This however neglects the enormous potential offered by modern damp-proof lighting in terms of quality of light, energy efficiency, spatial effect and connectivity.
The solution
Oleveon Fit LED raises the lighting quality in damp rooms to a new level. Innovative 3-D prismatic technology provides uniform, glare-free light and state-of-the-art LED technology minimises energy consumption. Upgrading is child's play: Oleveon Fit LED was designed for quick and simple refurbishments, and thanks to its wide range of versions and integration of light management and sensors can be optimally adapted to the specific framework conditions.
Advantages with lighting design
Wide range of versions for custom light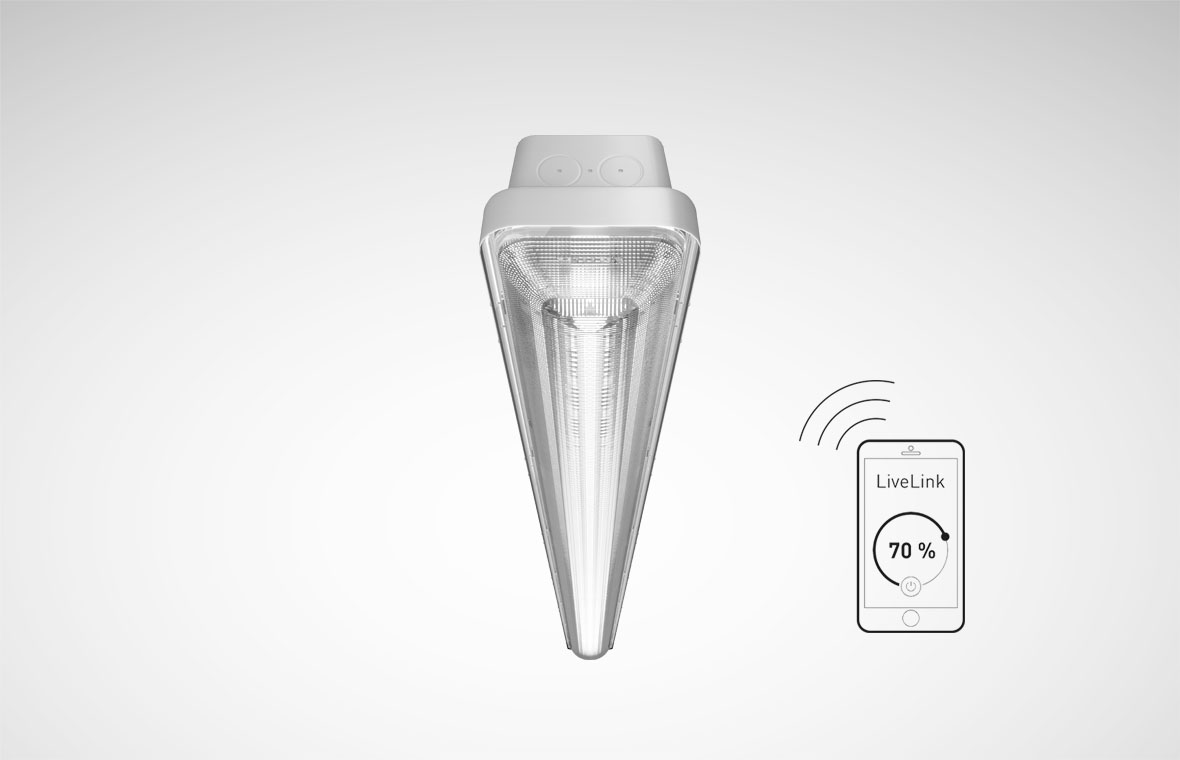 With its high flexibility and adaptability, Oleveon Fit LED is the complete solution from a single source in the weather-proof luminaire segment. Thanks to application-specific optics, lumen packages and diffuser materials, even the standard solution adapts perfectly to the various applications. Individual customer specifications can be implemented via custom productions. Oleveon Fit LED can be intelligently controlled via light management systems such as LiveLink and various sensor technology modules.
Application-oriented lighting technology – efficient and glare-optimised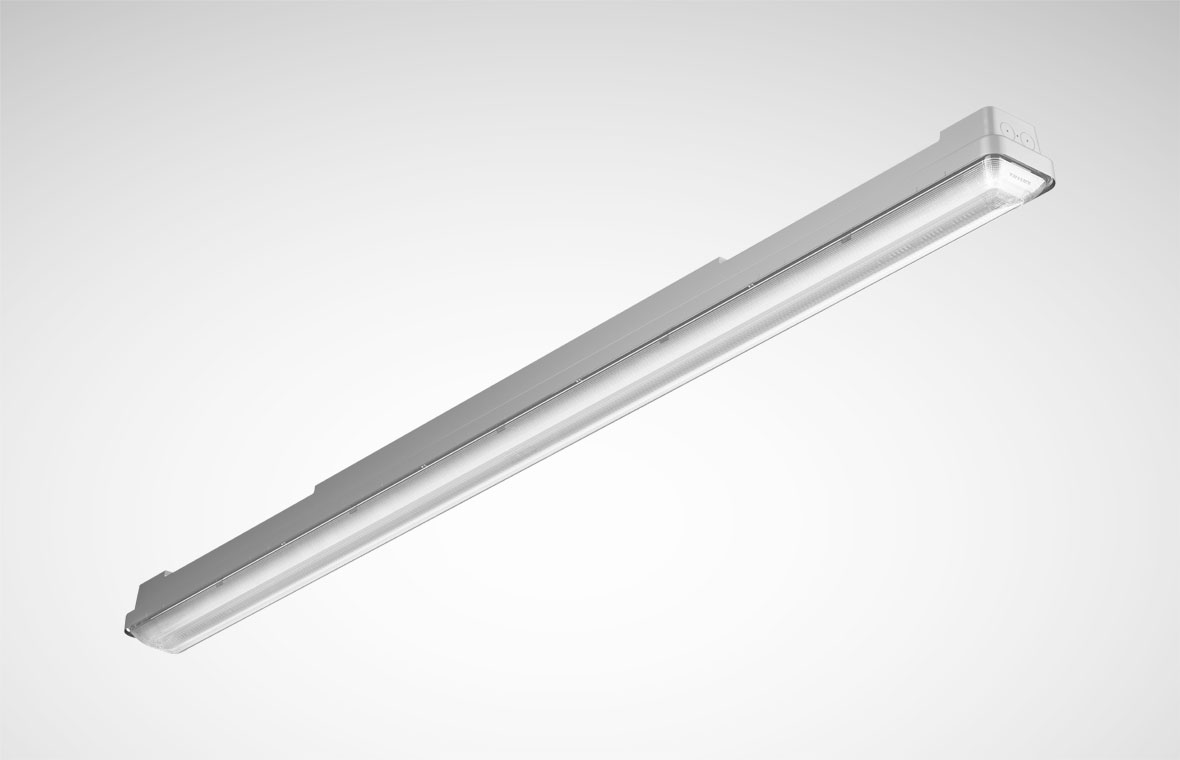 Oleveon Fit LED in its various optical versions aims primarily at efficiency or light effect. The efficiency-optimised version with innovative TRILUX 3-D prismatic technology can save up to 15 % in light points compared to the standard market solutions.
A variant of Oleveon Fit LED further optimised with a diffuser emits especially pleasant and uniform light – an advantage with low room heights, e.g. in parking garages or above assembly workstations.
Reliable lighting level
Advantages with installation
Great for refurbishments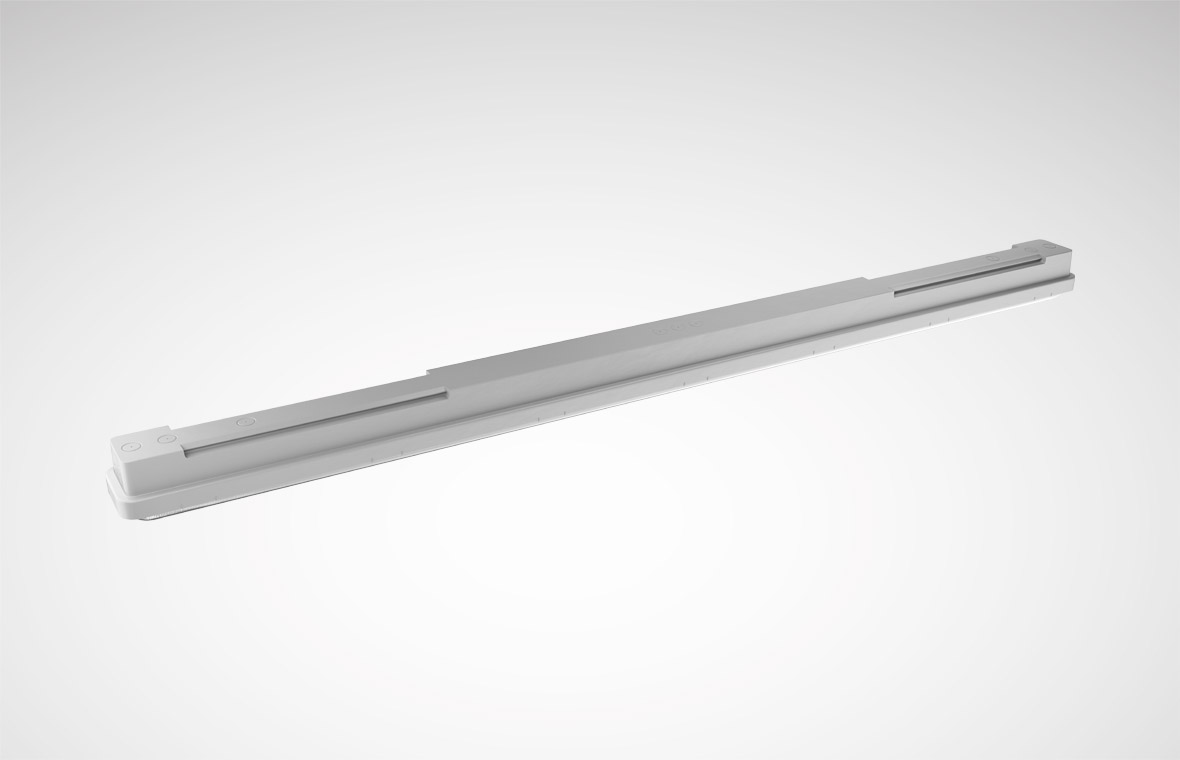 Refurbishments were never as easy: thanks to the intelligently designed housing concept with an elongated mounting slot and a high number of infeed possibilities, existing drill holes and cables can be used almost independently of the model and manufacturer with one-to-one replacements. A further highlight is clipless catch technology: clips are no longer needed for mounting the diffuser, so that losable parts and small parts to be installed beforehand are a thing of the past. That cuts mounting times by up to 10 %. Further connection options such as the Wieland rapid connection system possible as special solutions.
Flexibly adaptable on location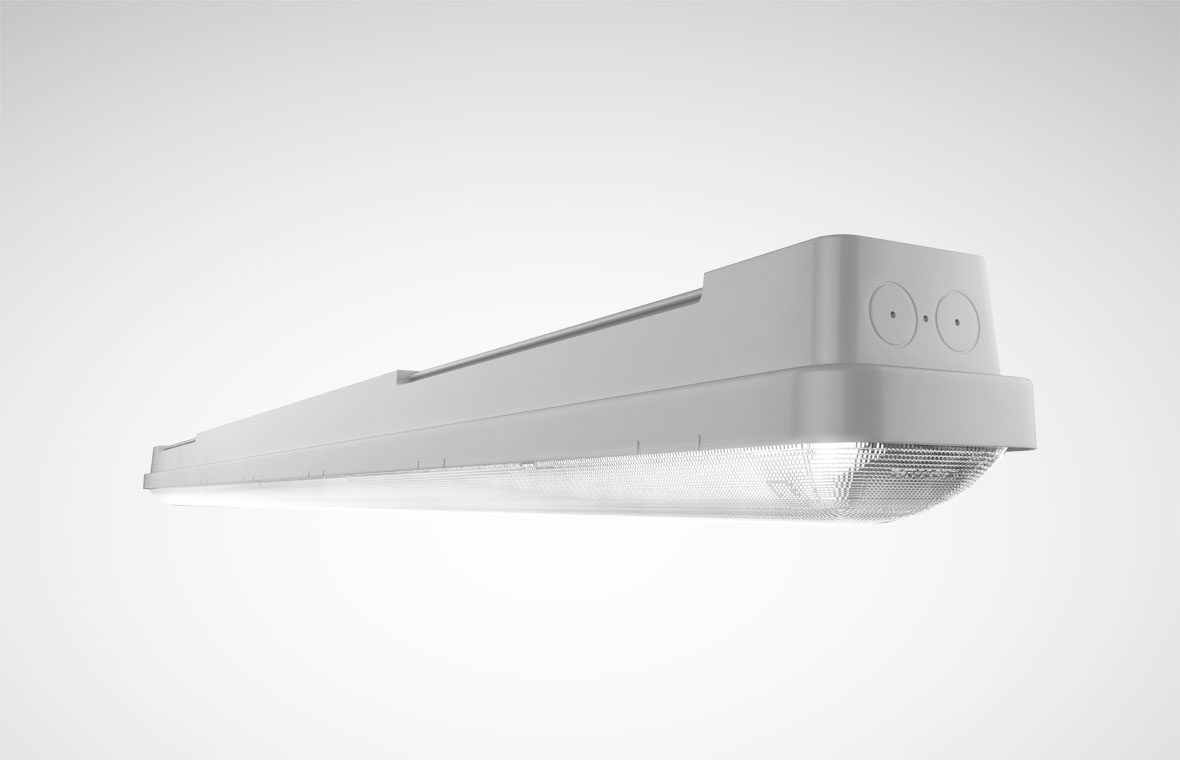 With its especially flexible luminaire concept, Oleveon Fit LED can also be simply and quickly adapted to the specific framework conditions on location. With special variants for example, the luminous flux levels can be flexibly adjusted via the multilumen option. The luminaire to be opened enables simple adaptation of the luminaire to the specific room or individual mounting position. Product returns and new lighting designs are also avoided if the real conditions on-site differ from the planning.
IN CASE OF MISSING CONTROL LINES - DIMMING BY RADIO REHABILITATION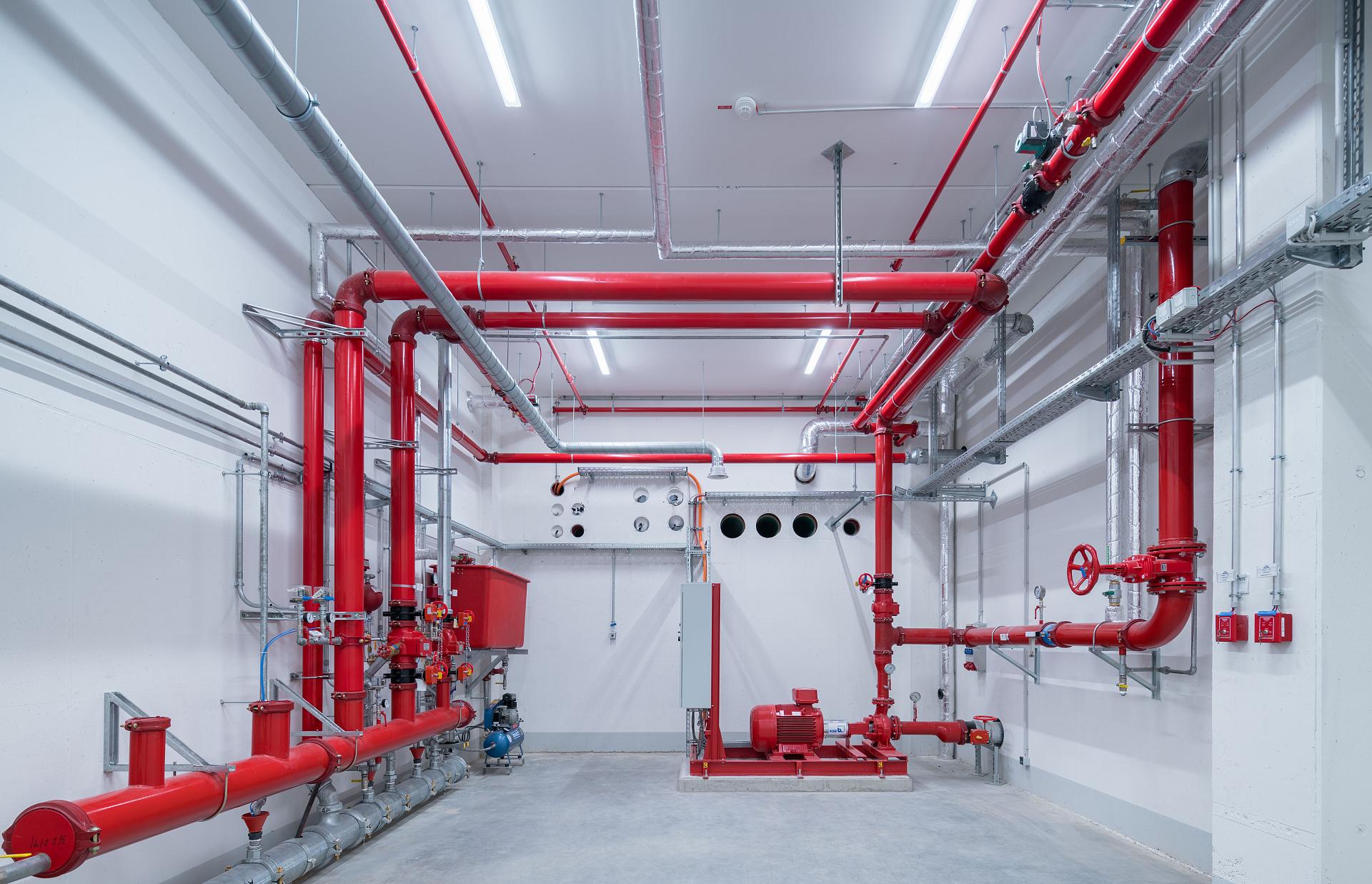 Dimmable DALI luminaires require five-core control lines. If only three-core cables are installed in damp rooms, radio refurbishment via LiveLink SwarmSens is the alternative. In this way, the Oleveon Fit LED can simply receive the control signals via radio without the need for complex conversion measures.
Advantages in operation
It pays: consistently low operating and maintenance overheads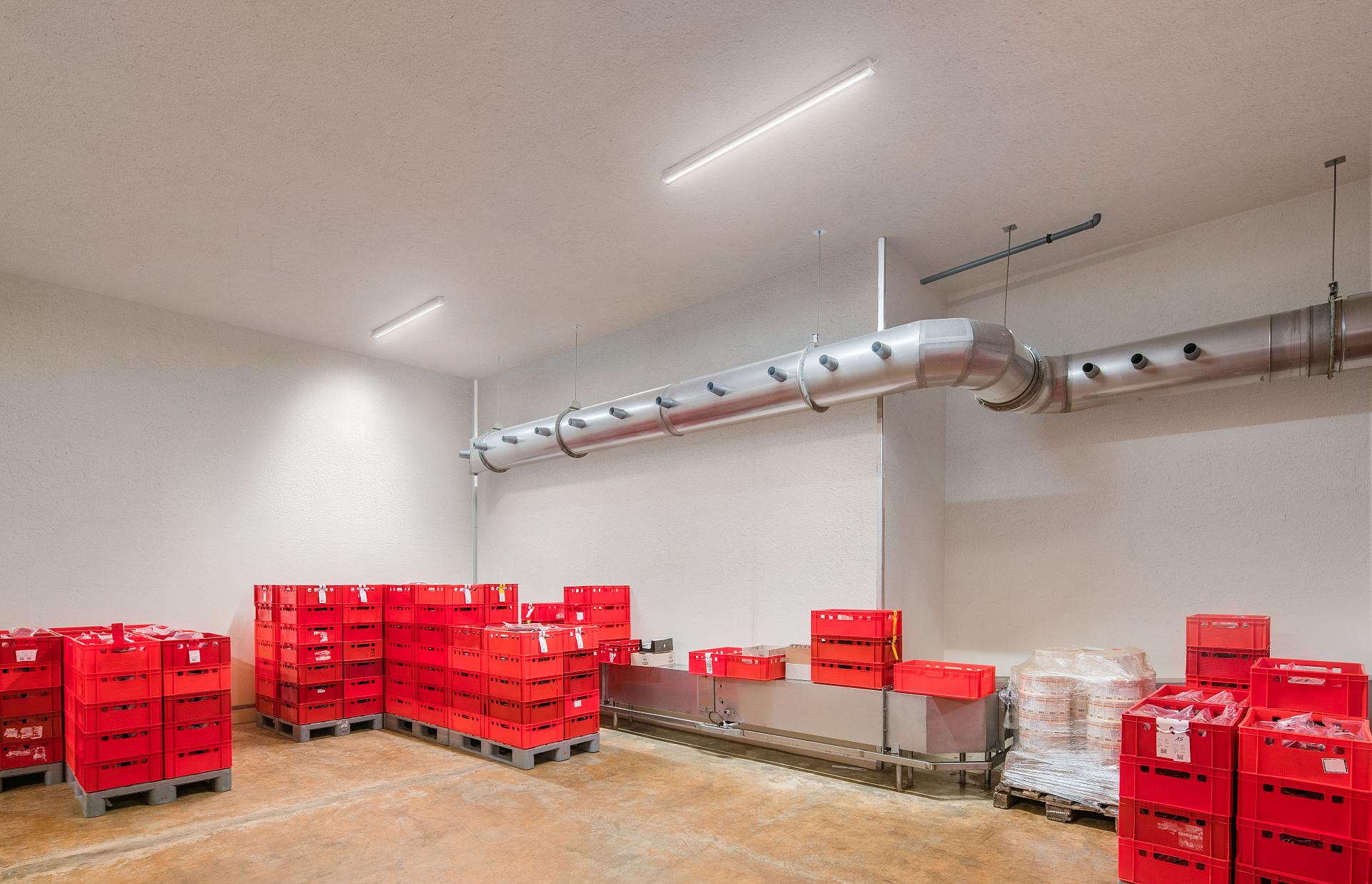 Oleveon Fit LED offers an excellent price-performance ratio. Thanks to high energy efficiency of up to 145 lm/W and a service life of L80 50,000 h, operating costs are significantly cut compared to conventional solutions, meaning that the initial investment is quickly paid back. The level of energy consumption can be further reduced by combining with sensors that are either integrated directly in the luminaires or via LiveLink.
Perfect visibility: 3-D prismatic technology for high quality of light
Colour temperature: 6,500 K to support productivity
As of now, the 6,500 K light colour is part of the standard repertoire of Oleveon Fit LED. The reason for this is that light with a high blue component is able to improve the ability to concentrate during the day. This enables error rates and accident rates to be cut and productivity to be increased.
Monitoring with LiveLink: keeping an eye on the lighting anytime and from anywhere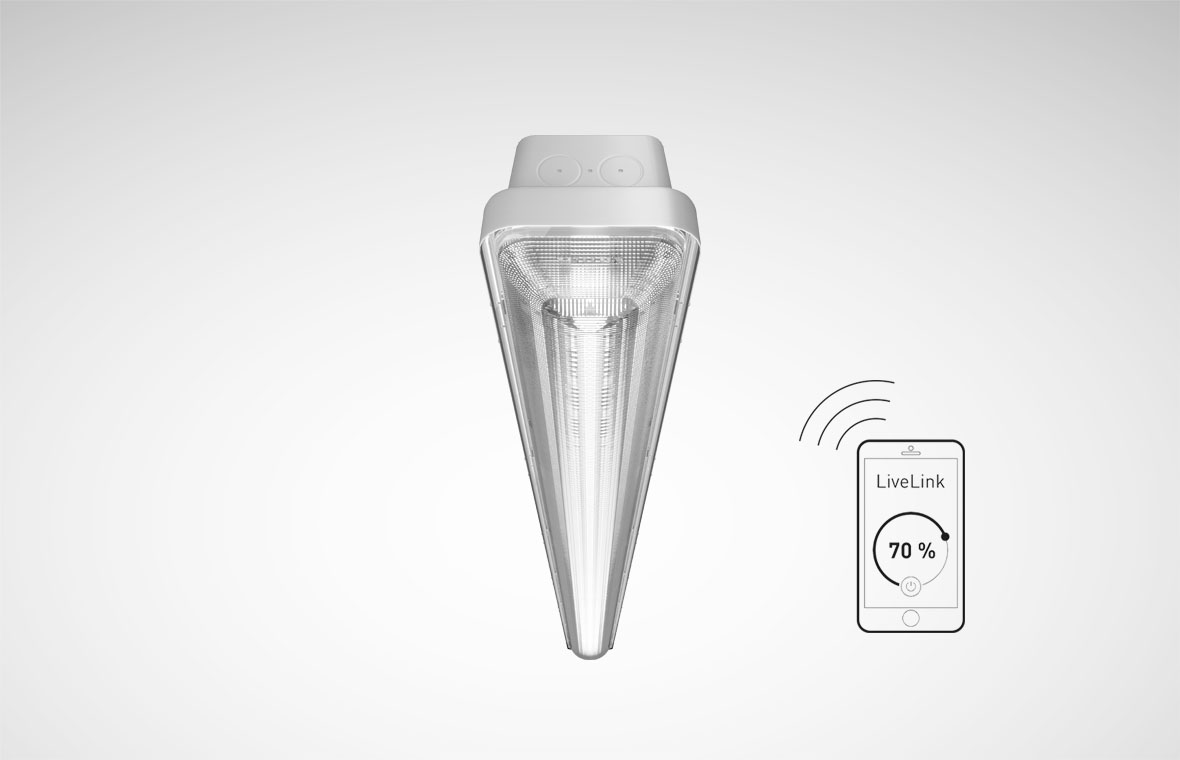 Using the intelligent LiveLink kit, operators can keep an eye on all lighting-relevant operating data – in real time. This enables proactive measures to be taken for optimising energy consumption and maintenance intervals. This minimises expensive failure times and via energy savings improves the CO2 balance. For operators this is a significant plus in terms of reliability and flexibility.
SWARM FUNCTION WITH LIVELINK: LIGHT THAT LEADS ME
With LiveLink SwarmSens, luminaires can be networked easily and uncomplicatedly via radio. The high-frequency sensor integrated in the luminaire helps save energy and only switches the lighting on when it is needed.
Thanks to the intelligent networking of the luminaires, the light runs ahead intelligently and provides orientation.
Control with LiveLink: designing, using and adapting light scenes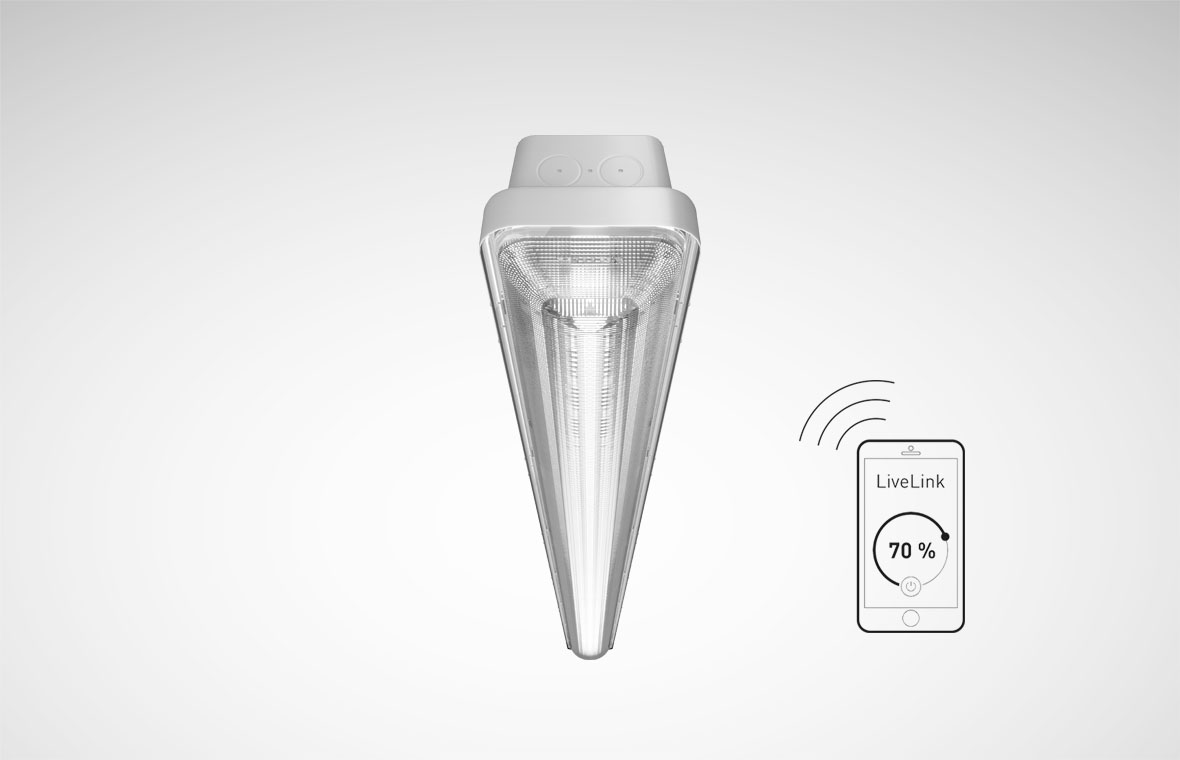 The LiveLink Use Cases enable the operating parameters of all luminaires in a room to be individually configured and saved together. Via the Use Cases, specific application-dependent light scenes can be called via push-button or smart device such as special lighting conditions for assembly sequences or computer work. If the work sequences change or room utilisation changes, the Use Cases can be flexibly reprogrammed with just a few inputs – making sure that optimum visual conditions are once again immediately available.
Decades of experience: maximum reliability and problem-free operation
Flexibly refurbished
The perfect refurbishment solution for simple 1:1 replacements
Energy efficiency and light quality
High quality light and low operating costs thanks to 3-D prismatic technology and energy efficiency of up to 145 lm/W
Variety for all applications
Wide range of variants for customised lighting concepts
POSSIBILITY OF REFABRICATION - NETWORKING BY RADIO
If the DALI control lines are missing, the Oleveon Fit can also be easily networked by radio and controlled via sensors and the LiveLink lighting management system. This enables rapid refurbishment without interfering with the building fabric.
LiveLink SwarmSens not only helps to save energy. By networking the luminaires, the light runs ahead intelligently.
Einfach geplant
Further individuality via simple lumen setting during installation
Monitoring
Greater security and flexibility due to monitoring of the operating data via intelligent LiveLink component
TECHNICAL FEATURES
Energy efficiency of up to 145 lm/W
Service life L80 50,000 h tq 25° C
Luminaire luminous flux 2,300 lm, 4,000 lm, 6,000 lm, 8,000 lm and as multi-lumen solution
2 lengths: 1,200 mm and 1,500 mm
PC/PMMA covers available
Colour temperature 4,000 K, 6,500 K
Emergency light variants 3 h
Optionally equipped with Constant Light Output technology (CLO)
Integrated sensor solutions with presence detection, daylight-dependent lighting control and intelligent light management system (e.g. LiveLink)
LiveLink versions for radio use and monitoring use among other applications