Operating theatres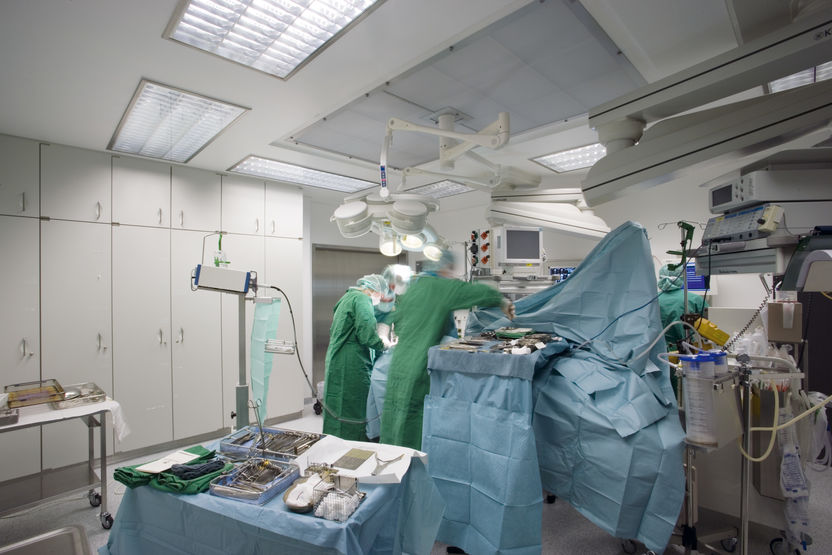 Lighting in operating theatres must always be designed and implemented in connection with operating field lighting. This requires three different lighting levels:
operating field lighting,

operating periphery lighting,

and general lighting.
To avoid adaptation issues caused by excessive luminance differences between operating field (between 40.000 lx and exceeding 160.000 lx) and the operating theatre (1.000 lx), operating periphery lighting must be provided for the area surrounding the actual operating field. The operating field is a central area surrounding the operating table and measuring ca. 3 m x 3 m; the exact size must be determined by designers and operators. In this area, illuminance levels of 2.000 lx should be targeted. The high concentration of medical supply and monitoring devices close to the OR table and the cleanroom requirements in terms of air pollution control in the operating periphery can significantly limit the ceiling surfaces available for lighting. Considering further supply systems it may be necessary to deviate from the 2.000 lx value, since it may not be possible to fit the required number of luminaires in the specified ceiling area due to construction limitations.
Illuminance in the operating periphery must not be lower than 1.000 lx at a height of 1 m above the floor at any point or at any time.
The light colour of the periphery and the general lighting should be mostly identical to the surgical luminaire's light colour (according to EN 60601-2-41). Light sources must feature neutral white light colour with a most closely resembling colour temperature of 3.800 K and a colour rendering index Ra ≥ 90. Intensive ceiling, wall or furniture colours must be avoided. They may adversely affect overall lighting colour rendering.
To support glare limitation and a balanced illuminance distribution in the field of vision, the following OR reflectance values must be observed:
Ceiling > 0,7
Walls > 0,5
Floor > 0,2
Surgical drapes, clothing and
gloves of the OR team < 0,3

All surfaces, particularly those of operating instruments, should be matt.
General operating theatre lighting and OR periphery lighting can be provided by the same lighting system. Luminaires should be installed in/to the ceiling outside of the periphery (ca. 3 m · 3 m) to avoid shadowing effects caused by the surgical team and to reduce glare. Furthermore, ventilation systems located in this ceiling area are not obstructed.
Controlling of general lighting, surgical luminaires and, where applicable, camera system can also be done via touch panels on telemedicine systems.