Type label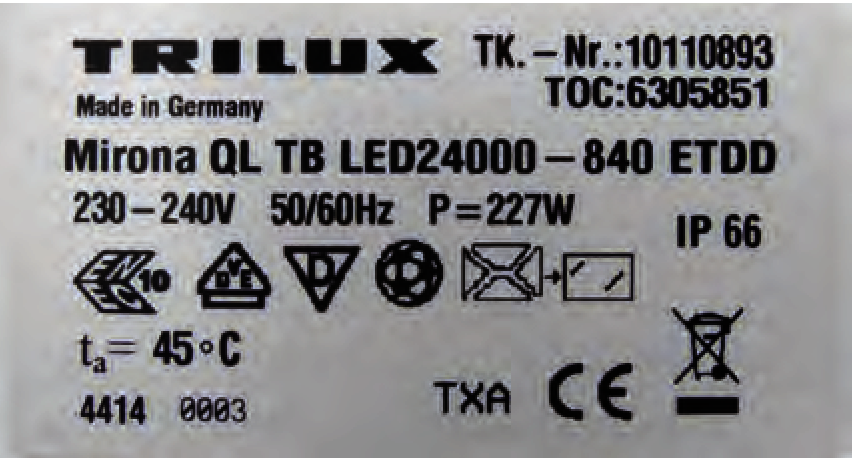 According to EN 60 598-1 "Luminaires – Part 1: General requirements and tests", the following labels must be affixed to luminaires, particularly to type plates:
Mark of origin, e.g. manufacturer's name

Type or order no.

Rated voltage, e.g. 230 V

Nominal frequency, e.g. 50 Hz

Labelling of permissible, operable luminaires, usually in the form of nominal lamp wattage, e.g. 2 x 36 W (for discharge lamps)

Designation of rated power consumption for LED luminaires

Safety class if different from safety class I, e.g. in the form of the pictogram for safety class II

Protection rating if different from IP20, e.g. IP66

Maximum rated ambient temperature if different from 25°C, e.g. 45°C

Fire safety label as applicable

Luminaire installation pictogram as applicable

Labelling for special lamps, e.g. mirror-tipped lamps
Quality luminaires feature additional labels such as
Certification labels, e.g. ENEC or VDE signs, ball-impact safety
The labels must be clearly legible, permanently affixed to the luminaire and clearly identifiable during installation and, for the most significant ones, also during maintenance.
The manufacturer assumes product liability for operation according to the information stated on the luminaire's type plate and in its installation instructions. Test performed by independent testing institutions (e.g. for ENEC certification) concern this information (see chapter "Safety symbols for luminaires").
In case of operation outside of documented conditions, all certification symbols lose their validity and product liability expires. Particularly regarding use of retrofit light sources, the light source provider assumes liability for safety and error-free luminaire and light source functionality within the permissible use according to the light source's documentation. The permissibility of use must be assessed on an individual basis by the retrofitting person.