74 R LED & 74 Q LED –
a redesigned classic
The challenge
In some corridors and stairways, purely functional lighting is often sufficient. This is completely different though with path zones with a prestigious character or with frequent occupancy of people, e.g. entrance and waiting areas as well as multiple space offices with creative and relaxation zones. Here, it is a matter of making the most of the aesthetic, technical and functional options of modern lighting. This ranges from light controlled via presence control and predefined light scenes to biologically effective light.
The solution
The reliable series 740… and Deca from TRILUX has been completely newly interpreted, and therefore opens up a new chapter with regard to technology, looks, light effect and control. The product range now has the 74 R as the round luminaire and the 74 Q as the square version that therefore replaces the Deca. Both designs feature a softly formed luminaire body with an indirect light component for pleasant well-being light. The luminaires are each available in three construction sizes and several equipping variants, enabling customised lighting concepts to be carried out with an attractive and uniform overall look. When combined with a light management system, e.g. LiveLink, the benefits of Human Centric Lighting can be realised – from activating and relaxing light to coloured lighting accents.
The result
The 74 R LED and 74 Q LED open up many new possibilities for implementing functional and atmospheric (according to version) lighting solutions. The significantly flatter design combined with a very concise look free the luminaires from the surface and give them a floating appearance. As a result, the new luminaire range is not only suitable for entrance areas, corridors, stairways, relaxation rooms, hotels and residential areas, but also for modern multiple-space offices and their often very individual creative, communication and relaxation zones. The reworked product range with its lighting convenience, high quality of light, diverse versions and intelligent connectivity provides planners and architects with even more flexibility and design freedom.
Product and application images
Many possibilities thanks to various forms, sizes and equipment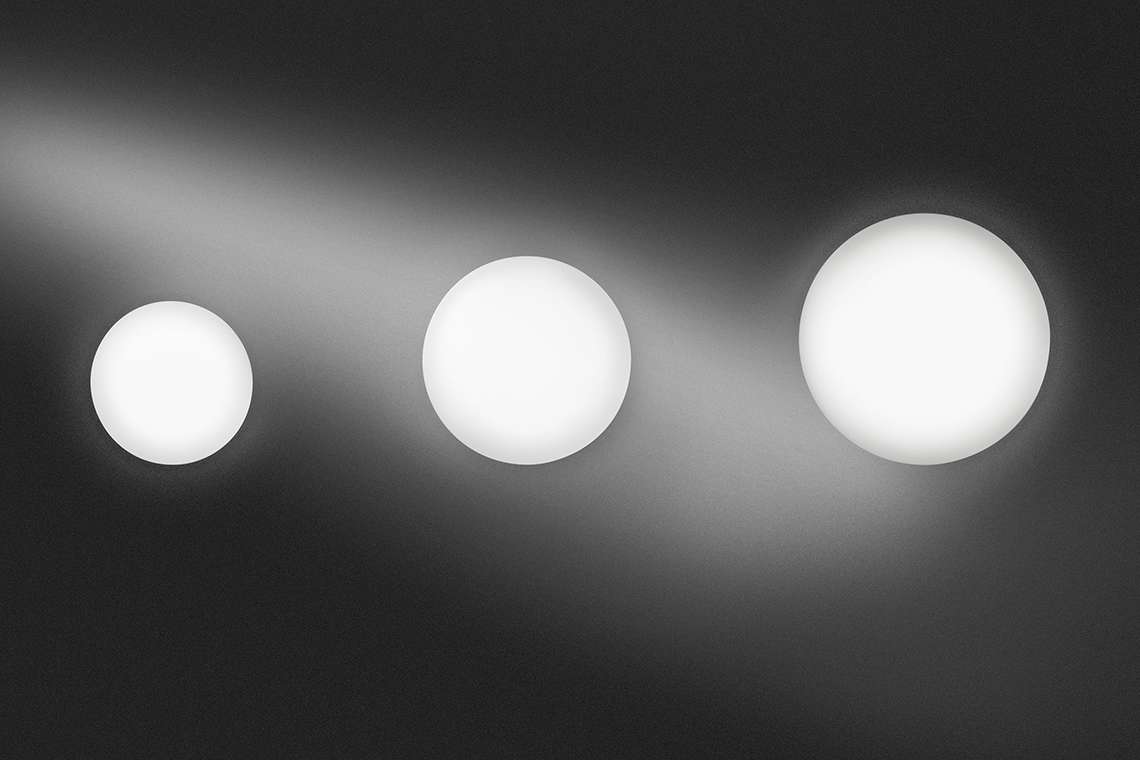 The timelessly elegant 74 R/Q LED is optionally available in a round or square design, and with several equipment packages: standard equipping features the familiar uniform, planar direct light, and now also an indirect light component thanks to the new form. This creates atmospheric, soft light graduations also on walls or ceilings. Switchable versions equipped with two circuits are optionally available for reduced night switching. Selected IP44 versions, sensor and emergency light versions as well as Active and RGBW versions round off the product spectrum. Design versions as either surface-mounted or suspended luminaires provide even further flexibility for individual interior designs.


Innovative and future-capable: light management and Human Centric Lighting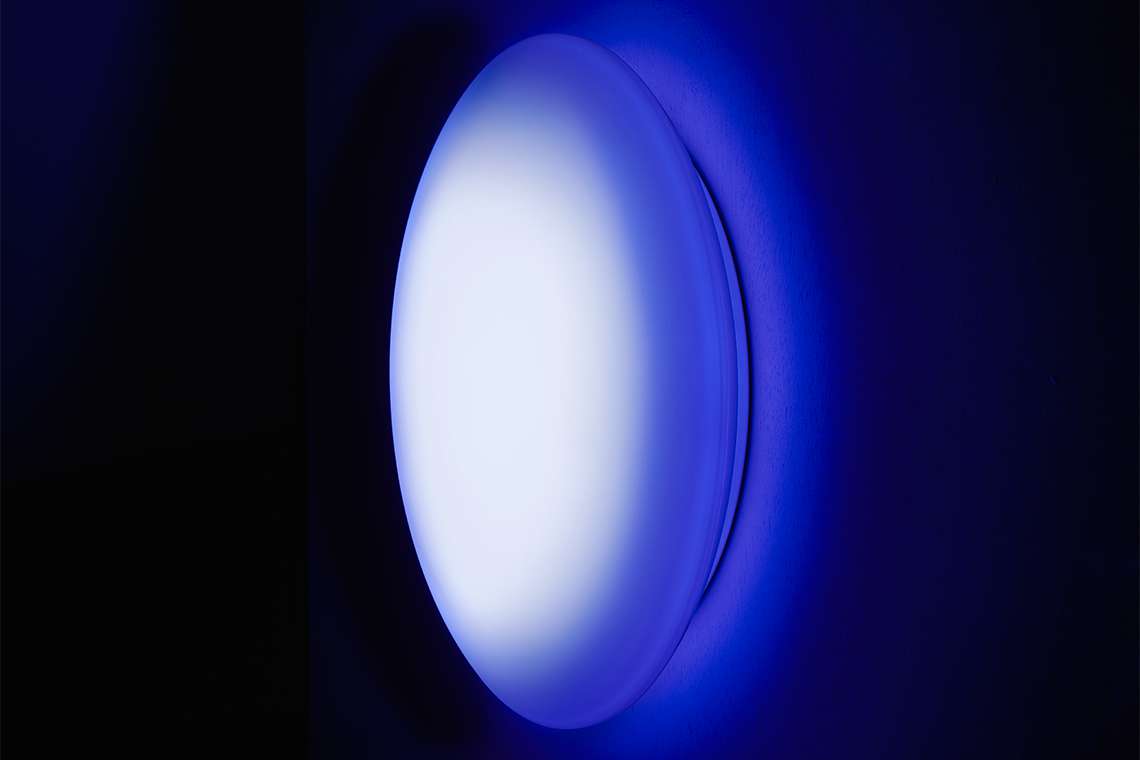 All equipment variants can be controlled with the highly practical LiveLink light management system that features extensive energy-saving, safety and comfort functions as well as white-white or colour control for Active and RGBW versions (only the 74 R WD2 is available as RGBW version). This enables solutions with activating, calming or emotional light that focus on the well-being of people. Alternative sensor versions provide not only general lighting with absence for increased safety, but also extremely convenient running light. The functional necessity of night-time switching provides soft light auras and sequences for an aesthetic experience.
Attractive looks – timeless, modern design throughout the building
Whether round or square – the 74 R/Q LED features an appealingly flat, almost floating appearance. Both direct and indirect light components are simultaneously possible thanks to the consistently softly shaped luminaire body. The result is a discreetly elegant design that attractively illuminates route zones and prestigious areas – also because of the organically soft interaction of light between the luminaire and wall or ceiling.
Diversity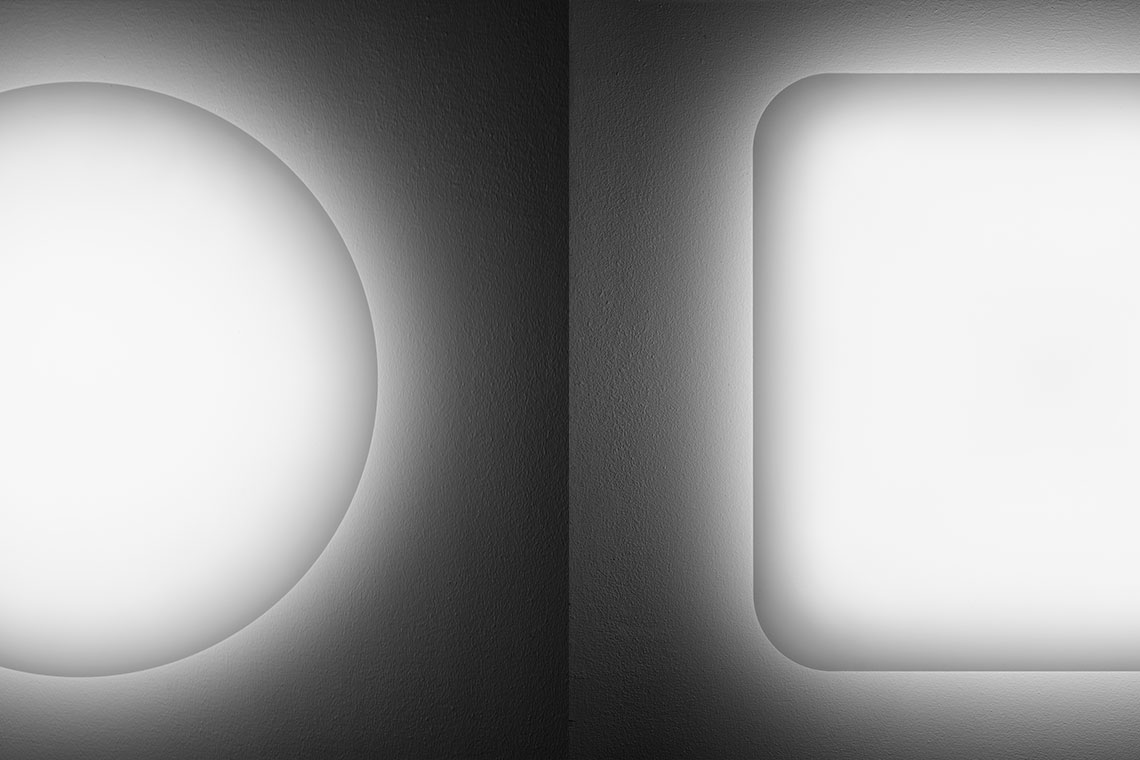 The classic 740 series is being expanded with the 74 R to become a range of luminaires with highly diverse uses, meeting the increasing complexity of modern demands perfectly: as simple as possible and as customisable as necessary today. By combining with new accessories, the design and light effects of the 74 R can be fundamentally changed. In particular with office applications, surprisingly emotional effects can be achieved. A semi-spherical and a flat attachment in various colours are available for this purpose. The flat version can be individually printed according to customer desires.
An attractive design
The reinterpretation of the classic was created with attention to detail: the timeless but still fresh design with a consistently soft luminaire body and suitable construction sizes gives an impression of quality and value, which in turn reflects the high quality of the luminaire in terms of light and workmanship. The wide range of design versions provides completely new flexibility for individual interior designs.
A multifaceted product range
The luminaire is available with a round or square design and in three construction sizes. Lighting technology and functionality can be ideally adapted to the application thanks to freely selectable equipment packages. Attractive design versions provide completely new application and design options.
Lighting convenience
The flexible and very uniform lighting concept is the special feature of the 74 R/Q LED. According to version, the luminaire has separately switchable direct and indirect light components. The PCB and driver can be simply and quickly exchanged if needed.
Networked all-round
An optional light management system, e.g. LiveLink, enables extensive energy-saving, safety and convenience functions to be implemented as well as coloured and white-white control.
Light for well-being, activating and relaxing
Selected product types are available with white-white and RGBW control. This enables biologically effective and attractively decorative lighting concepts to be implemented.
Technical information
Reference
Values
Luminaire luminous flux:
1.300 - 3.400 lm
Connected load/efficiency:
WD1 13 / 15 W; WD2 20 W; WD3 30 W / up to 115 lm/W
Service life:
50,000 h L80
Colour rendering/-temperature:
Ra > 80
Electrical version:
ET, ET2 and ETDD
Dimensions (L x W x H):
WD1 = ø 320 mm or 320 x 320 mm
WD 2 = ø 420 mm or 420 x 420 mm
WD 3 = ø 520 mm or 520 x 520 mm
Protection rating/safety class/impact resistance:
IP40, IP44 for selected product types / safety class I / IK02 or 0.2 J
Light distribution:
Wide distribution, direct – indirect distribution